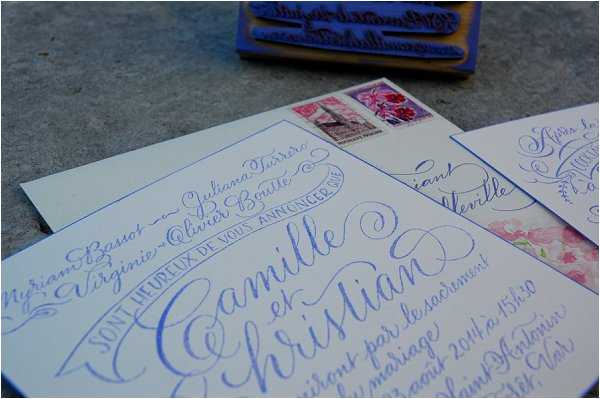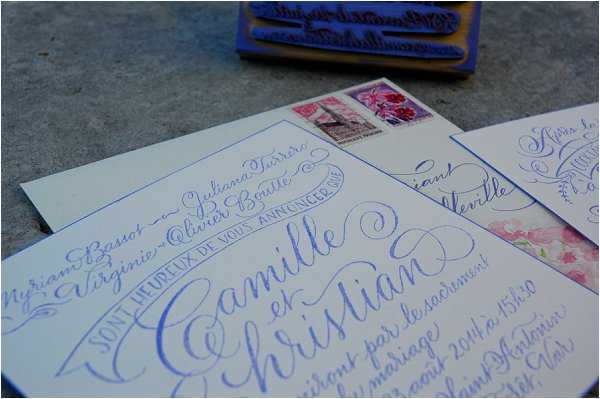 I LOVE paper, calligraphy, stationery and notebooks – so I am thrilled today to welcome a fabulous calligrapher and designer to the blog, Joy Fairclough of Studio French Blue. Based in the South of
France, Joy works with private clients as well as wedding planners and public relations firms
worldwide.
Today we share an exclusive interview with Joy as she takes us through her story of moving to France and her beautiful work.
You're an American calligrapher living and working in the South of France. How long have
you lived there?
I've been living and working in France for almost 8 years. I'm originally from Michigan, the Great
Lakes. I fell in love with France in 2007 when I came to study the language, and stayed on when I
found work teaching English to pharmaceutical researchers, and teaching ashtanga yoga in
Montpellier, which is a beautiful and vibrant city near the Mediterranean sea.
How long have you been doing calligraphy and design?
I started practicing calligraphy in 2001, but I've had a life-long love affair with all things paper. I can
get lost in the back-to-school aisle in any shop, but I'm of course enamoured of French papeterie.
During my first couple of years in France, I concentrated on my various jobs and on learning the
language, but my passion for calligraphy and lettering prompted me to pick up my pen after that
pause and I began accepting wedding commissions again in the spring of 2012. I officially opened
my atelier, Studio French Blue, in 2013. I've been working full-time as a calligrapher since.
Where are you located? Can you describe your workspace?
I now live about an hour from Montpellier at the foot of the Cévennes mountain range in the
Languedoc-Roussillon, near the Mediterranean coast between Spain and Italy. It's an ideal
location. I live with my husband in a converted 300 year-old silk farm surrounded by an orchard
and mountain waterfalls.
My favorite aspect of living in this big old stone house is the room it affords me to take over most of one floor as my calligraphy studio! It's been a labour of love, but we are getting there with the renovations. I'm currently occupying a office on the ground floor, but expect to be in my new space by the Spring, with room for both a lettering table for my papers, inks and paints, and a design table for my scanner, computer, and tablet!
I'll have room to operate my small Letterpress, to install a practical little sink, and to create a seating area for clients and students. I've been asked to teach in 2015 and am thinking of giving some small classes at my studio to get my sea legs.
What inspires you?
Music and dance move me. Both Chopin and Stevie Nicks kept me inspired during my working hours in 2014. I'll see who ends up getting heaviest rotation in the New Year! Current auditory obsessions include interpretations of Rachmaninoff by my favourite pianist Valentina Lisitsa, as well as a return to the soundtrack of my childhood— classic rock, soul, and Motown. (I loved the "oldies" station, even as a little girl, and I still love old things.)
I love photography, I become obsessed by fragrances, I am partial to French food and French wine. I do not like sensible shoes. I love market days and vintage French postal stamps. I love leafing through examples from the Golden Age of Penmanship, and marvelling over the skill of the master calligraphers. Preferably with a café allongé and a little chocolate.
What kinds of projects kept you busy last year? What's upcoming for 2015?
2014 was a great year for me. I was busy primarily with bespoke calligraphy and design of
wedding invitation suites, but finished up the year with a greater focus on new work for special and
corporate events.
I was lucky enough to be featured by the American calligraphy print magazine, Dasherie, and had work featured on Style Me Pretty and other wedding websites. In 2015 I will continue to focus on bespoke design of wedding stationery in Letterpress, and hopefully produce more of the watercolour designs which I've enjoyed making for digital prints.
I'll find time to play around with the small printing press and die-cutting machine that I bought last year… I also plan to keep producing rubber stamp invitation sets, as they have proved to be quite a popular item! I've decided to share photos of some stamp projects today with French Wedding Style.
Can you explain the process of producing your rubber stamp invitation sets?
Sure. First I exchange ideas with my clients about their inspirations and design preferences. I
then send them off to choose their own papers at the stationery shop of their choice—blank cards
for their invitations, RSVPs, and envelopes.
Once the cards and envelopes have been purchased, I come up with a custom calligraphy design to fit the clients' personal style, as well as to fit the dimensions of the stationery they've selected. I can produce stamps up to 19 cm long x 15 cm wide, or even 16 x 16cm square. I typically produce an invitation, a response card, and a return address stamp for my clients.
After the stamps are mailed to the clients, it's DIY time! I think the stamps have become such a popular option because it is a way for the couple to personalise their wedding stationery, as well as to save on printing costs. They can choose any color ink, they can use embossing powers on their papers and with the help of a heat tool create a raised look to the lettering… there are so many options, especially for those who are crafty and a little savvy.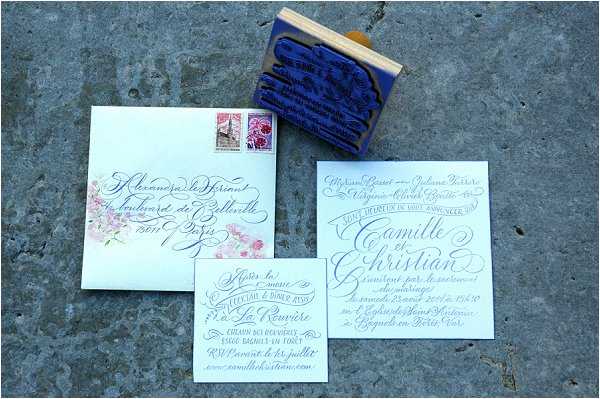 It's possible to stamp white or light inks onto dark papers too, an option which is not possible with
Letterpress or digital print methods. (I'm constantly being asked to Letterpress white calligraphy
onto dark backgrounds, and often end up recommending the stamp option as an alternative.)
Because the couple can save money on the printing process by stamping their stationery
themselves, it often frees up their budget to hire me for the envelope addressing. Voilà a
complete set of bespoke calligraphy invitations that can be stamped onto many types of interesting
papers that would not work for digital or Letterpress.
I really enjoy making these and I'm happy to share some photos from my stamp portfolio with your readers! I decided to show three projects; one Save-the-Date from a couple of years ago, as well as two recent wedding invitation suites that my clients were kind enough to send back to me for the purposes of this little photoshoot.
One is a destination wedding invitation to Thailand, and the other is for a summer wedding in lavender
country— Provence.
Joy and Studio French Blue is available for your calligraphy and design needs worldwide, see more of her work on her website www.studiofrenchblue.com
Contact Details:
Website: www.studiofrenchblue.com
Email:  [email protected]
Facebook: www.facebook.com/StudioFrenchBlue
Instagram:  instagram.com/frenchbluejoy