Remember last week's step by step by to bridal makeup?  Well I have the fabulous follow up today from Carey Hawkins Makeup, the Step by Step Bridal Hair tutorial for a simply updo, with images by David Page Photography and model Eloise.
Although French Wedding Style is a bridal blog, this is such a great and versatile look that it would also work fabulously for prom and completely delicious as a wedding guest of a sunny wedding in France.
Carey says 'I wanted to create a simple but easy to do up do that looks wonderful with all styles of dresses and works on lots of different hair lengths.  If your hair is very short this look could be achieved with clip in hair extensions.'
French Wedding Style Blog – Photography © David Page Photography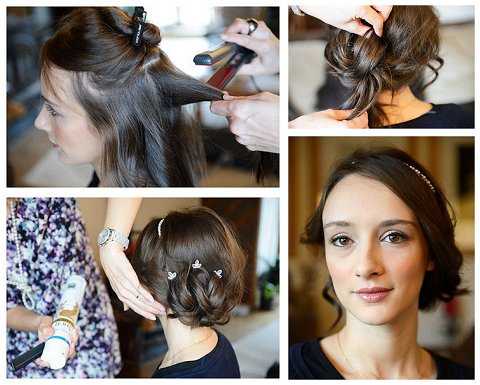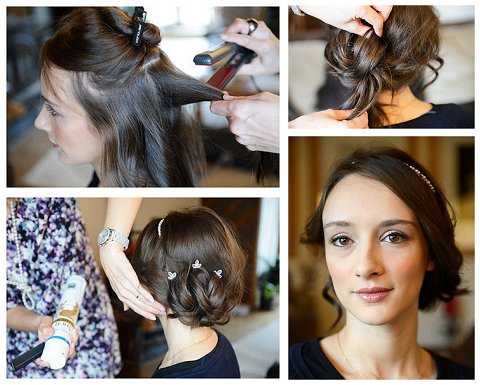 Firstly ensure your hair is in the best condition possible by using a good shampoo and conditioner for your hair type in the run up to the wedding.  Carey likes Kérastase shampoos and conditioners.
I prepped the hair using a heat protection spray and then I sectioned off the top part of the hair and began to curl through with hair straighteners.  If you find it easier, use a large barrel tong.  Either way creates a soft wave.
Continue this all over the head.  We are trying to add texture to the hair so do not worry about getting the curls too neat!
Next tip the head upside down and spray all over with a flexible hold hairspray.  Carey loves Elnett Flexible Hold.
Now gather hair into a low ponytail to one side of the head, near the back of the ear.  You can smooth the hair into the ponytail or backcomb for a messier effect.  She kept the ponytail fairly loose so the style remained soft.  Secure with hair elastic.  Carey prefers the clear plastic ones as they are gentler on the hair and have good grip.
Take sections of the ponytail, make a loop and secure to the head with a grip that matches the shade of your hair.
Carey looped the hair 5 times into a loose bun shape and only used five grips. These should feel secure but should not give you a headache!
Carey added in some decorative pins (simple and pretty) and a simple alice band decorated with pearls.   Good value hair accessories can be bought from Claire's Accessories or Monsoon.
Pull out small sections so that the style is tousled and soft.  These pieces can be re-curled too.  Finally a good spray with a firm hold hairspray and finish with a blast of shine spray.  Carey loves Photo Fabulous High Shine Finishing Spray by James Brown.  Et voilà – the perfect style for a Bride or Bridesmaid.
I am sure to try this when I find some time and even more wonderful product recommendations to add to my beauty toolkit!
See below to find out information and contact details for Hair and Makeup artist in France Carey and wedding photography services of David Page.
Monique xx
Details:
Carey Hawkins
Website: www.careyhawkinsmakeup.com
Facebook: Carey Hawkins on Facebook
Email: [email protected]
David Page Photography
Website: www.davidpagephotography.com
Facebook: David Page on Facebook
Twitter: //twitter.com/DavidPagePhotos
Email: [email protected]