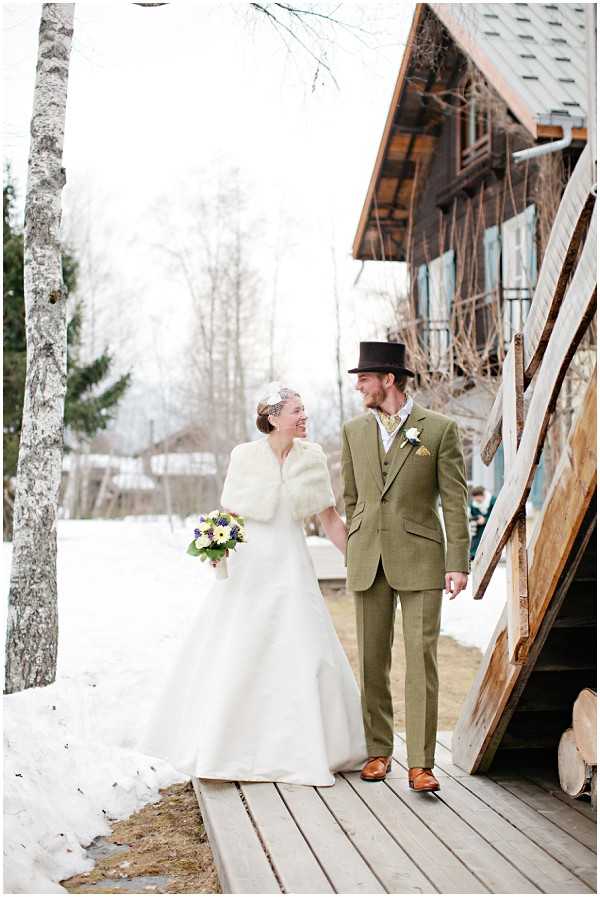 Happy Monday!  So after a truly amazing weekend on the photo shoots over in Loire Valley,  Mr Trulove and I are heading back to the UK today via Normandy, with a couple of venue visits along the way. So whilst I am off to adventure in the French countryside, I have a super wedding to start the week from Mille and Belle, a springtime wedding Mont Blanc Chamonix.
Helen a GP in the Royal Navy and Nobby a pilot also in the Royal Navy, met at a fancy dress Christmas Ball in 2008 at RNAS Yeovilton in Somerset where they were both working at the time.  The theme was 'London Underground' and Nobby was dressed as the (Picadilly Circus) Ringmaster complete with an enormous stuffed lion (called Brian) and Helen was in tennis whites dressed as 'Wimbledon'. She admired his lion and he asked her to dance and the rest is history!
French Wedding Style – Photography © Mille & Belle
Bride Helen takes us through their frankly awesome proposal (chaps take note on how to do it in style) and their wedding planning.  Helen: "We were staying with Alex (one of my bridesmaids) and Adam who live in St Lucia and Nobby told me we were going to meet them and some of their friends at Cap Maison for sundowners one evening. When we arrived at the cliff top bar there was nobody there, instead we were led down a path, across the beach and onto a deck over the Caribbean Sea.
There was a table laid for two and when our Champagne arrived in a basket on a zip wire from the bar 80 feet above us on the cliff top Nobby produced a ring box from said basket. With the sun setting and the waves lapping at the rocks below our deck he got down on one knee, completely fluffed his lines, and asked me if I'd make him the happiest woman in the world!"
Nobby: "Bugger! I'd planned every detail and had great help from Adam and the guys at Cap Maison with organising such a beautiful location, getting Helen there and getting the ring and Champagne down on a zipline. But it's the thought that counts I guess!
Between laughing and a few tears we managed to establish that it was a 'yes' and then were able to enjoy an amazing dinner and an amazing suite with our own private pool and cliff top garden. In the morning we went for a helicopter ride around the island and saw it all from the air too. I was determined to make it memorable, and it was certainly that!"
Helen: "We knew we wanted to get married in the Alps and Chamonix was our first choice as it's a proper town with loads of accommodation and it's easy to get to; a cheap Easyjet flight to Geneva and a short transfer from the airport. Jody, our wedding planner Mont Blanc Weddings, showed us several different venue combinations but we just fell in love with the chapel in Chamonix Les Praz and La Cabane.
The chapel is a decommissioned catholic chapel so can only be used for non religious ceremonies. The terrace at La Cabane with Mont Blanc as a backdrop is very hard to beat and the food and service there is excellent.
La Cabane is so atmospheric with a real alpine feel. The layout of the log cabin is perfect as it's cosy and intimate but also big enough to accommodate all our guests. There's even a little mezzanine room where they provided a children's supper and entertainment for the little ones during the evening.
The food, wine and service are outstanding and Hervé (the manager) went out of his way to may sure every detail was perfect. La Cabane also has a great sound system and plenty of space for a band which was important to us too (and allowing us to party until 0400 was also great!).
We hired Jody from Mont Blanc Weddings as our planner.  She was a godsend and worth every penny, we couldn't have done it without her! It was actually fewer pennies than we thought it would be too. Her attention to detail and organisational skills are brilliant, she clearly does her job for the love of it and it really shows.
She guided us through the whole planning process from start to finish, throwing ideas and suggestions around and visiting venues at the start through to finalising the details as we got closer and then ensured it ran like clockwork on the day… she was on top of it all. It took so much stress out of the whole process knowing that we had someone with Jody's experience to make sure we hadn't missed anything.
We wanted Spring time in the Alps with the flowers and colours, fur and tweed for the dress code!  Our colours were Hyacinth blue and ivory with a hint of yellow. 
We love being outdoors especially in the Alps, our friends and family, a bit of glamour and luxury from time to time and a good fancy dress party and dancing!  We also both compete for the Navy Ski Team so it made perfect sense being in the mountains!  The ceremony couldn't have been more personal with Tom as our celebrant, our readings, ring passing tradition and our own vows. We enjoy getting dressed up and a bit of glamour hence the fur and tweed. The reception was very us with lots of wine, champagne and great food.
Jody suggested about 5-6 photographers that shoot weddings in Chamonix and we then looked over their previous work and websites. I knew Millie & Belle had shot lots of wedding in Chamonix already and I knew I wanted them to shoot our wedding as soon as I saw their website!  I absolutely love the style of their work, they have an amazing talent and really managed to capture the emotions of the day perfectly. They also work in the UK.
My best bits of the day:
Saying our own vows with our family and family beside us.
Our celebrant Tom and beautiful readings from Nick and Carly.
My uncle giving me away and his moving speech in the evening.
Skiing with my flower girls Eve and Katie in the morning.
Getting ready and drinking champagne with Alex and Katie.
Our first dance (despite elbowing Nobby in the face and him dropping me!).
Riding through Chamonix with my new husband in a horse and cart with everyone waving and cheering!
Seeing everyone dressed up and enjoying themselves in fancy dress.
Dancing and singing all night!
My words of wisdom: Make a list of all you favourite activities, foods and things as a couple and try and include as much as possible in the way of themes to make the day really personal.
Work out what the most important bits of the day are for you and focus your efforts there, there are so many decisions to make but you're better to spend time on the bits that matter like the vows and music rather than napkins and seat cover colours!"
Can you believe that Helen even made their wedding cake, a three tiered fruit cake, white marzipan and royal icing. Helen: "I wanted to create a skiing themed cake so I cut a piste into it and decorated the rest with tiny trees. I even added piste poles and GS race gates for authenticity! There's a banana gate in there especially for our Royal Navy Ski Team coach, Arthur! The topper was from Tiny Love Toppers and made by Rosie."
What a start to the week!  Thank you to Helen and Nobby for sharing their wedding and Helen Cawte from Millie and Belle for submitting it.

Wedding Suppliers:
Photographers : Mille and Belle
Wedding planner: Jody Mont Blanc Weddings
Dress : Stephanie Allin – Sofia
Bought from Bojangles Brides in Romsey, Hampshire
Birdcage veil: Amanda Wyatt
Shoes : LK Bennett
Diamanté hair band – Jennifer Behr
Flower girls dresses and fur capes: Monsoon.
Hair and Make Up: Le Salon in Chamonix by Seb
Grooms Suit: Goldings
Cake: Bride
Venue : La Cabane –
Entertainment : Jazz Band for the reception-Erik – sourced by Jody
Band- Pistey Boys – kept us dancing all night! – sourced by Jody
DJ:  Doug from the Pistey Boys – sourced by Jody
Favours : Home made snow gin