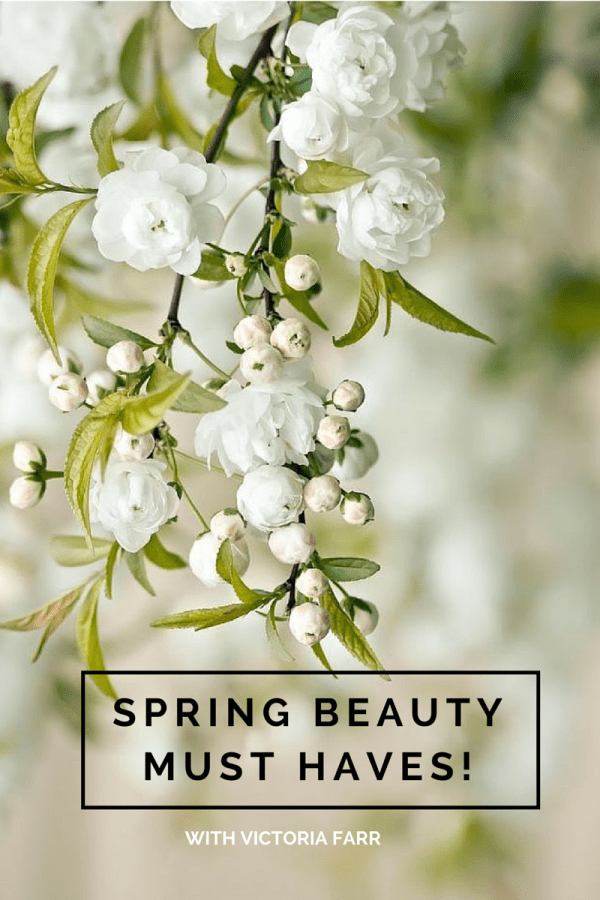 Spring Beauty Must Haves with Victoria Farr
In my last post I shared my Autumn Beauty Tips and highlighted my love for nourishing face products due to the change in season and winter coming. To keep in line with that, I wanted to share with you a product I have been trialling for several weeks which will help aid that parched, tight skin that we are all probably experiencing due to the wind, snow (!) and central heating.   Having skin that is balanced and in tip top condition will help your make up look fantastic and apply like a dream and this product with give you radiant, plump and nourished skin.
My skin is dehydrated, crying out for that extra boost of nourishment and then I stumbled across this wonderful product Squalane Facial Oil by US brand Indie Lee. Ever so curiously I did some reading on this product and found that this has one ingredient; that's it, no parabens or mineral oils and completely derived from Olive Oil!
To quote from Indie Lee, this wonderful facial oil 'Protects your skin from ultraviolet rays and moisturizes to prevent dryness and chapping which results in a finer, more textured skin. Squalane oil is also an excellent carrier of additional nutrients because it penetrates the dermis layer much more deeply than other topical creams'
After trialling this since the start of January, I have noticed that my skin is not as red in my cheeks or as tight. If you are thinking that this product is just for dry skin and not for those who have oily skin, I would highly recommend you trying this. The Squalane Oil that is being fed into your skin will regulate the oil produced by your sebaceous glands, as the Squalane mimics the oil your skin already produces, therefore, your skin is receptive to it. Be mindful of Mineral oils as they will clog the pores and cause further outbreaks.
So, how to use this product, I use 2 to 3 drops every morning and wait around 5/10 minutes before applying my foundation and also after cleansing at night time. This can be worn under your normal moisturiser or sunscreen and night cream if you wish.
Indie Lee has stockists globally and I am very excited to try more of her products as the ingredients are all natural and sustainable.
After watching Paris Fashion Week's Spring Summer Collections via Instagram feeds and social media updates, I just wanted to share my top looks for this season.
Firstly, it was all about that gorgeous fresh, dewy looking skin, which is a particular favourite look of mine for my beautiful brides and secondly, keeping it pretty on the eyes and lips. Here are two of my top products to achieve this look;
All about the base! My number 1 base for my brides is the YSL le Teint Touche Elcat – looks beautiful on the skin, giving a radiant, healthy glow and photographs amazing. The best way I find to apply, is to wait around 5/10 minutes after applying your moisturiser or facial oil then by using a foundation brush, work the product into the skin starting from the centre of the face outwards, this way the product is distributed evenly and can be built up to the amount of coverage you like.
Pretty in Pink! I love that Spring is on it's way and I'm already excited to be wearing a brighter lip colour and Chanel's Collection Reverie Parisian Collection is just stunning. The Rouge Allure Velvet lip colour in La Romanesque can be as light or as strong as you like. I would recommend working the product into your lips with a brush which will help the product stay on longer, blot with a tissue after the first application and then apply once again for a stronger look if you wish. You don't necessarily need to use a lip pencil, as the lip brush will allow you to line your lips.
Thanks and see you all very soon! Victoria x
Don't forget it is never to early to book your desired hair and makeup artist. To find out more about Victoria Farr's services visit www.victoriafarr.co.uk