Weddings are such a personal day, but it is easy to get caught up in the traditions and checking items of a list, without actually using traditions to add personal wedding touches to your big day.
Today we are getting up close and personal with real life bride Belle Bride Sophie as she looks at the personal touches that she is planning for her wedding.
*****
"I love seeing personal touches at a wedding, when planning our own wedding I have been thinking of many ways to make it a truly unforgettable experience. Not just for Stuart and I but also for all our guests.
On arrival our guests will automatically go and explore, find their room and unpack, therefore my first personal touch was to have mini wooden heart name tags printed out for all the guests staying in the Chateau, this not only identified their rooms,  but also becomes a lovely little gift they could keep and take home with them.
These inspirational gifts took me to purchasing a beautiful handmade wooden cardholder bird box, which you receive two roofs so we can later use it as a mini dollhouse! Another purchase from Etsy this time Door Country Woodworks and I  choose the colours of our house and what we wanted written above the front door.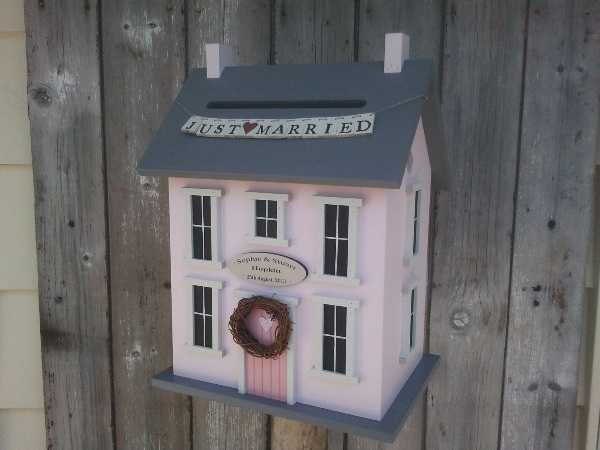 I wanted to create a mini sweet bar and by doing so I brought several different shaped glass sweet jars and personalised "love is sweet" sweetie bags. I chose his and hers wedding favours to go along with our wedding theme and filled these with pink, black and white jelly beans.
I even brought a "Just married" number plate off Ebay to stick on to our car whilst in France! These are only a handful of personal touches I have mentioned, I am still arranging some more as I type!
One overall touch, which I feel will go down well is the large garden games we have brought to entertain our guests over the weekend, such as snakes and ladders, connect four and chess. As I have two boys attending our wedding I wanted them to feel like they had their own castle and brought them a castle shaped tent to be able to play in and out of.
I am still busy planning, organising and finalising our wedding and I have 9 weeks to go this Sunday! I am super excited and can't wait to share these finishing touches with our friends and family."
****
Are you thinking of including personal touches in your wedding and if so what are you considering?