Today we are in for a treat a snowy real life wedding in Chamonix.  Kristell & Dominique a lovely french couple living in Geneva choose Chamonix because they absolutely fell in love with the restaurant (La Cabane des Praz) and the chapel.
Kristell tells us all about her  fun and relaxed DIY wedding: "Dominique and I really wanted a dreamy winter wedding with a lot of snow around us.  We wanted a relaxed and cosy wedding and the big point was "to have fun with our loved ones"!
We did everything by ourselves and asked Monica from Haute Wedding to organise the ceremony and practical arrangements.  These included the chapel arrangements and finding a celebrant who would travel to Chamonix and who sympathetic to the style of wedding we were looking to create.  Monica and Haute Weddings have been so helpful and efficient during the preparation, it was great to have her in our team and a person on the ground in Chamonix for the intricate logistical details.
I made the guests favors by myself, the flower jars, the "plan de table" with the cable cars, the ceremony booklets, menus, "OUI" sign in the chapel. We tried to personalize our wedding as much as we could, we wanted it to reflect our personalities and I think it worked pretty well.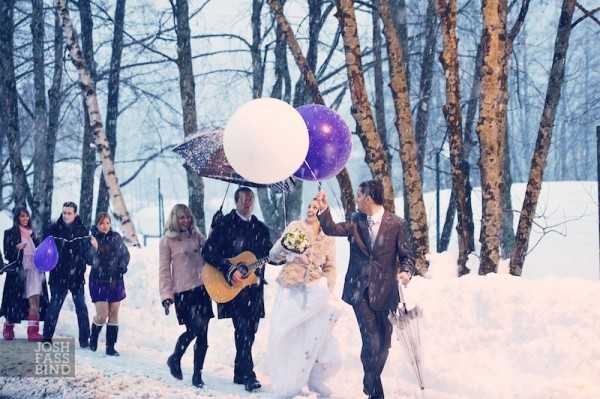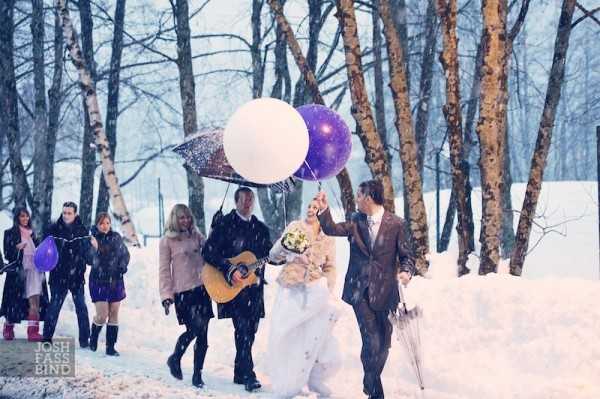 We had a great deal of fun planning the wedding, but that is not to say that it wasn't without its fair share of stress especially making sure all the elements of the day came together.
We did have one glitch the day before the wedding when we tried to make the heating for the chapel work. We had to move the motor from the road next to the chapel because the electric cables were not long enough, it was so heavy and snowing so hard that we couldn't move it as wished… Monica was even clearing snow to make a path in the snow for the motor… but it proved impossible!!! Although funny in hindsight at the time it was despairing!    Ultimately we couldn't ge the heating in the chapel to work, but decided to embrace this as part of having a winter wedding!
Almost 3 months after our wedding day and we have no regrets, our wedding was absolutely as hoped!! We are very happy to have followed our dream of getting married in the snow!"
Kristell & Dominique also had a great photo booth area where their guests really had fun!
The chalet looks so cozy as a wedding reception venue a place where you can really make yourself at home!
Thanks Kristell & Dominique for sharing their fun filled wedding and demonstrating how to bring your own style into a destination wedding.


Credits:
Ceremony held in the Chapelle des Praz
Celebrant: Pierre-Henri Thérond (Gracefully)
Restaurant: La Cabane des Praz, Hervé
D-Day planner: Monica Delevaux (Haute Wedding)
Hair: Mario Deodato
Make-up: Arnaud Buchs
Photo: Josh Fassbind
Video: David Bangura (Passion Images)
Wedding tux : Izac / Hugo Boss
Wedding Dress: Gueule d'Ange
Shoes: H&M
Boots: Lacoste