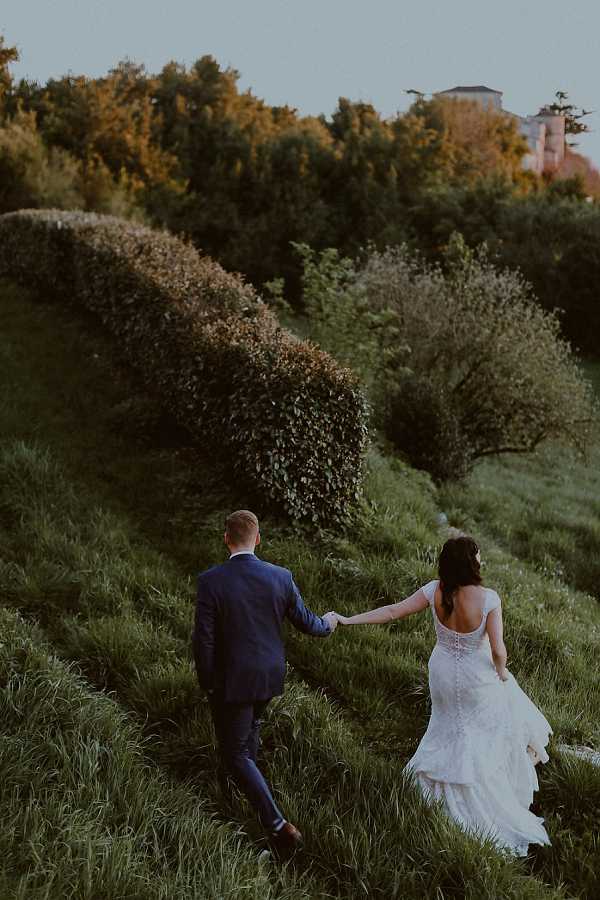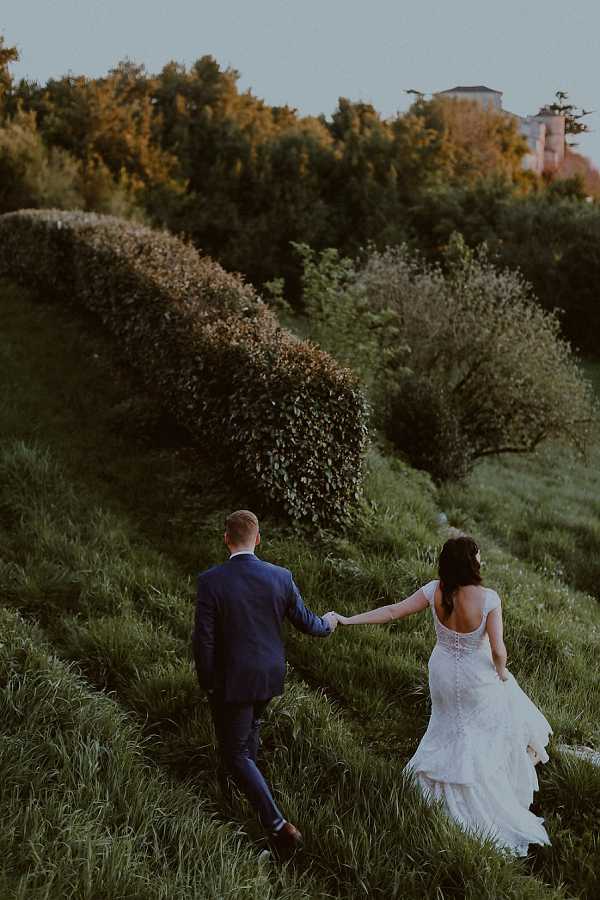 Good morning lovelies and welcome to the first week of April, kicking off this month we have for you a shimmery rose gold Château Sentout wedding.
We just love the styling of the gorgeous wedding of Kelly and Doug, from Kelly's scoop back Madison James gown to her bridesmaids mix matched shimmery dresses from Adrianna Papell.
Their wedding day was held at Chateau Sentout in Bordeaux. An intimate wedding venue which caters for weddings of 50 to 100 guests and as Bordeaux was elected best European Destination in 2015, it seems the perfect place to say 'I Do'. There are so many beautiful things to see and do, you can read more about this stunning city as part of our wanderlust series here with the assistance of Diane Kenyon-May from DKM Luxury Rentals.
We will now pass you over to Nicole Tournois of Pure Expression Events who will be walking us through today's Château Sentout Wedding…
"All couples have priorities – for Kelly and Doug, it was being together with family and friends. You'll say, this is the case with most couples, but with Kelly & Doug, this was THE priority, THE guideline, THE fundamental theme. With both bride and groom working for non-profit agencies, they wanted to stick to the essentials. We worked on virtually every detail of Kelly & Doug's special day keeping this priority in mind."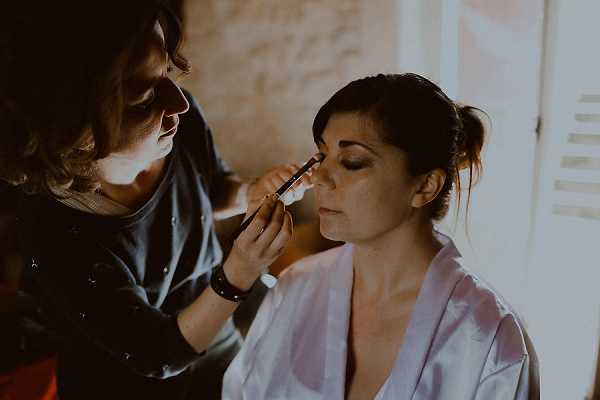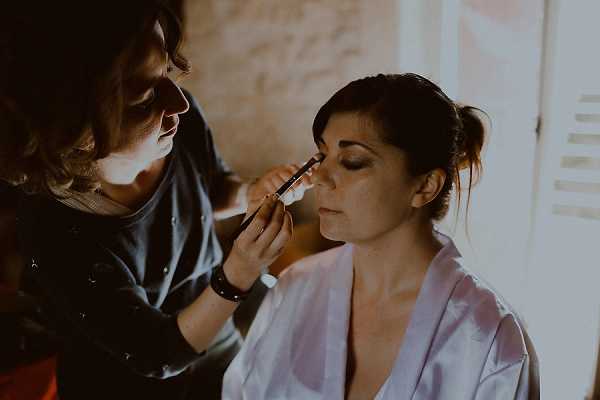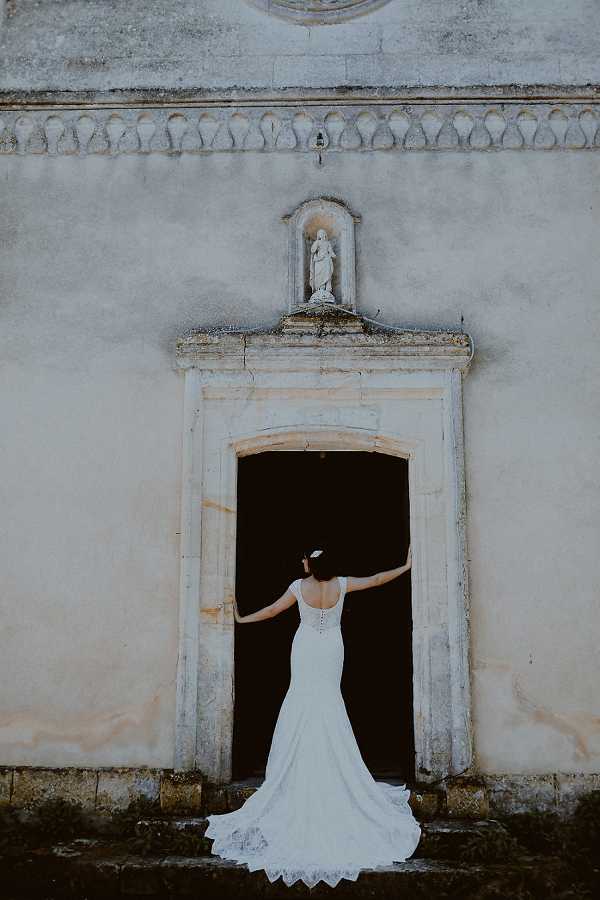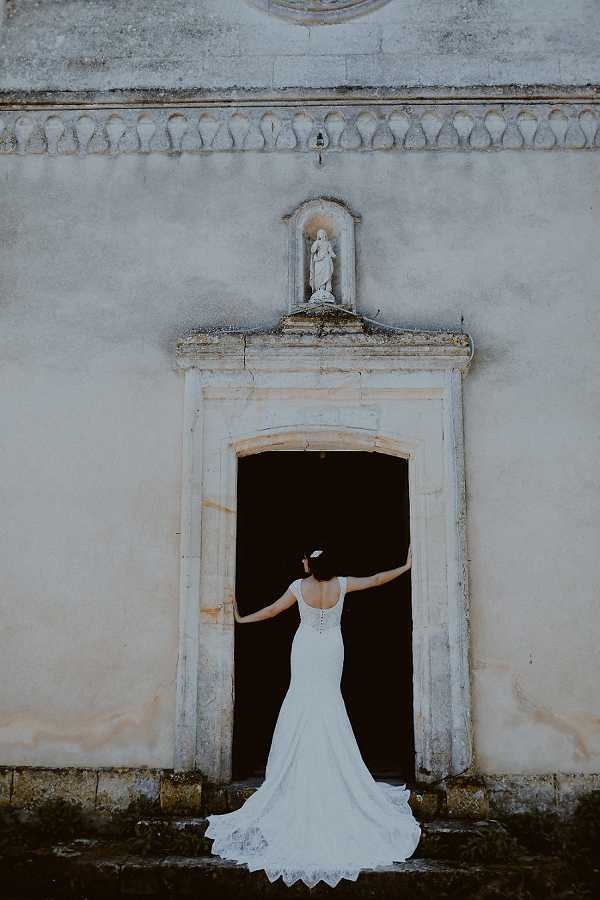 "First, it was enlisting the perfect catering to provide the perfect mix of French comfort foods and gourmet treats to fit a formal yet not-to-stuffy affair. Next was planning the "Tuesday Tour". As part of their week long wedding festivities, this couple wanted to offer guests a private vineyard tour to introduce guests to one of the finer things in Bordeaux life – wine tasting that is! On an unseasonably warm Tuesday in March, guests meandered from Chateau to Chateau, visiting beautiful properties such as Château Filhot and the Medieval town of Bazas. A fabulous relaxing day for everyone. The next day was followed by an incredible pig roast in classic French style. Moving speeches, laughter and overall good fun the evening before the big day!"
"Did someone say shimmery rose-gold?
Finally, it was time to get to the fun stuff – the design! Château Sentout is as stunning as can be. The property's whimsical and organic elements made fusing the soft, fairytale vibe of Kelly's vision both fun and innovative. California Fleurs did an incredible job of bringing together a sophisticated vintage colour palette with a wow factor wedding arch and beautiful bouquets that went perfectly with the bridesmaid's sparkly rose gold dresses."
"Kelly and Doug chose a US based photographer who I met just the day before the wedding. As a planner, this is slightly stressful not only because you are meeting a vendor at the last minute, but because you are meeting an American photographer at the last minute. I don't like to generalise (I know my people), but sometimes I have to make special accommodations for American photographers and videographers (haha)! I was blown away! Sarah Berner was accompanied by her husband for the event as second camera man (I love husband and wife duos). They were open, warm, professional and excellent dinner conversation. It is needless to say that the photos capture very eloquently the intense emotions on the day of the wedding. Unbelievable work from exceptionally dedicated people."
"Believe me – you could feel the emotion of this wedding. It was like a happy, loving, spiritual daze that enveloped all the guests. The ceremony was performed by family friend and minister – VERY emotional, beautifully eloquent, lots of tears from everyone. One of the most moving ceremonies I have ever witnessed."
"During dinner, moving speeches and special words were intertwined with excellent food, great wines and between course dancing! And on top of that, we had record temperatures for that day in March and the whole evening took place in an open marquee."
"Kelly and Doug's wedding was one of those events that you just know everyone enjoyed to the fullest – no fuss, back to basics, family values. What an honour it was to be a part of this special life moment!"
A few words from our bride Kelly…
"Everything about our time in France was pure magic. From the exquisite weather, the food, the people-our day was everything we dreamed it to be."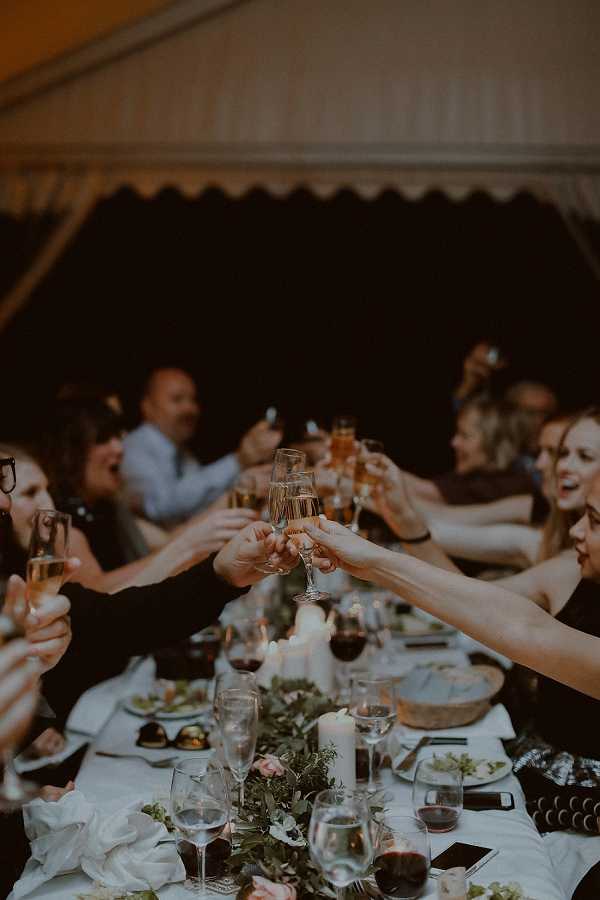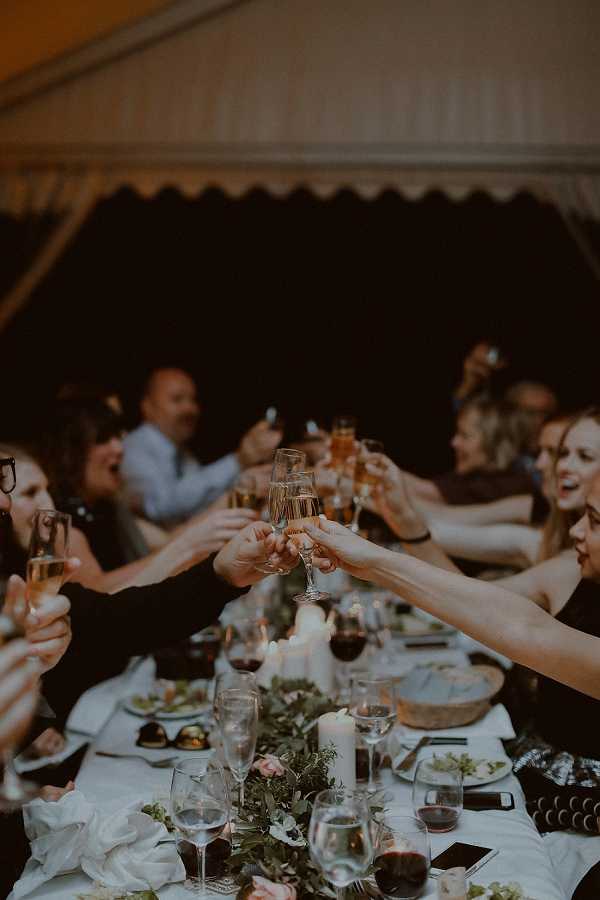 Congratulations Kelly and Doug from everyone here at French Wedding Style!
For even more Château Sentout Wedding inspiration check out this relaxed Bordeaux wedding.
Shimmery Rose Gold Château Sentout Wedding Snapshot
Wedding Vendors
Venue: Château Sentout | Photographer: Sarah B Photography | Planner: Nicole Tournois – Pure Expression Events | Dress: Madison James | Hair: Expression Coiffure | Make Up: Virginie'e | Florist: California Fleurs | Grooms Outfit: Sarar | Bridesmaids Dress: Adrianna Papell | Accessories: The Mrs. Box