Sorry for the lack off shedding for wedding dress diet updates over the last few days, life's juggling act got in the way .  Still, moving along with the cruise phase of Dukan Diet, so much so that I don't actually feel like I am dieting just this is what I eat now.
So how are my numbers:
Weight:      13st 7lbs (-11lbs)
Chest:         46″
Waist:         41″
Hips:          46.25″
I am not at sticky weight at the moment and according to Sonia Scales (Wii fit board) my weight is going down every day, but in 1/4lb and 1/2 measures.  Who ever said Dukan was quick fix diet, certainly didn't get past attack phase!
As part of Dukan Diet there is compulsory exercise – I think a fantastic thing.  In the past I used to be a fit person, ran 3/4 times a week and even took trainers on holiday with me.  I am not sure when it actually changed, but as the weight went on I exercised less and became more and more self-conscious when I did exercise.
We all know what it is like, when you see these beautiful people running along, not out of breath, not sweating and not looking like they are about the keel over.  It is not about judging myself against other people, but I find in this situation I just don't push myself as hard as I would do if they weren't there.
So I found myself my own little piece of outdoor heaven: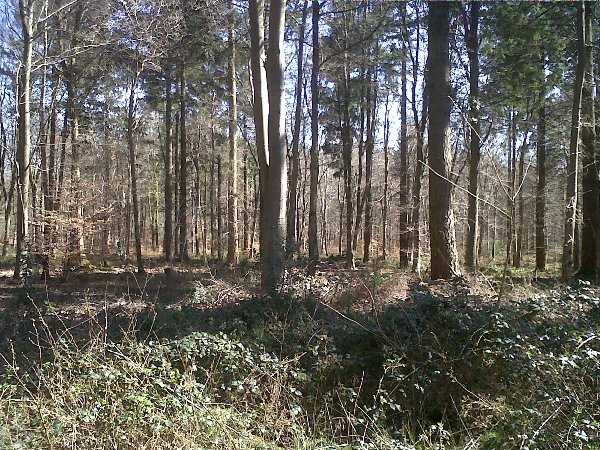 This is my wood, well not mine actually but I mostly have it to myself apart from the very occasional dog walker.  I go here nearly every day in my sports gear topped with a very baggy t-shirt for my compulsory exercise for 20-25 mins.
At the start it was just a fast walk, no running at all.  Now in my third week I have tree markers and walk, run, walk, run, walk, run, walk for the time.  I absolutely love the small bit of running that I am currently doing, through the trees on a sunny day it is pure bliss/ hard work.
The day that I can run for the full course, I will be prouder of myself than any number on any scale.
There is another reason that I love this time so much – not being at a computer.  Anyone who has a blog or home based business knows that the whole day goes by and you can realise that you have been sat at a computer.  I love working on the blog and I also have a job which is based on the computer – but being able to go out and have that small piece of "me" time in a place that I love, has truly been freeing to me.  And I also have some great ideas whilst running.
Next mission I need to look at my sports gear and see what needs updating.
How is everyone else incorporate exercise into their daily lives?
Monique x