I hope everyone is having a lovely Samedi as today I move to Perpignan France on our scenic travels. Perpignan is located in the Languedoc-Rousillon depart, the last major town before hitting the Spanish border. Perpignan can provide the ideal location for exploring the Languedoc equal distance from the foothills of the Pyrenees and the nearest beach.
The culture in Perpignan comprises of a mixture of French and Catalan.Perpignan is not your typically French town, with road signs in French and Catalan and the Catalan culture easily visible on the restaurant menus and proudly placed flags.  Once the home of the Kings of Majorca the castle is situated in the old town and you can make your way up through winding street to explore this and the rampart walls now home to a wide variety of businesses and houses.
The new train station Centre del Món is now open and means that Perpignan now has the TGV connecting Montpellier, Barcelona and Paris.  This is part of the changes that are happening in Perpignan, with new hotels and apartments aimed at business travelers and tourists.
Place Argo
The Procession de la Sanch is an annual ceremony whereby cloaked figures walk through the streets of Perpignan to the beat of a black tambourine.  The procession takes place on Good Friday and its origin was to assist and accompany the condemned to their execution.
Quai Vauban
Palais des Rois de Majorque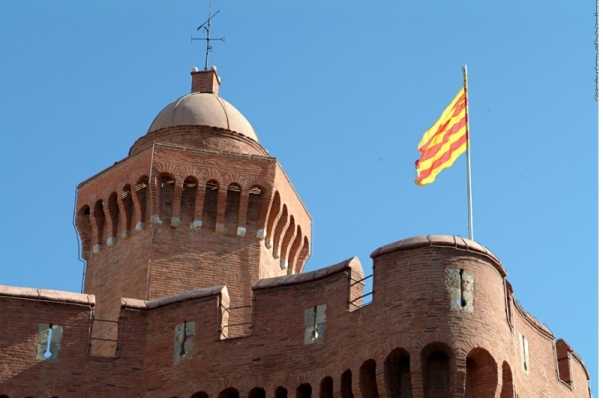 Castillet Perpignan
Hôtel Pams
Campo Santo
Rue Paratilla
Jeudis de Perpignan
If you are looking to go to Perpignan on holiday and are seeking accommodation, the four star La Villa Duflot can offer you a luxury retreat.  Stroll through the shady patio, relax in the art-deco style lounges of the hotel and indulge your senses in the gourmet restaurant in the hushed quiet of a southern sunset.  Your little oasis for your Languedoc explorations.
The Perpignan Tourism website can provide lots of information and advice if you are planning your holiday or wedding in the Perpignan area.
I would love to hear of your experiences in Perpignan.
Monique x