When I think of Bordeaux it is usually about the wine produced by this beautiful region.  However on my recent visit to Bordeaux my opinion changed and I fell in love complex charm of the city and its lifestyle and so Bordeaux is the destination for today's Scenic Samedi.
So lets look at some facts Bordeaux France is located less than 3 hours from Paris by TGV high speed train, 45 minutes from the ocean, the Dune du Pyla, and Arcachon Bay, 2 hours from Spain, and 3 hours from the Pyrenees ski slopes.  Bordeaux was recognised as a UNESCO World Heritage Site on June 28th 2007 including 363 classified monuments, an 150-hectare listed historic sector, and 3 churches (Saint-André, Saint-Michel, and Saint-Seurin) already recognised as World Heritage Sites on the Pilgrimage Route to Santiago de Compostela.
But what was it that stole my heart?  I think that it was a mixture of eclectic architectural beauty and the sense of calm and quietness.  I was taken aback by just how quiet a city Bordeaux is, whilst still being vibrant and busy.  It was the polar opposite to the big cities in the UK such as London which are full of hustle and bustle, vehicles and business men and women determinedly making their way through the sea of suits.  Of course the electric trams in Bordeaux and the pedestrian areas, certainly help with the noise and pollution level.
© T. SANSON
 © F. POINCET
© T. SANSON
The Grand Theatre in Bordeaux really is extremely grand, beautiful and elegant and dominating in its size.  If you get a chance to visit the Grand Theatre at night the building has a different character, bathed in golden lighting it seems to soften into its surroundings and is a hive of activity.
© A. KUMURDJIAN
© B. LAFOSSE
During my visit to Bordeaux, we spent hours just meandering through the streets of Bordeaux, not shopping just looking at the beautiful architecture and stopping for the occasional liquid refreshment.
© F. POINCET
© T. SANSON
© F. POINCET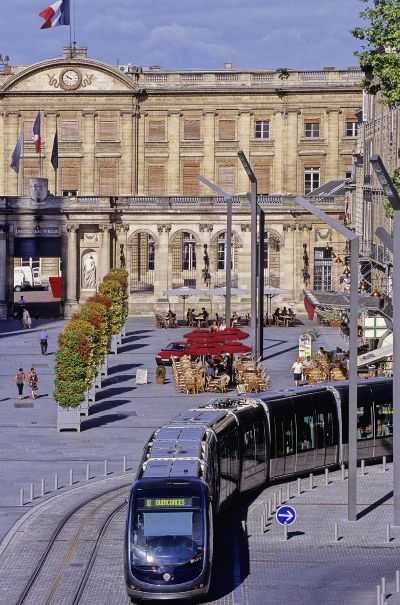 © F. POINCET
Whilst wandering around the streets, the smells from the many patisseries fills the air.  There are so many bakeries and patisseries with mouth-watering delights in their window displays, but this one with the huge range of macarons was just too good to ignore.  As an aside this was before I started my shedding for wedding dress diet, and they were worth every sweet mouthful.
Although the weather turned a little dreary, one of my favourite places was the public gardens complete with lake, carousel and stunning architectural buildings.
The garden was full of small groups of people practicing yoga, runners, families enjoying the open space and older couples sat on park benches watching the world go by.  This was a truly calming place and I would definitely recommend a visit whilst in Bordeaux.
If you are looking to find out more information for your visit to Bordeaux visit Bordeaux Tourism or pop into the Tourism Office in Bordeaux as the staff were very helpful.   Bordeaux also has a wine festival coming up on Thursday 28 June to Sunday 1 July 2012 on the quays of Bordeaux.   The festival is aimed at lovers of wine, food, celebration, and culture with over 600 vineyard tours, wine school workshops, tasting passes to try all the wine, music and concerts, fireworks every night and of course lots of wine to purchase!
If you are travelling or live in Bordeaux and planning to attend the wine festival I would love to hear your feedback.
Monique x x