Happy Thursday lovelies, fresh on the blog today we're heading to the Jardin Arigle Passion for a Same Sex Destination Wedding Inspiration shoot brought to us by wedding planner Stéphanie Gay of Mon Jour Parfait!
Stéphanie along with a long list of talented suppliers imagined a gay wedding inspiration shoot and brought their vision to life! We love the tattoo bar and wooden games, it really adds a fun vibe to their gorgeous day.
We'll now pass you over to Stéphanie who will be walking us through all the details…
"As a wedding planner I wished to create a inspirational photo shoot and I chose to work on this project with photographer Sophie Bachere. Our universes and our desires led us to carry out a shooting of gay rural inspiration."
"We called on a true couple (Pierre and Jeremy) for more realism. Pierre and Jeremy are themselves getting marry in November 2018."
"We made the choice of a rural wedding to remain in the current trend and gay because we are sensitive to this cause and we see only a few weddings with men. We also wanted a couple of bearded men because we love men with a bearded look."
"We wanted to create a true wedding feel to our inspiration shoot by using guests, animations and a DJ to show all the aspects of a wedding and to change what one usually sees. So we called on guests and another real couple (Stephan and Tristan) to incarnate the roles of the witnesses. We surrounded ourselves with vendors of quality who wanted the same as us, to dissociate themselves and leave the beaten path."
"We proposed the idea that one can have fun during a wedding and/or a photo shoot, which can sometimes be a little long for the guests, while playing with life size wooden games. The reception can also be made more convivial with a tattoo bar or cocktail bar which amuses kids and big kids."
"We chose the Jardin Arigle Passion for the beauty and the size of its garden and outdoor space. The diversity of the places and hidden spaces made it possible to create various environments and universe: preparation of the grooms and the witnesses, laic ceremony, meeting couples, animation with wooden games, reception and bars with tattoo and cocktails and space to dance."
"We wanted to propose a decoration simple and refined at the image of our couple of grooms. Touches of flowers, windmills and flowers out of fabrics were enough to create a smart and rural environment. The code colour was black to remain chic and red to give energy and an amount of additional love. We have to play with bales of straw and pallets to create a rural environment."
"The shoot was held in several stages… preparation of the grooms and the witnesses, the laic ceremony, animation with games, our couple, the reception with tattoo bar and cocktail bar and finally the party around the DJ. We had a lot of pleasure creating this shooting, I hope that you will take pleasure in discovering it."
For even more same sex wedding inspiration check out this sweet Saint James Hotel Paris engagement love story.
Same Sex Destination Wedding Inspiration Snapshot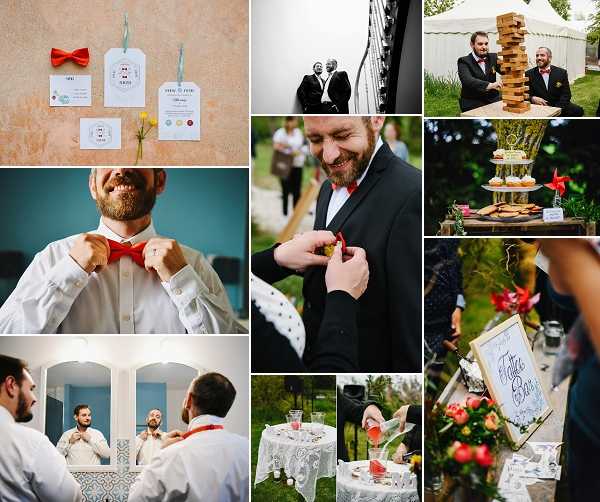 Wedding Vendors
Ceremony Venue: Jardin Arigle Passion | Lead Photographer: Sophie Bachere | Second Photographer: Clemence Dubois | Videographer: Lisa Rogos | Planner: Stéphanie Gay | Grooms Outfit: Devred 1902 | Accessories: Marie Pierre Ginestet | Florist: Madeline Ruher | Florist: Alice Marty | Decoration: Lucille Barlan | Stationery: Audrey Dubois | Cakes: Elvina Calvayrac | Celebrant: Macha Calas | Entertainment: Benoit Quintanar | Entertainment: Sébastien D'olt | Accommodation: Evelyne Fantova