Welcome to the start of another fabulous week and we are starting off with the rustic wedding at Chateau Lagorce of Rebecca and Fang. If you are newly engaged and considering a wedding abroad, then Rebecca and Fang's story is perfect for you to realise why France is the perfect destination over Italy and Spain, but then I am biased!
Set near Bordeaux Chateau Lagorce provides an dream wedding setting with a picture perfect Chateau and pretty gardens that provide a fairytale backdrop for your wedding images.  I also adore Rebecca's bridal style, she looks effortlessly chic in her Vera Wang wedding dress, teamed with Jimmy Choo shoes and demure hair and make up.
Bride Rebecca takes us through her story:  "If someone told me that I would end up getting married in a beautiful chateau in France, I never would have believed them! We initially considered wedding venues in Spain and Italy (Florence in particular) as we loved the charm of both countries when we last visited them, but none really caught our attention. They were either too small or too extravagant. We wanted a venue which could not only host the ceremony and reception but to also have accommodation onsite for most of our guests as everyone would be flying in from all over the world.
After countless days scouring for venues, somehow, by a stroke of luck (and fate!), I stumbled upon the Chateau Lagorce wedding website and I knew then it was THE ONE! A castle, south of France, in a region famous for its fabulous wines.. PERFECT! It ticked all our boxes so we booked the place without physically being there to view it (a bit crazy I know!!) We made a trip there a month before our wedding and all our worries were cast aside as we were greeted by the most amazing sight.
It wasn't too hard deciding on a colour scheme. I am such a girly girl and I love anything pink and floral but Fang didn't want it to be too girly so we reached a middle ground – Coral peach! I dressed my bridesmaids in coral peach dresses and the groomsmen in matching coloured bow ties. My niece was the flower girl and my nephew was our ring bearer.
 In terms of decor, I opted for the whole casual rustic look. As the chateau grounds were so beautiful, I didn't want to overdo it with the decor as no one would have noticed it anyway with such an amazing backdrop. All decor were sourced from weekend markets, shops and eBay! I bought things like vintage birdcages, candle holders and decorative lights. The jars for the centre pieces were collected by family & friends and I spent many nights after work decorating the jars with ribbons, lace and burlap. My bouquet was made up of pink peonies, peach roses and white ranunculus. These were combined with hydrangeas, gypsophila and hyacinths to make the floral decorations on the tables.
Our ceremony was meant to be held outdoors with the lush greenery as the backdrop. But as luck would have had it, it was raining on the morning of the wedding so we decided to move everything indoors. Although I was a bit sad we couldn't say our vows in the garden overlooking the lake, everything worked out well in the end. I walked in to 'La vie en rose', which Fang chose as he thought it was very befitting to the setting.
For Fang's wedding gift, I surprised him by hiring a live painter to paint during our reception. Marta is one of a kind as she captures all the details of the night and paints it on the spot. Everyone was in awe as most had not seen such a thing at a wedding before. Fang loved it and we got a very beautiful painting of our wedding at the end of the night!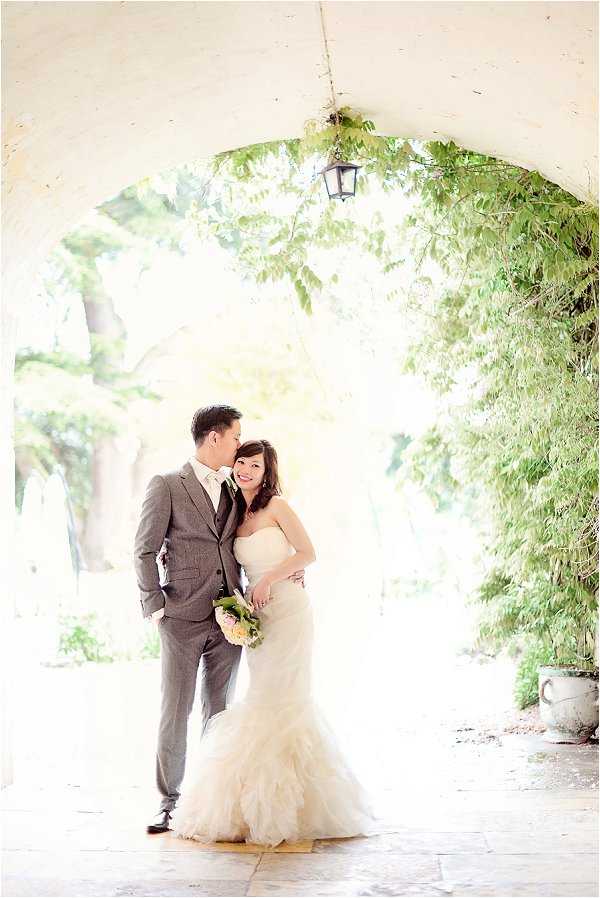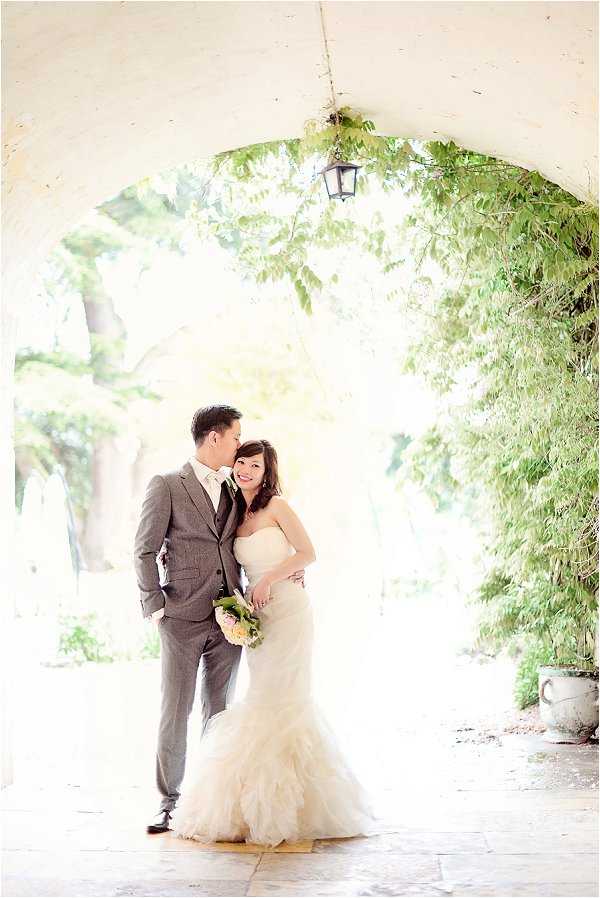 Instead of having table numbers, we named the tables after our favourite European cities we've visited. I used scrabble tiles to make the guests name cards, which although did take up a bit of time to make, was well worth it as our guests loved the little 'souvenir' they got to take home! We decided to pack snacks that reminded us of our childhood in Malaysia and this was given out as wedding favours. Our relatives helped source everything from Malaysia and it definitely brought back lots of childhood memories for our guests that night.
As we were in France, we wanted to serve wholesome locally sourced french food for the reception. We had a vegetable tartlet as a starter, porc mignon in cider with caramelised apples and potato gratin for mains and for dessert, profiteroles from the croquembouche (our wedding cake!). These were all complemented by wine.. LOTS OF WINE!!
We had an awesome band, Agence Mess who sang during champagne & canapés and also dinner. Our first dance was to Stevie Wonder's 'For Once In My Life' and we were treated to an amazing display of fireworks and sparklers after that. We then had the DJ come on and he didn't stop till the last person left the dance floor, in the wee hours of the morning!
Throughout our wedding celebrations, Emm and Clau our wonderful photographers, and Mickael our videographer captured all the emotions, mood, colours and background we wanted to a tee! These guys are so good at what they do that each time we look at our wedding photos and videos, it is like we have stepped back to into our wedding. Also without our wedding planner Anna, things would have been so much harder to organize!! I think what made our wedding so perfect for us was just how relaxed and casual everything was. We stayed at the chateau for 4 days and at the end of it, everyone said they didn't want to leave!
Our advice for couples would be to make your wedding as personal as you can, as these bits really convey you as a couple. Also, if you can ask friends and family for support and help, it will be a big bonus. If you are having a destination wedding and don't speak the language, please try to get a local wedding planner who does. This will save you from lots of headaches and tears! We DIY-ed everything –from programme books to stationery to wedding favours to signs.
Start preparing early as those little jobs you think will take a few minutes will end up taking hours! I'd also say be prepared about how much emotion will hit you. Fang & I are both quite relaxed and so thought we'd be really chilled on the day but emotion does hit you in an overwhelming wave – but in a good way! And last but definitely not least, enjoy every minute of the big day as it is truly a wonderful day!"
Wedding Suppliers:
Photographers: Emmandclau Photography  | Wedding venue – Chateau Lagorce, Bordeaux | Videography – Mickael from MICKA Films |  Wedding Dress –   Vera Wang at Browns, London | Wedding Planning / Styling – Anna Holmes (Chateau Lagorce) |  Groom's Outfits – Thomas Pink and Celio |  Bride's Shoes –   Jimmy Choos |  Entertainment – Agence Mess |   Live Painter:    Marta Wydler