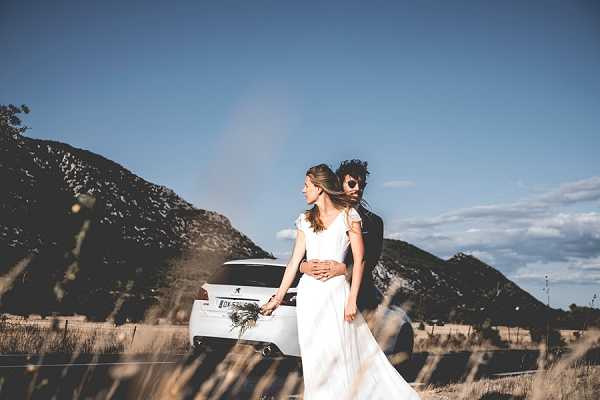 Good morning lovelies, today we are taking you to the Hérault department in Occitanie in southern France for a rustic countryside post wedding shoot where today's couple Adeline and Amine from Belgium chose to do something slightly different after their big day.
As I'm sure you are all aware your wedding day can fly by and so taking time out and away from your guests can be difficult sometimes, which is why Adeline and Amine opted for a photoshoot with Gregory Bonnefond after their wedding day. This gave our lovely couple a second chance to wear their wedding outfits and to also feel much more relaxed in front of the camera!
To explain more about this shoot we'll now hand you over to photographer Gregory Bonnefond of From Wedding With Love to share with us a few words from his post wedding shoot with Adeline and Amine…
"I met Adeline and Amine in Barcelona in 2017. They are Belgians and I am French, we immediately hooked, talked a lot about photography and their upcoming wedding. They had unfortunately already planned a photographer for their D-Day in Belgium, but a few weeks after their union, Adeline really wanted a commitment session with her wedding dress. So we meet in the south of France near Ganges to perform an unprecedented session where both got to wear their wedding outfits."
"I really wanted to do something that suited them. I proposed a natural space, at sunset, on the edge of a road and even on the road with Adeline barefoot. Adeline and Amine found that the idea fit perfectly to their desires and played the game, despite the cars. The session was simple and relaxed and we had a lot of fun, a real plus to make beautiful pictures."
Here is what our bride Adeline had to say about the photoshoot…
"It's not always easy to take time away from your guests for a photoshoot on D-Day, especially since I wanted something specific and it meant leaving the reception and guests for a good time. So we decided to organise a photoshoot after the wedding. We were much more relaxed and it was a great opportunity for us to put on our beautiful outfits for a second time!"
"The place chosen for the photoshoot was close to my heart because that's where I spent all my summers with my family since I was a little girl. And since I met Amin, we go there every year together. It is a small village in the Hérault."
"As far as the photographer is concerned, we had already seen Greg's work and what he was able to do and we were not disappointed. Quietly listening to what I had imagined, he managed to create my vision and, without staging, to capture the beauty of the place, the complicity and love between my new husband and me!"
"His photos are beautiful, natural, pure and sometimes offbeat. The session was a pleasure for me as much as for Amin who is really not a big fan of the lens. We really enjoyed sharing this moment together and with Greg."
"The dress I wore is from the Rembo Styling brand. I had tried a long time before the wedding and I had fallen in love with his style, his lightness, it was totally me. When choosing the dress, I immediately turned to this brand that came from Belgium like me!"
Congratulations on your wedding Adeline and Amine from everyone here at French Wedding Style!
For even more couple shoot inspiration check out this picturesque French countryside engagement shoot.
Rustic Countryside Post Wedding Shoot Snapshot
Wedding Vendors
Photographer: Gregory Bonnefond – From Wedding With Love | Make Up Artist: Leandro Tirreno | Dress: Rembo Styling