Hello lovelies and welcome to the first Monday of this wonderful new month, we have for you a rustic countryside Chateau Rigaud wedding full of pretty inspiration today.
Our bride was hugely inspired by Pinterest when planning her French destination wedding. Did you know French Wedding Style has over 100 wedding inspiration boards over on Pinterest? You can see all the swoon worthy inspiration here.
Today's lovely rustic wedding included a Vin d'honneur, an old French tradition which is known as the link between the ceremony and the evening meal. I love the idea of a vin d'honneur especially in a country where they make such wonderful wines and champagne. I actually am sad to say I never incorporated this tradition into my wedding day, I guess we did half vin d'honneur and half afternoon tea. After our ceremony we served afternoon tea in the gardens with a glass of violet sparkling wine.
I'll pass you over to our lovely bride Nina who will be walking us through her big day…
"For the wedding France seemed a great choice as Ben is French; his grandparents live close to Chateau Rigaud so it made sense to have a wedding in that part of France.
We chose Chateau Rigaud as we loved the whole style of the place, rustic, shabby chic. Also, the overall package of Chateau Rigaud – 4 full days in the Chateau for the closest friends and family (12 rooms in total), with in-house cook and great pre- and post-wedding activities (canoeing on the Dordogne, post-wedding brunch etc). This allowed it to be a real short holiday for the bridesmaids / groomsmen and family, who were all travelling from quite far."
Nina chose a Laure de Sagazan gown as she wanted something simple and slightly whimsical to match the overall style and mood of the wedding. A simple dress for the ceremony and the vin d'honneur, and a little top to go with it for dinner to mix things up a little.
Before the first dance Nina changed into a short dress also from Laure de Sagazan to make the dancing easier…

"Our main source of inspiration was Pinterest. We wanted to keep it fairly simple in terms of colours and decoration. The colour scheme was sage green and peach. We wanted it all to look understated and countryside like and definitely didn't want anything too manicured and styled.
One thing that was important to us was to bring in elements of all our four cultural backgrounds: I'm half Indian half German, and Ben is half French, half Moroccan. So we had a Moroccan friend of ours perform a belly dance during the "vin d'honneur", and an Indian friend of ours (who is a professional Bollywood dancer) performe an Indian dance during the speeches. The 1st dance was a surprise medley of a German waltz, La Vie en Rose, some Arabic dancing and ended with a Bollywood dance in which the 4 bridesmaids and 4 groomsmen joined."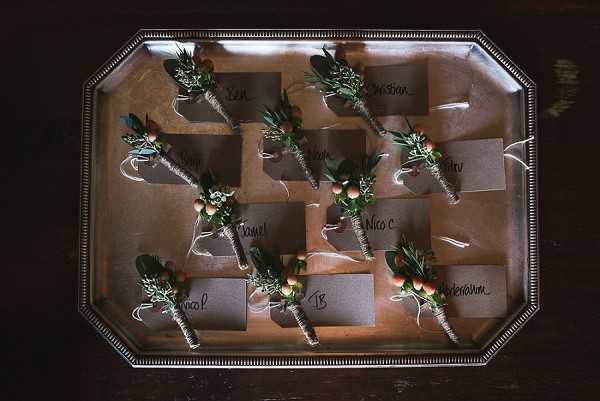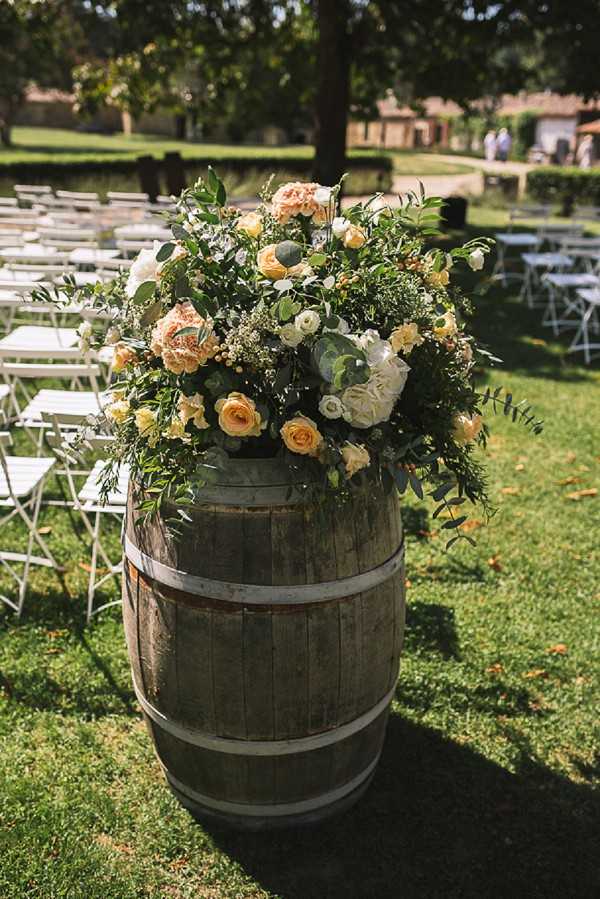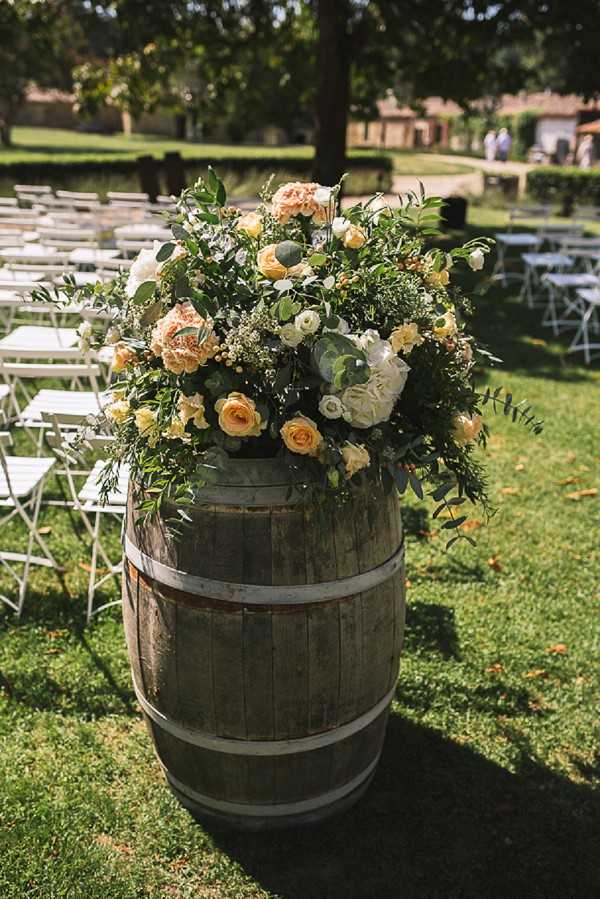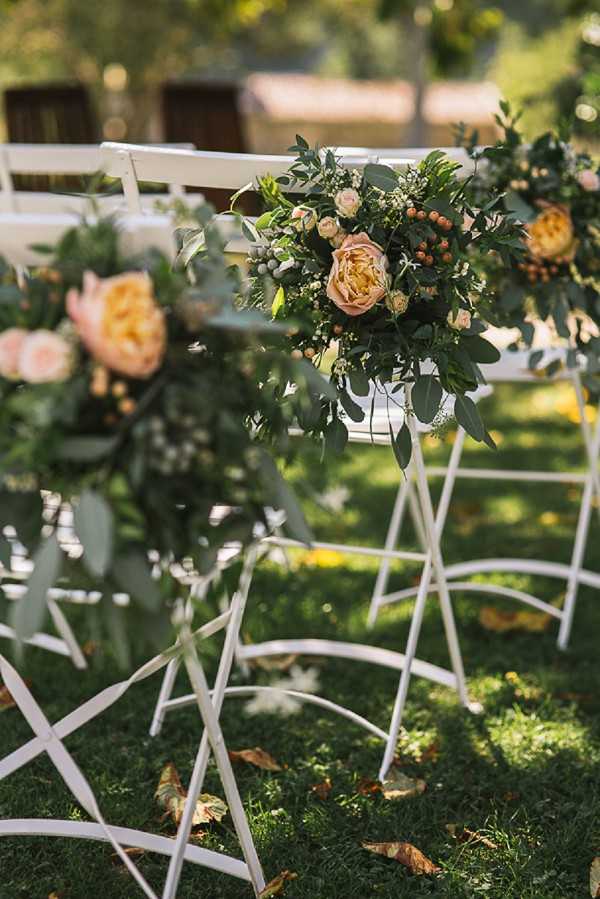 Our handsome groom Ben and his groomsmen all wore suits from Walker Slater and Nina's bridesmaids' wore J Crew dresses, each in slightly different styles which we thought was a lovely idea.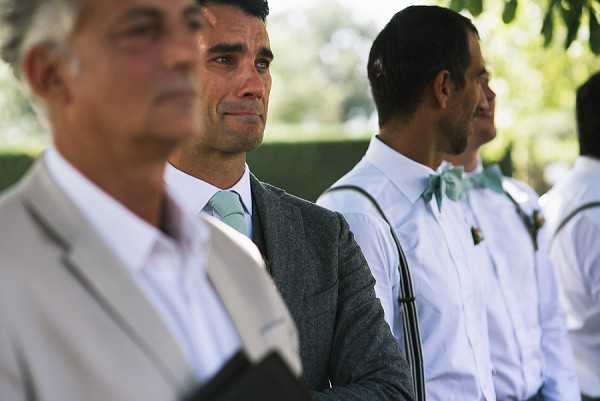 "The ceremony was held bilingually in French and English. After the ceremony we moved to the back of the Chateau where drinks were served and various canapés incl. fresh oysters and scallops fried in front of the guests. We also had a Jazz band playing and then a surprise Moroccan belly dance by one of our friends. At around 7pm the guests were moved to the wedding barn, where there were speeches and an Indian dance. The party took place in the wedding barn as well."
"Our suppliers were mainly recommended by Chateau Rigaud: our flowers by Flowers in the Vines, catering). The only suppliers we chose ourselves were our photographer Kristian Leven, our videographer Ping Pang Films and the band Jazz et Cie. We wanted a band that could play some Jazz during the vin d'honneur, and they were perfect for that. And for the party they then supplied the DJ, saving us from having to use several different bands. We also hired a photobooth for the evening which was a great success"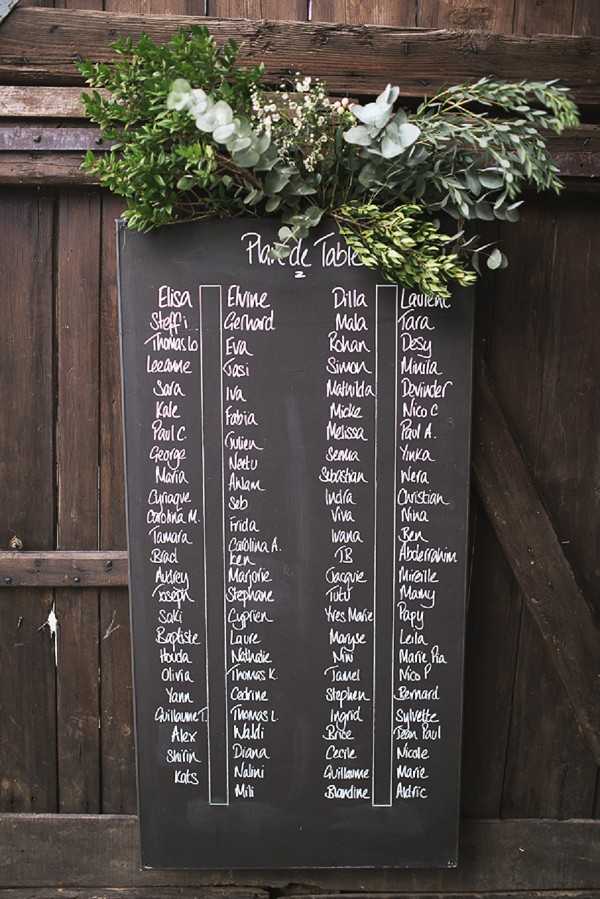 "Luckily there were no major hiccups for planning our wedding in France. The only challenge was the accommodation for all the guests, because of the remote location of the chateau there were only limited B&Bs and Guest Houses in the area which tended to get booked up incredibly early (most places were booked out by January – 8 months before the wedding!), especially if another wedding is taking place the same day in the area (which was the case with us). Luckily everybody did get a roof over their head in the end, but it wasn't as straight forward as we'd hoped."
Top tip from our lovely bride Nina: "If you're hosting the wedding at a third party location we highly recommend a local wedding planner who knows all the do's and dont's and has the relevant experience and connections."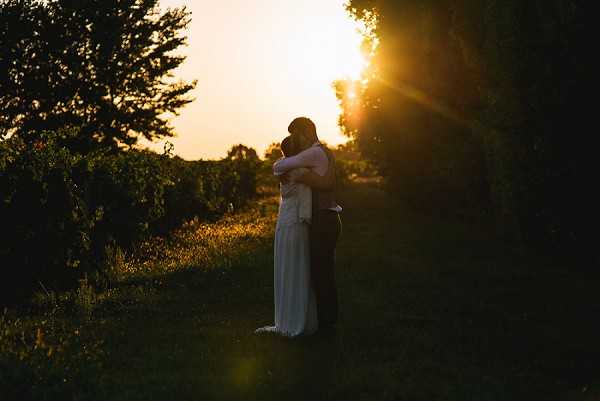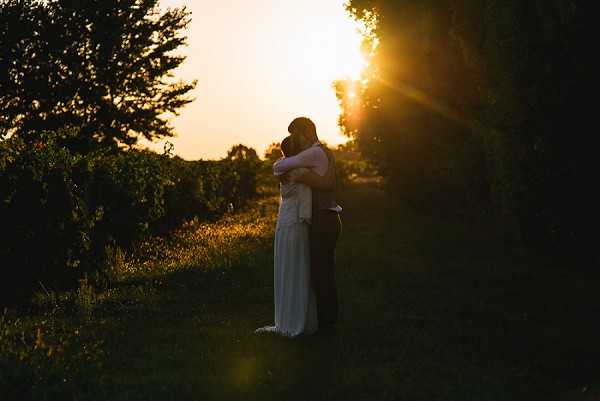 Here is the lovely film by Ping Pang Films from Nina and Nico's Chateau Rigaud Wedding:

Teaser Nina & Ben from Tuan Nguyen on Vimeo.
With love,
Christina
A Rustic Countryside Chateau Rigaud Wedding Snapshot
Wedding Vendors:
Venue: Chateau Rigaud | Videographer: Ping Pang Films | Hair and Make Up: Laura Cawte | Florist: Flowers in the Vines | Brides Dress: Laure de Sagazan | Photographer: Kristian Leven | Bridesmaids Dress: J Crew | Grooms Outfit: Walker Slater | Shoes: Clarks