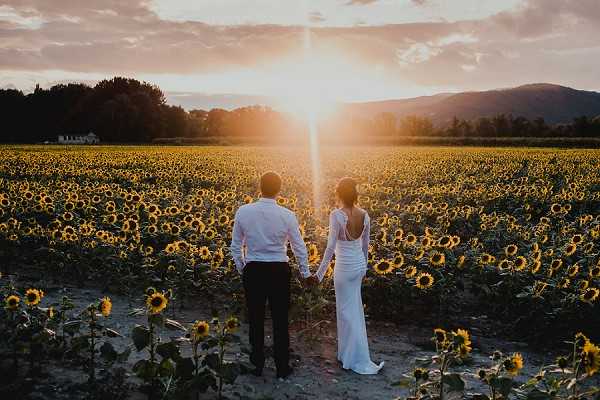 Happy Thursday lovelies, today on FWS we are visiting the Drome department in southeastern France for a rustic chic destination La Poulatte wedding.
This family centric wedding was planned by talented FWS vendor Laura Dova. Laura Dova Weddings is an international wedding planning agency operating all over Switzerland, France, Lake Como and Lake Maggiore. Whether you are looking for a magical wedding without the stress of organizing it, or to make a unique proposal; Laura Dova Wedding will take care of everything so you can relax and enjoy the most beautiful day of your life.
Todays wedding of Tina and Yann was a true family affair that incorporated their daughter into the ceremony. Featuring a stunning backless, lace sleeved wedding gown from Amy Taylor Collection, an elegant updo by Angela Coiffure and flawless makeup from Sarine Ti. The whole day and each tiny detail was expertly captured by Tara Lilly Photography.
It's now time to leave you in the capable hands of wedding planner Laura Dova to walk us through this rustic chic destination La Poulatte wedding…
"A France destination wedding with a no stress, go with the flow vibe was important to Tina and Yann. They chose to focus on the coming together of two families. Rather than stress about things having to be a certain way. The couple chose France as their wedding destination to ensure that Yann's Grandmother would be able to attend."
"It is clear to see that family is at the centre of their beautiful day, and I love that their daughter Anaïs was such a beautiful part of their ceremony!"
"As Tina and Yann explained planning a wedding from afar is tricky enough. Add in the busy life of a parent and things can get interesting. Planning a wedding from a distance, with a very energetic 1-year-old daughter is quite an interesting scenario, as much as we had an idea of what we wanted, everyday life meant that we probably left a lot to chance and instinct. There was no opportunity to 'test' anything, so we didn't really know what to expect when we arrived in France."
"A stroke of luck would have it that Tina and Yann's day would come together beautifully. Everything just seemed to fall into place. We drove from Yann's home in the Alps to Etoile sur Rhone two days before the wedding, as we approached Valance we started to see these beautiful sunflower fields, and I was thinking 'I wonder if there would be an opportunity to come back to these for our wedding photos', driving up to La Poulatte, we realised that the house was surrounded by sunflowers, it really was the icing on the cake. The house itself was wonderful, beautiful structure, rustic charm, tastefully renovated, we loved that the owner had kept the character of the building. We didn't want new and shiny."
Often things don't go quite as according to plan on a wedding day and Tina and Yann's destination wedding in France was no exception… because of my klutzy nature, I smeared red lipstick all over the front of my dress when putting it on, we totally ruined the 'first look' because I needed Yann to fasten the back of my dress and I had the most beautiful bouquet which I completely forgot about when walking down the aisle. Oh, and we didn't bother with the first dance, because we absolutely loved the band so just couldn't wait to start dancing. Disaster? Not really, just funny memories."
"Those are the stories that make the day unique and unlike any other. All I remember thinking is how perfect this moment was and how lucky we were to have these beautiful people in our lives."
Congratulations Tina and Yann from everyone here at French Wedding Style!
For even more rustic chic wedding inspiration check out this Chateau Lagorce real wedding captured by Dasha Caffrey.
Rustic Chic Destination La Poulatte Wedding Snapshot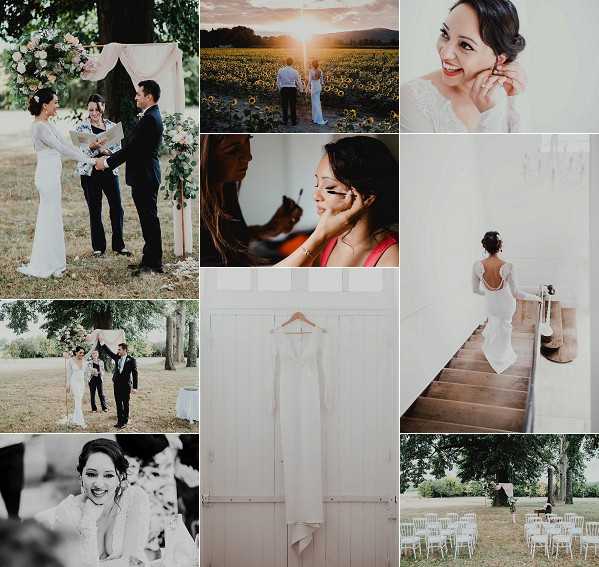 Wedding Vendors
Ceremony & Reception Location: La Poulatte | Photographer: Tara Lilly Photography | Planner: Laura Dova | Dress: Amy Taylor Collection | Hair: Angela Coiffure | Make-Up: Sarine Ti | Florist: Le Passager du Vent | Officiant: Celia Drummond | Caterer: Pignol | Wedding Cake: Tea Time Patisserie | Band: Beach Pop Band