Happy Monday folks, we're kicking the week off strong with this unique Fontevraud l'Abbaye real wedding.
Fontevraud-l'Abbaye is a commune in the Maine-et-Loire department in the Pays de la Loire region which is world renowned for its abundance of historic chateaux, all offering its visitors a unique experience. Vivien and Laëtitia's chosen abbey was no exception!
Laëtitia wore a beautiful Rosa Clara gown with a stylish pair of Valentino's for the perfect fairytale look for her big day, complimented by her handsome groom Vivien who wore a Hackett tux.
We will now pass you over to our bride and groom who will be talking us through their beautiful Fontevraud l'Abbaye Real Wedding…
"In 2010, we met each other during our studies at dental school and it was love at first sight. We share a lot of passions: travelling, cooking, eating in the best places, dancing… At the end of our studies, in 2014, we spent four months in Copenhagen. It was a second love at first sight, but this time with a town! We had a great experience living abroad and discovering a new life as just the two of us. We came back to Copenhagen in December 2015… for a surprise wedding proposal! Then we spent a year and a half to prepare for our wedding day."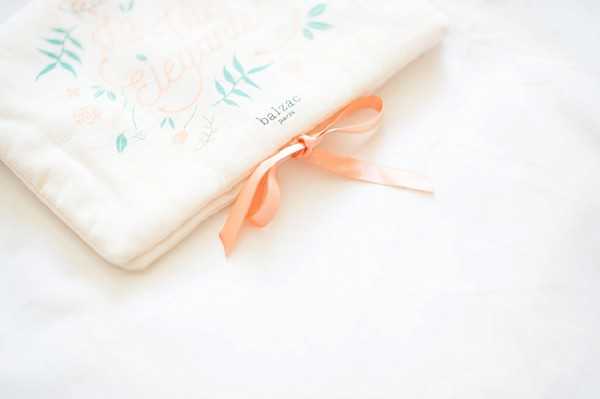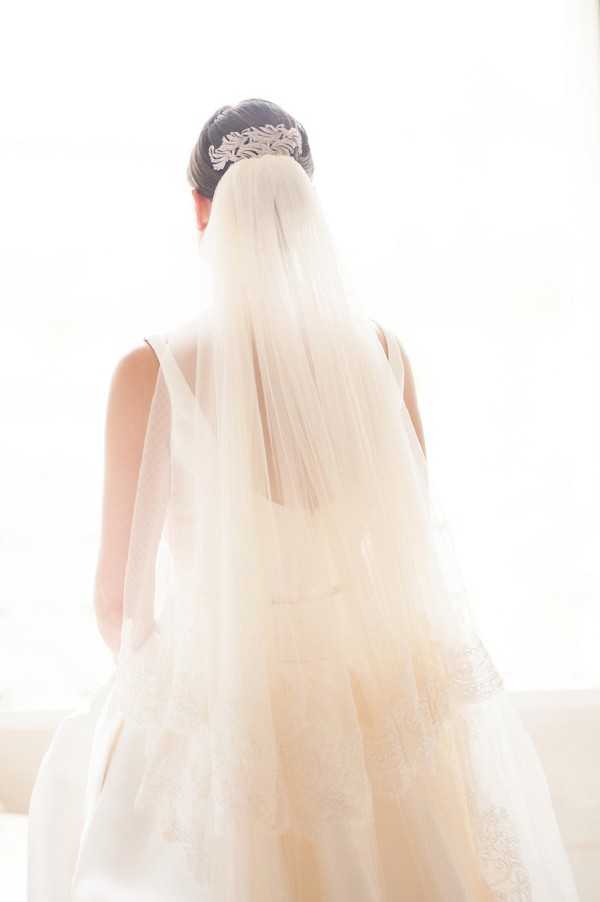 "Because we had more than 150 guests we couldn't choose a French castle because of the size of the rooms. In a castle, our guests would be in different rooms. But we met Fatimata Bailly at a wedding exhibition, who was in charge of wedding organization in Fontevraud l'Abbaye. At the beginning we weren't interested in the venue because it is three hours from Paris and most of our guests are living near Paris. But it was too late, we were captivated by the charms of this wonderful abbey. Despite being an abbey from the 12th century, they created a special decoration with the help of Patrick Jouin. It was everything we love: design and Scandinavian."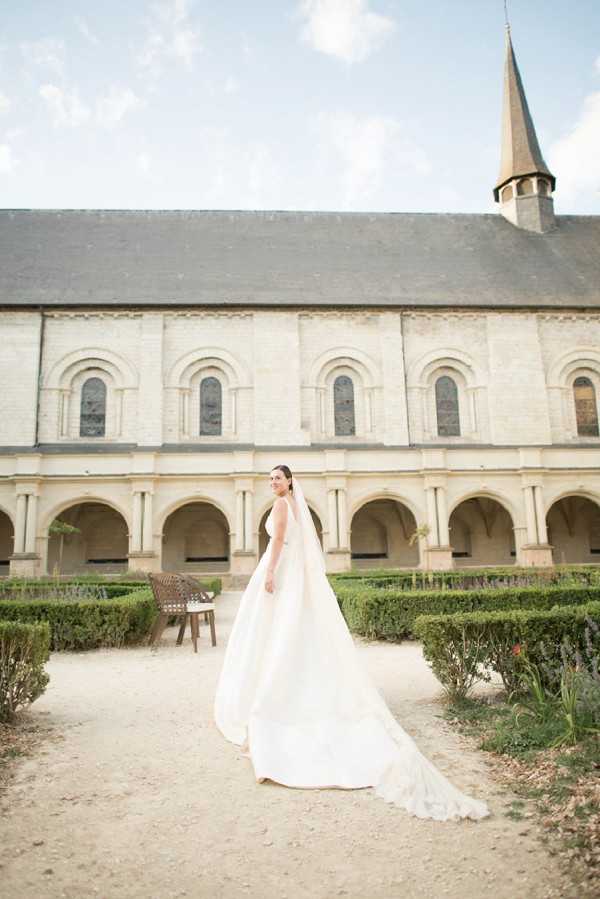 "Laëtitia: The first dress I tried was the one! I took a day off with my bridesmaids, my mother and my aunt to try wedding dresses in two different stores: Rosa Clara and Pronovias. Before the appointment, I have already had a look on the collections and known that I would like to wear a boat-neck dress in Mikado silk. I found my veil in a beautiful second-hand store in Paris called Dressing Club. I was so glad to find the same model that I tried in Rosa Clarà store. I choose a five-meter-long veil with wonderful lacework.
"But first of all, I bought my shoes. I opt for white shoes with a low heel (six centimeters) to spend all the day and night with. There was an essential point, I should be able to wear them again after the wedding, that is why I choose incredible kind of "everyday" shoes in the Valentino collection. In choosing my accessories I tried to respect the tradition and wear something old, something new, something borrowed and something blue. For my something blue, my mother-in-law created an astonishing blue tissue with hand-embroidered initials of our first names and the wedding date."
"Lucie, our wedding planner helped us to decide on the style of our wedding. Of course, we had some thoughts before the brainstorming but her work drove us to definite ideas. To remind us of our lovely stay in Denmark we wanted some refined wood and vegetal decorations. We opted for three main colors: wine, green and yellow."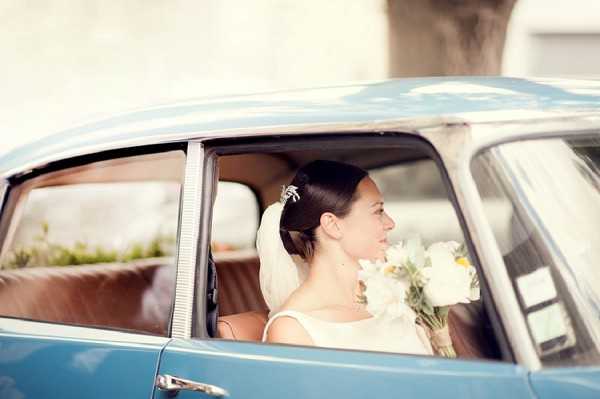 "We found a lot of our suppliers with the help of our wedding planner Lucie from the agency Perles d'émotions. She has a beautiful address book and suggested the most talented suppliers like our photographer, videographer, DJ and florist."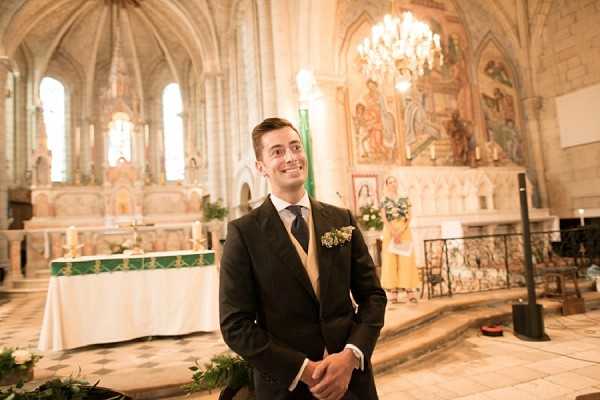 "With the help of social networking sites like Instagram, Pinterest and some wedding websites like My Little Wedding we found a lot of unconventional ideas. For example, we choose a cartoonist for the big day, Laurence Le Chau because we like her humorous approach. She catches some conversations and adds them on sketches in the best way. We also found a drone pilot to immortalise this perfect location and our fabulous cocktail reception."
"We rented an old Citroen DS car to go back to the abbey where we spent two hours in the cloister for the cocktail reception. We choose Alice Jazz Trio to accompany this cosy moment."
"The caterer was part of our venue but we were not disappointed because it was the one-star-chef Thibaut Ruggeri who managed the cooking team. We made a point of insisting on finding local wines and all our guest were expected them when they received our "Save The Date" invites. We tasted some Saumur winemakers productions and chose the best for the dinner."
"After a sensational entrance to the dinner room to "Celine Dion & Jean-Jacques Goldman", we enjoyed a wonderful dinner. We managed to see our guests at their tables and to eat at our own places. We were so glad to take the time to eat at our own wedding. We heard a lot of married couples saying that they didn't take the time to sit at their own places and have dinner."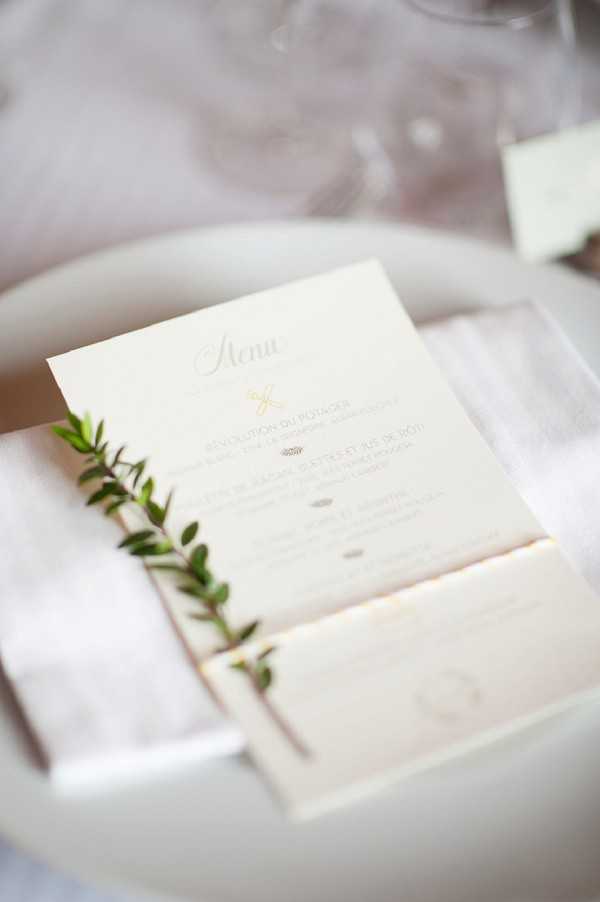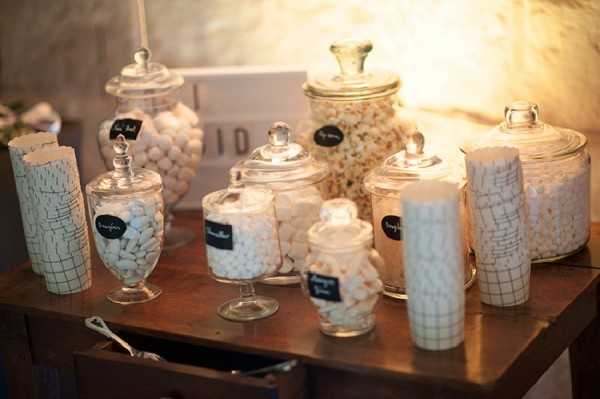 "We hired a photo booth which everyone enjoyed! Our guests left us messages in our guestbook with a picture taken with the box, we had a lot of fun looking through them."
"First, the bride and her father danced a waltz to "Moonriver" and then the bride and groom danced a quickstep to "It's not unusual". We took a lot of dancing lessons in Paris at "George et Rosy" school. Then all our guests joined us on the dance floor for a long night of dancing."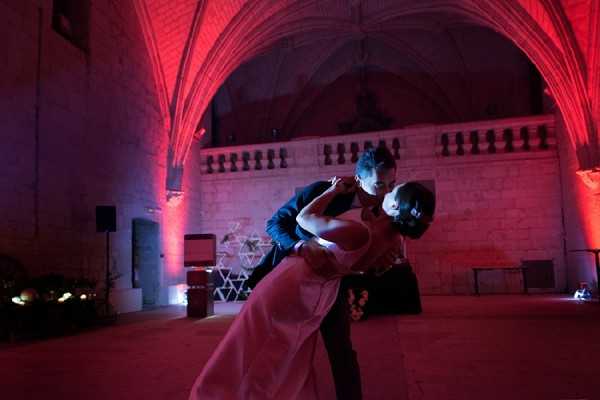 "We choose La Duchesse Anne from Saumur to create our traditional wedding cake with cream puffs but we opt for a special design, which reminds us of an American wedding cake. At the end of the dinner, the wedding cake was brought out to a "Beyonce" song lit by more than one hundred sparkling candles which was magical."
"To sum up, we think that the best way to enjoy the day is to leave the organisation to a wedding planner. Of course, there was a lot of work before the wedding to plan every detail but then, during the D Day, we didn't have to check anything, Lucie was here with her program and managed our wedding all day long."
For even more inspiration from Laëtitia and Vivien big day check out their wedding film created by Goodnight Moon here…
Rosa Clara For Fontevraud l'Abbaye Real Wedding Snapshot
Wedding Vendors
Reception Venue: Fontevraud l'Abbaye | Photographer: Iwona Paczek – Mon Conte de Fées | Videographer: Goodnight Moon | Planner: Perles d'émotions | Wedding Dress: Rosa Clara | Shoes: Valentino | Hair: Franck Provost | Grooms Outfit: Hackett | Florist: Emili Joli | Cakes: La Duchesse Anne | Catering: Thibaut Ruggeri | Stationery: TitePerrine | Decoration: Patrick Jouin | Transport: Rétro émotion | Jazz Band: Alice Jazz Trio | Entertainment: Ton Evenement – Dj Mica | Cartoonist: Laurence Le Chau | Photo booth: VIP BOX