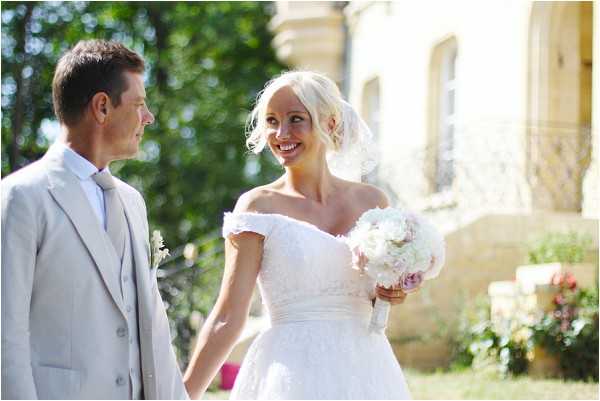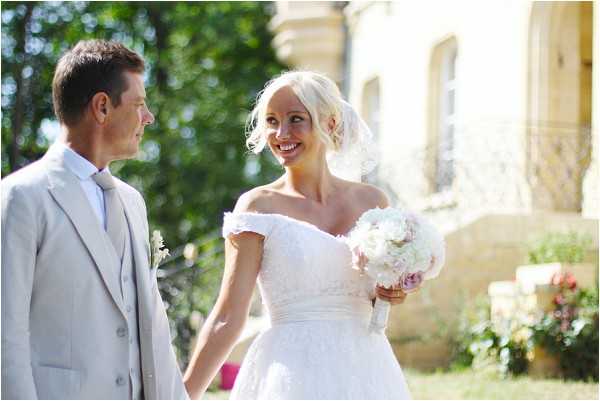 In our third real wedding of the week we are heading down to the Dordogne for Hélène and Jean Stephan's romantic wedding, where the bride wore a stunning Rosa Clara wedding dress.   I love the super romantic style of Hélène and Jean Stephan's wedding, from the choice of wedding dress, to the pink and white styled wedding reception.
Eva from Marie marry Me takes us through their big day:  "Hélène and Jean Stephan are a couple from Cannes that love the Dordogne. They wanted to say the "Yes, I do" in that beautiful green region of France full of nature, so in July, they did. It was a lovely sunny Saturday. Closest friends and family met at Montignac for the first ceremony. We were 20 people more or less, it was a very intimate moment.
After this, we went back to Château de Puy Robert, where the couple and their children get ready for the open ceremony with all the guests. We made a toast with the bride and their gorgeous bridesmaids in their room. Hélène was absolutely stunning dressed in her Rosa Clara gown. After she shared some time with the groom, we went to the church of Saint Léon sur Vézère, where all the guests were waiting. The bride arrived in a 1930's Mercedes with their two daughters.
Once they said the "Oui, pour la vie" in the church, the guests moved out waiting the couple to threw delicate flower petals. We all went back to the castle for drinks. We shared some time with the just married couple in an intimate shooting near the reception place, in an open golden field. Then, we went with all the guests to enjoy the coctel with live music.
When the sun went down, everyone headed indoors. Marti, the filmmaker, and I tried to capture all the little pretty décor details before the guests began their dinner. During the meal, the bride and groom had even organised a fun thanksgiving moment: they made presents to their "little fairy helpers" (sparkle crowns, etc.). This was followed by the romantic couple's first dance.
After an hour of dancing, we received an espectacular wedding cake with fired flares. The happy couple made a toast with all the guests, inviting everyone to get out. Once in the gardens of the castle, we all enjoyed an awesome display of fireworks to end this memorable day."

Rosa Clara wedding dress for Dordogne Wedding Snap Shot
Wedding Vendors
Wedding Gown – Rosa Clara | Wedding Shoes – Rosa Clara |  Wedding Reception – Château de Puy Robert | Flowers – Fleurs de Famille  |  Stationery – Mariés et Dentelle, l'atelier du fait-main à Périgueux  |  Photo Booth – Philippe Giralt  | Catering – Castellum Traiteur  | Wedding Cake – Invitation au Délice  | DJ – Entreprise & Sonorisation OLA  | Inflatable Castle for Kids – Entreprise & Sonorisation OLA | Fireworks – Entreprise & Sonorisation OLA |  Circus for Kids – Les Acrolytes | Live Music – Freed, by Presta Thomasson  | Wedding Planner & Designer – Happilys Events | Photography – Marie marry Me  | Film – Marie marry Me