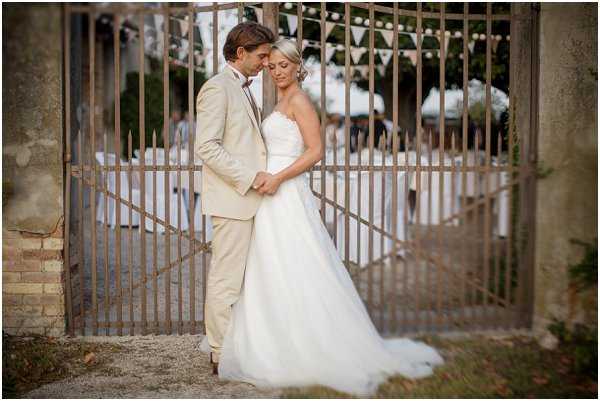 Our real weddings take us to so many beautiful places across France and today is no exception as it is Magali and Fabien's romantic wedding in Avignon France, to start the week.  Captured by Mateos Wedding, this wedding in the South of France is so full of beautiful details, from Magali's two beautiful wedding dress, the glorious green wedding car to the homemade DIY decor for the wedding reception, there is lots of inspiration for you to use in your own wedding!
Bride Magali takes us through their love story:  "On 23 July  when I returned from a trip to Milan with a friend, Fabien (my husband), asked me if I'd be free on the evening of 25 July…   That evening, Fabien left work, came to pick me up and took me to the beach at Alamanarre, not far from our home at Hyères in the Var.
He took out a huge wicker basket from his car boot and, taking me by the hand, settled us on the beach where he laid out the most romantic picnic for me. In the light of the candles arranged on the ground and with a glass of champagne in hand, Fabien took a little round object with a well-known jeweller's brand on it from the bottom of the basket, and he offered it to me…
I was trembling. He said that he was worried I wouldn't like it. And then, at that precise moment, I knew that my life would never be the same again and understood that he… "Mag, would you be my wife?". I still hadn't opened the little box before my eyes filled with tears of happiness, but then, when I found my ring!… I said to him, all the while sobbing, "it's just too much for my little heart" and finished by saying "YES!" to him! 
The wedding breakfast took place in a Provencal country home, where Fabien's paternal grandmother lives. A house loaded with history as when this Italian family arrived in France they all lived under the same roof.
The old barn attached to the house has seen lots of family and anniversary celebrations, not to mention Fabien's parent's wedding!
We decided to opt for a retro-chic wedding, combining the traditional and the elegant, with traditional choices loaded with history. We would have loved to have lived in the 20s and 30s because of the elegant outfits both for men and women, and everything in very romantique surroundings, done only with pastels.
I have made up the backgrounds for the photobooth, in a décor recreating an art déco style interior, where there's a sofa awaiting the guests to set up the scenes for themselves.
Since the ambiance is romanticism, I have chosen flowers such as old roses, peonies and ivy, as well as other materials such as laces and pastel-coloured fabric, so as to create several handmade décor objects.
Not forgetting the gift bags, also containing little handmade presents for all the ladies! (A pouch to put hankies in (useful for mopping up tears in the church!), a rose-perfumed candle, a fan, and an old jam jar turned into a cookie jar (also homemade!!!).
For the dresses, I wanted noble, elegant fabrics, in keeping with the romantic atmosphere. A dress in Italian silk, a sheath dress for the civil marriage on 8 August  (little wink to my husband) and a more conventional gown for the church: a boatneck camisole on a strapless Calais lace dress; ivory and tulle for the following day.
My most treasured memory: It wasn't our wedding but our meeting that was the future. Proof? My half, that's for sure!!"
Wedding Suppliers:
Photography: Mateos Wedding | Wedding Planner : MissEve | Church Wedding Dress : Pronovias |