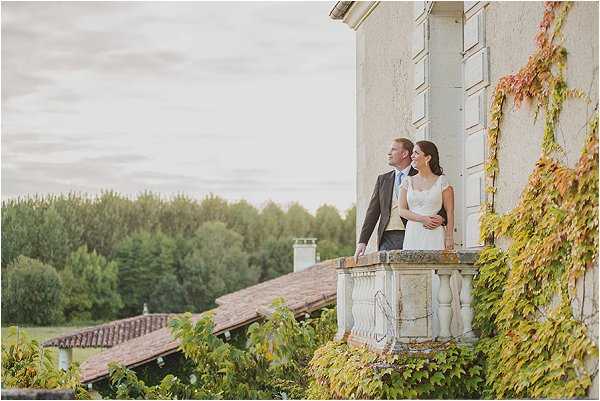 Come away with us as we whisk you to the Dordogne Charente border for the romantic wedding at Château Charmant in the South West of France.  Lucinda & Zach's beautiful wedding was captured by FWS Vendor Claire Morris Photography and on film by Sebastian at MotionCraft Creative.
A cloudy sky and a steady drizzle was what London couple Lucinda & Zach woke to on the morning of their romantic French Chateau wedding. But unbeknownst to them as they began their morning preparations, their day would unfold like the best of movie scripts – parting clouds, perfect September temperatures and the most romantic of pastel sunsets.
If pre-wedding butterflies were being felt by the couple, it certainly didn't show. As the groom's party engaged in a game of French pétanque on the wet grass of the stunning chateau grounds, Lucinda and her bridesmaids were all smiles and laughs as champagne and orange flowed in a tower bedroom splashed with pastel bouquets and opal blue dresses.
Their wedding ceremony was to be held at a nearby town's chapel, so as guests slowly strolled to the chartered bus which was to take them to the ceremony location, the stunning blue rolls Royce slowly crawled its way down the driveway to await the couple.
As their wedding film, from MotionCraft Wedding Films  reflects, their ceremony balanced the traditional aspects of a wedding which were important to both families, but still remained light hearted, relaxed and friendly. The immaculate blue Rolls was waiting as the couple left the church via a shower of confetti, and delivered them to the Chateau where a sunny outdoor cocktail reception was ready.
Photographer Claire Morris and film maker Sebastian whisked the couple away for a photoshoot around the chateau grounds, as the guests sampled the range of delicious canapés cooked by the catering team organised by the Marry Me In France wedding planners.
While group photos and the throwing of the bouquet were organised by the photo/video crew, the final touches to the stunning pastel laden reception barn were made by the MMIF team. After two very enthusiastic bouquet throw attempts from the balcony, which cleared the entire wedding party and landed softly on the grass, Lucinda was spot-on for her third throw, proving that tradition is one thing, but having a good laugh with your closest friends and family is the number one priority.
Just as night fell and the French September temperatures dropped, the reception barn proved to be a cosy spot to sample the regional produce – in the form of local meats, wines and cheeses.
After the guests had dined on all the delicacies that southern France can offer, speeches and toasts were made, before the entire party moved back to the chateau where a dance floor had been cleared.
Overall a spectacularly planned wedding by Danielle and the MMIF team, the photo and video combine well to reflect the couple's personalities and the spirit of the day.
Romantic wedding at Château Charmant France Snapshot
Wedding Vendors
Photographer: Claire Morris | Caterer – Joss Genestet  | Videographer – Sebastian at MotionCraft Creative | DJ – Justin at Crystal Beats | Wedding Planner – Danielle Bishop with Marry Me in France  |  Shoes: LK Bennett | Dress – Augusta Jones, the dress is called 'Cyd'. | bridesmaids dresses:  John Lewis, called 'Frances maxi dress' in cobalt. | Venue: Château Charmant