Don't like the middle of the week?  Not to worry as I have a delightful fun real wedding from countryside in the South West of France, that features the bride is the most romantic Sassi Holford dress complete with daisies and full skirt.
Gemma and David met in Cornwall, UK after being invited there for a weekend away from London by mutual friends.  The weekend ended with just the two of them and a romantic evening of wine and candles on a cliff top, which ended up being the same location where David proposed to Gemma on her 31st birthday 3.5 years later.
When it came to planning their big day Gemma said: "We had been to so many amazing weddings in the UK and abroad and were one of the last weddings in our group of friends so we wanted the day to be something everyone would remember – the last Hurrah if you like – we also wanted to spend as much time we our friends and family as possible and so decided on coupling our wedding with a big group holiday to make the absolute most of the celebrations and of all our time together!!
We considered the UK first but with the appeal of the weather abroad we opted for France – because of our love of cheese and wine and the French countryside and also because it was easy for everyone to get to.  Older relatives could get a short flight and those who were pregnant (such as my maid of honour who was 7 months pregnant) could meander down by car.
Once we'd touched base with our all nearest and dearest on the topic of a 'desto' wedding to be met with overwhelming excitement we started our searches.  I knew we had to be quick as we had settled on a July 2013 wedding (due to work commitments and school holidays etc) and it was already December 2012…so I gave us two weeks to find a venue (!!). 
It slept 40, was rustic and antiquated, while grand and isolated from the crowds and being close enough to drive to some of the most beautiful parts of South West France.  I also loved the fact we'd never been to that area of France before, because it meant it would also remind us of our wedding day and would forever be a special and unique place for us and our family to revisit in the future.
We viewed the Chateau the week after New Year and the second we drove in the gates, we knew it was absolutely perfect for us."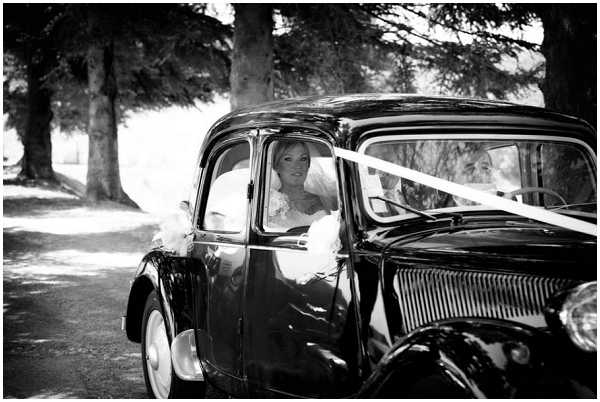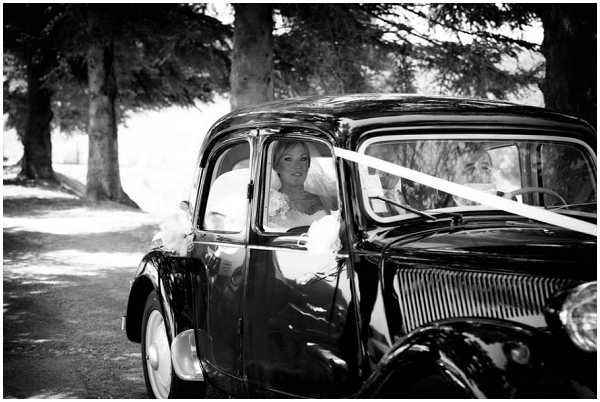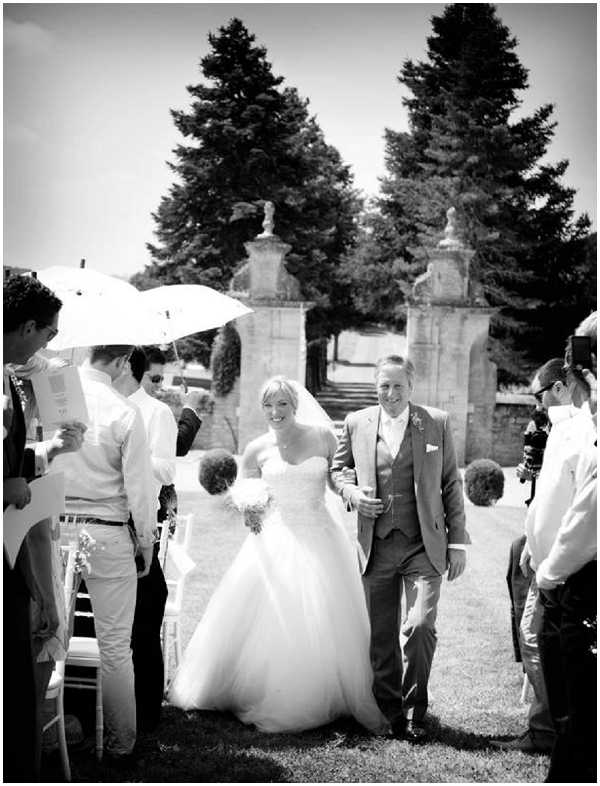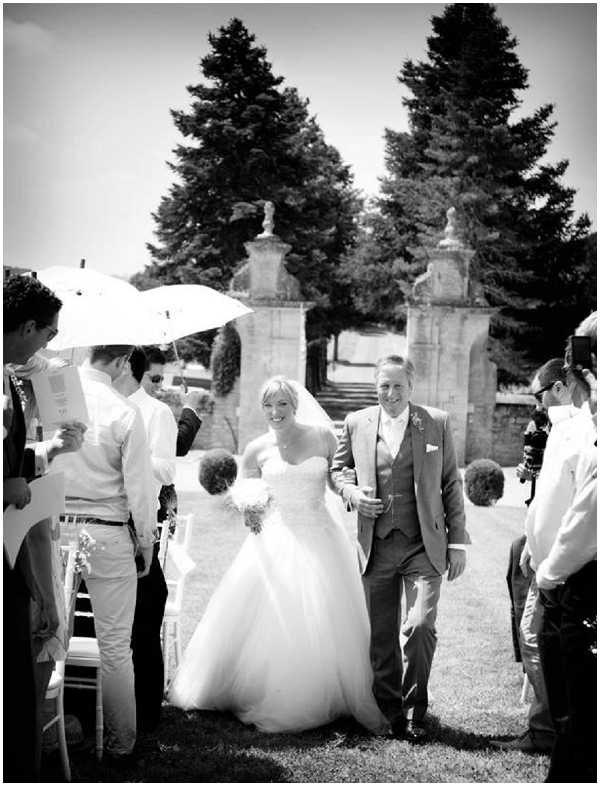 The couple worked with Louise a wedding planner from Marry Me in France based in the Dordogne,who helped not only with the language, but recommending suppliers, connecting the Gemma and David with previous couples who had got married at the chateau and pulling the day together.
Gemma: "We arranged a long weekend in France in early April and arranged meetings with all our suppliers.  We did food tastings, wine tastings, meetings with the florist and hair and make up trials.  It was jam packed but super fun and meant we got everything done in one go…!!"
When it came to styling the day, I got quite worked up every time someone asked me about the 'theme' for our wedding! I never felt we had one necessarily…yet on the day everything just came together so perfectly! We wanted fun…and that was what we kept coming back to.
Our stationary became quite medieval in its style – which came from the old Robin Hood Disney film…we both loved the illustrations and wanted to capture that in our invitations, table plans and order of service so we got my very talented designer Becky Glover,  to work up some illustrations of the Chateau, a wedding party and kept daisies running through all the stationary.
"I was a real girl when it came to the wedding and one of those who had dreamt about the day my whole life.  A designer I had adored after a good friend wore her at her wedding day was Sassi Holford – so she was the first designer I tried on two weeks after getting engaged.  
I felt that getting married in France I should have a chic, understated dress that was both kind in the heat and comfortable to wear, but those dresses didn't fit in with the image in my mind…and the second I tried on MY dress, the big skirt and the detail on the bodice I finally felt like a bride 🙂 I felt confident I could ignore any weather hurdles as long as I had the dress of my dreams.
Not until the wedding day did David understand the need for daisies everywhere but my wedding dress had daisies embroidered all over the bodice so it made it very easy when deciding on flowers, the bridesmaids dresses (yellow) and stationary extras.
David had 9 ushers – and wanted something pretty cool.  We erred away from the traditional morning suit and chose a beautiful blue/ grey (similar to a Royal Air Force blue) which worked beautifully with the yellow the bridesmaids wore.  We had the suits tailor made by Henry's Fashion with a waistcoat to match and a daffodil yellow tie and pocket square.  David wore ivory tie and pocket square to match the sash on my dress.  They were a sight to behold on the day!!
We were both quite specific when it came to decorating the marquee.  David had always wanted to get married under trees or in the woods (I think we'd seen it done on a TV programme before) so while we had to have a marquee in case the French weather turned, we tried to bring the outside in by entwining branches all over the ceiling.  Coupled with my candle obsession and the need for a sparkly ambience – the scene created in there was simply perfect for us 🙂"
"For our wedding we wanted a fun day and so tried to inject a few elements that were unique to us.  During the ceremony we sang a song written to us by one of our ushers – to the tune of Close to You, The Carpenters.  It wasn't too cheesy and was a bit of fun – with the song words only being handed out moments before.  We had also bought all the ushers kazoos, so they all broke into a kazoo instrumental half way through the song which gave way to some giggles.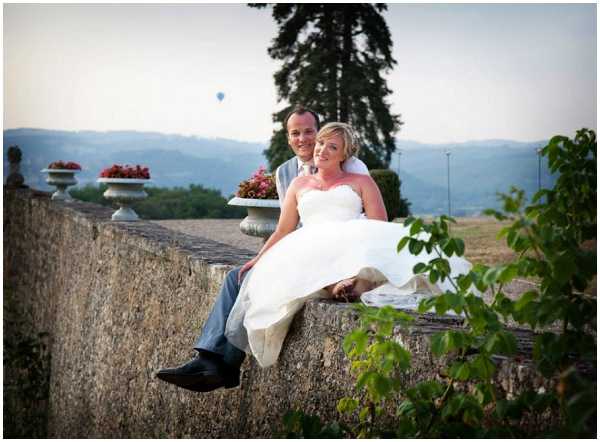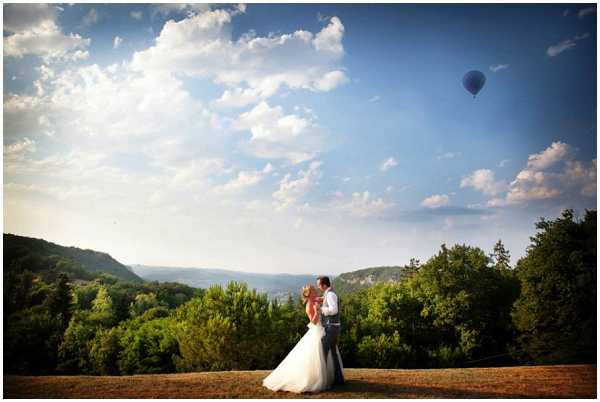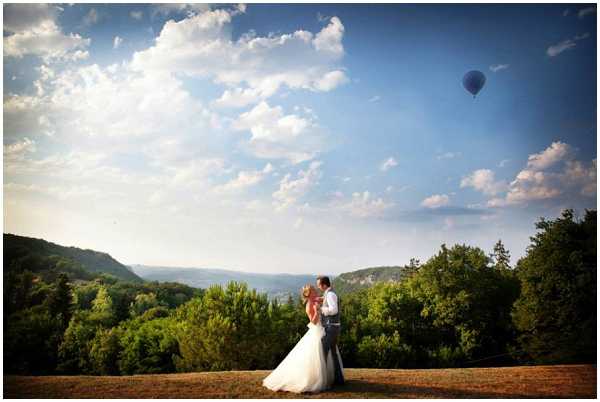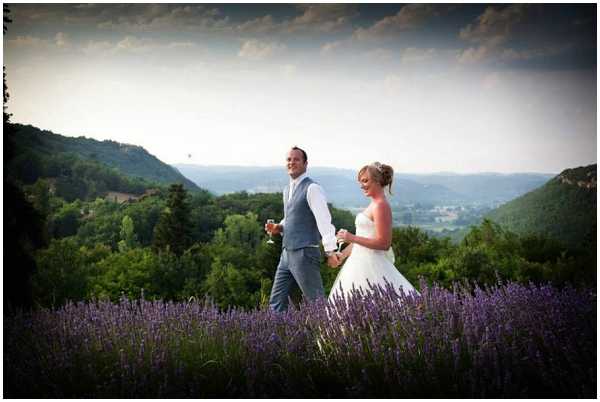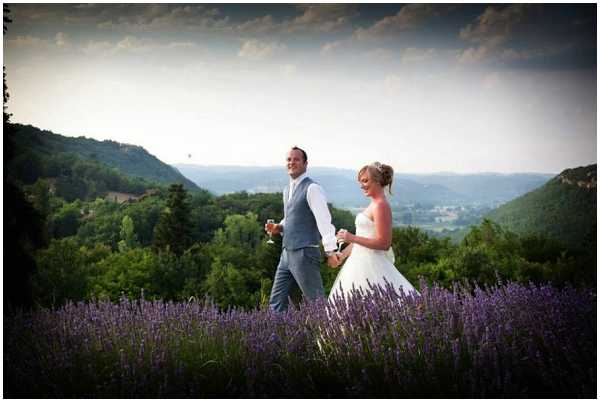 Later on before the wedding breakfast, we introduced the whole wedding party to the marquee, so each special person had their moment and set it all to music…!! The ushers and David's dad came in to Don Henley, boys of summer, the bridesmaids to Willson Phillips Hold On, my mum and dad to money for nothing, dire straits and us to Lionel Richie, All night long! It wasn't until we walked out of the Chateau that we noticed those before us has created a walk way to our marque and all our guests were standing and cheering!! It was an incredibly special and emotional moment!!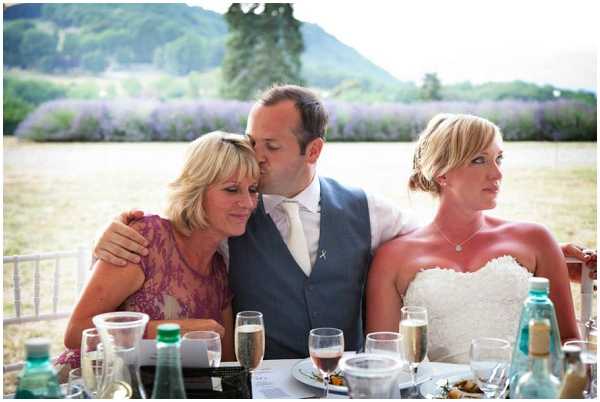 At the end of the evening we had fireworks set to music which just finished off the fairytale for us both…to have everyone with their arms round each other watching the fireworks over the Dordogne was pretty special!!
Gemma: "If I have any advice it would be get a wedding planner!!! Honestly, for the cost spent on this, the return on investment is unprecedented.  Not only will they save you money on suppliers but they will work with you on your vision, with translations and will become your confident throughout the whole process – and marry me in France have the ultimate package!! Louise was our knight in shining armour and an absolute pleasure to deal with!!"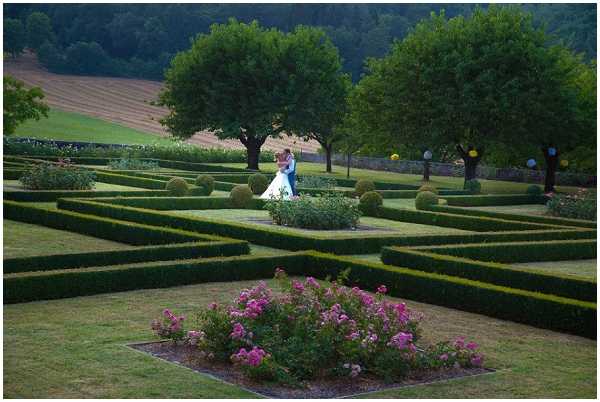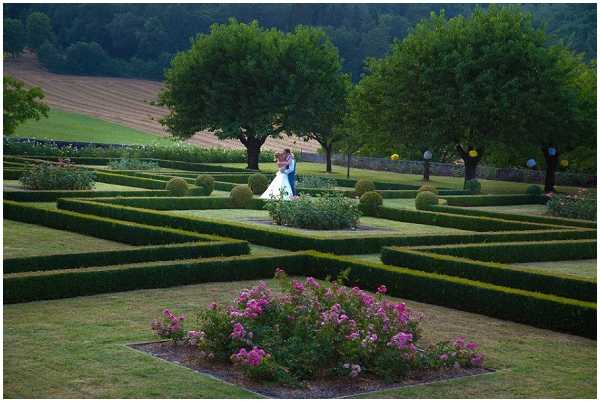 Wedding Suppliers:
Photography: Lydia Taylor-Jones
Wedding Planner: Marry Me In France
Stationery: Becky Glover,
Dress: Sassi Holford