The FWS team are so excited to share this midweek inspiration with you. This Languedoc wedding venue had it all – a sunny outdoor terrace, grand staircases, and a beautifully large ballroom. This picture perfect bride was the epitome of class and modern beauty as she floated around the château. Let's let Pattie Fellowes give us her view from behind the lens…
Our idea was to create a romantic inspirational wedding shoot, with a classic form and dreamy feel. We wanted to breathe life into the famous quote 'you know you're in love when you can't fall asleep because reality is better than your dreams' by Dr. Seuss. The styling includes bridal inspirations and table decor, all at a dreamy French Château in the Languedoc region.
Château Pennautier is a stunning renaissance castle, described as the 'Versailles of Languedoc' for its grandeur and style. It makes a perfect venue for memorable events in South West France.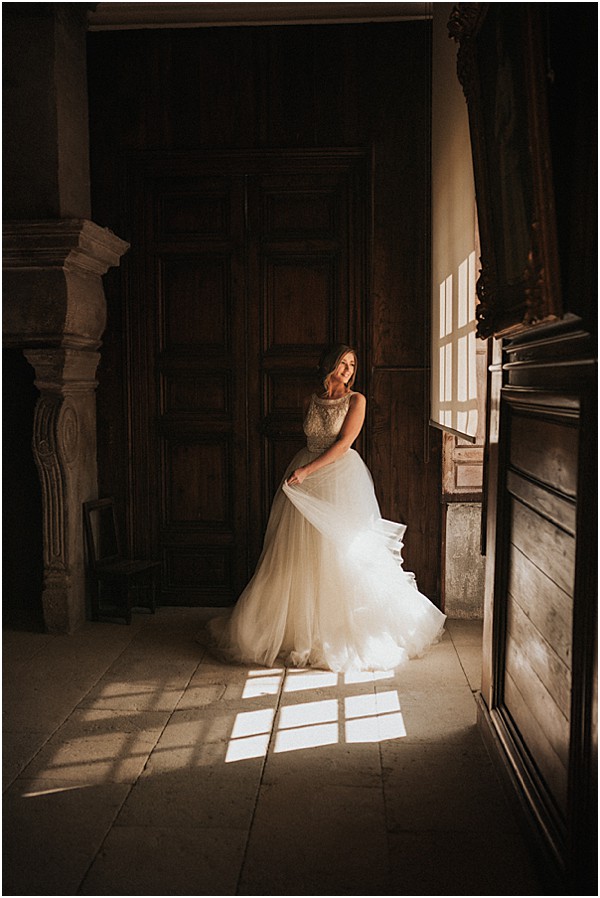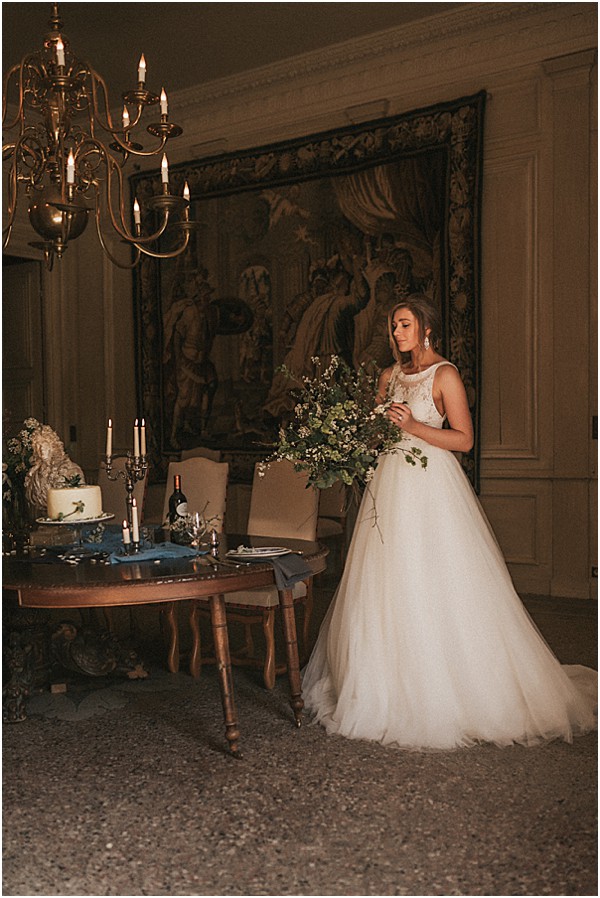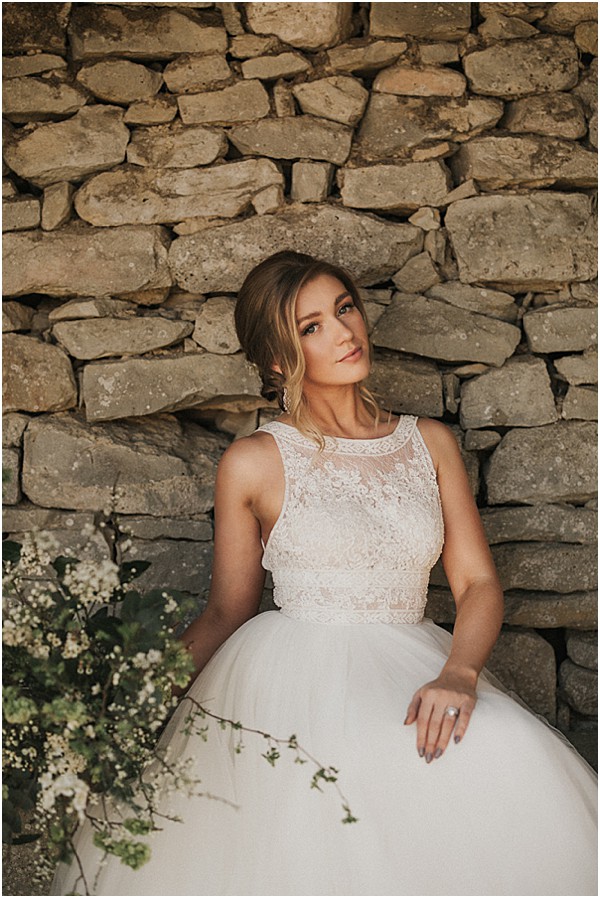 The château is a good example of classicism. It combines the beauty, heritage, and charm of a family home. It was visited by King Louis XIII and decorated with historical furniture and important artworks, it has become a classified monument. We love its elegant style and welcoming atmosphere – simply perfect for a beautiful wedding and a true love story. The grounds in which this historical monument lie offer a dreamy backdrop for an ethereal wedding.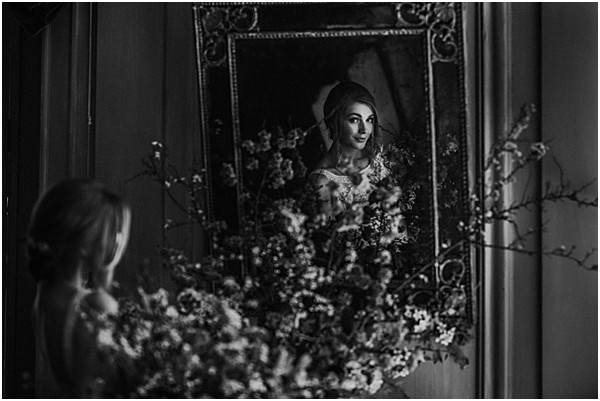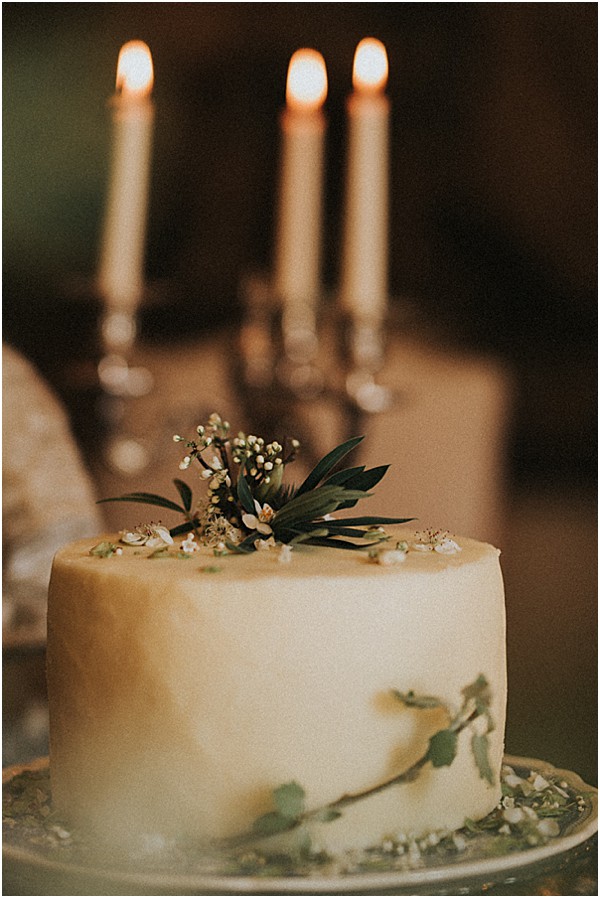 The bride is wearing a delicately sensual Rosa Clara dress – beautiful and perfect in every detail. We love the romantic tulle skirt, classic lace and sassy open back – a gorgeous traditional dress with a trendy twist for the modern bride. This Rosa Clara dress from their 2019 collection can be found at a local luxurious wedding dress boutique called 'Les Rubans de Léopoldine' in Narbonne.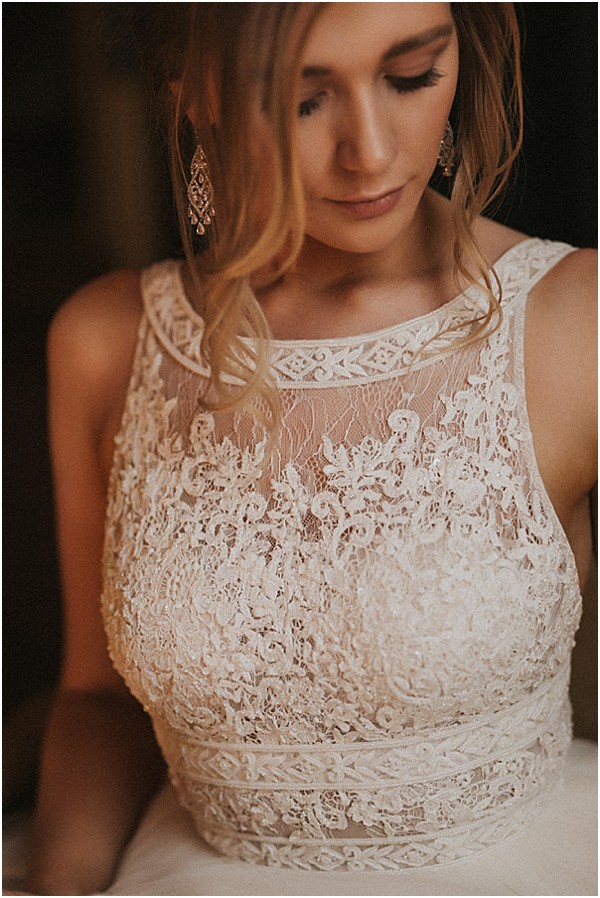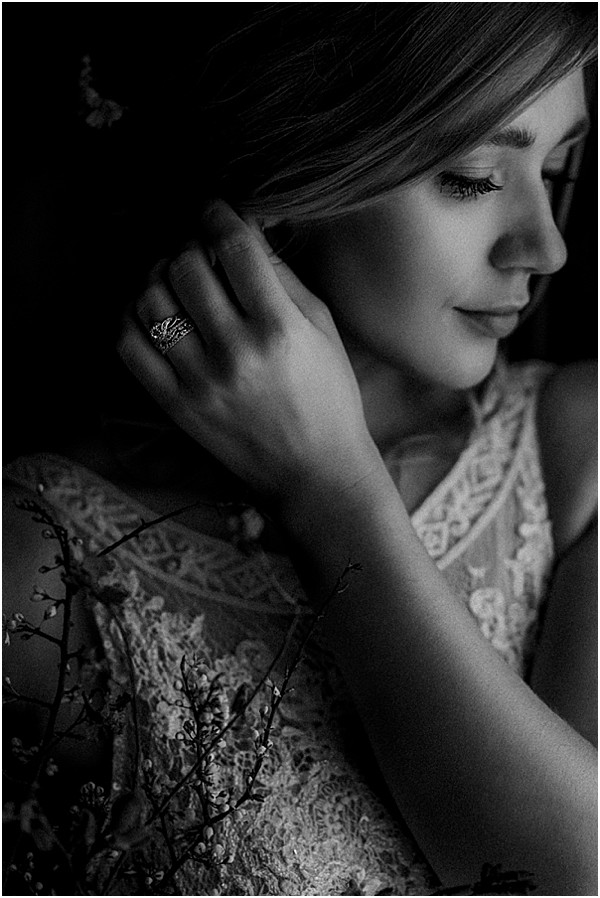 The bride's hair is beautifully styled by talented local hair artist, Annette Carr. She styled a soft swept updo with a couple of loose curls and a touch of spring blossoms. This look was elegant, dreamy and romantic at the same time.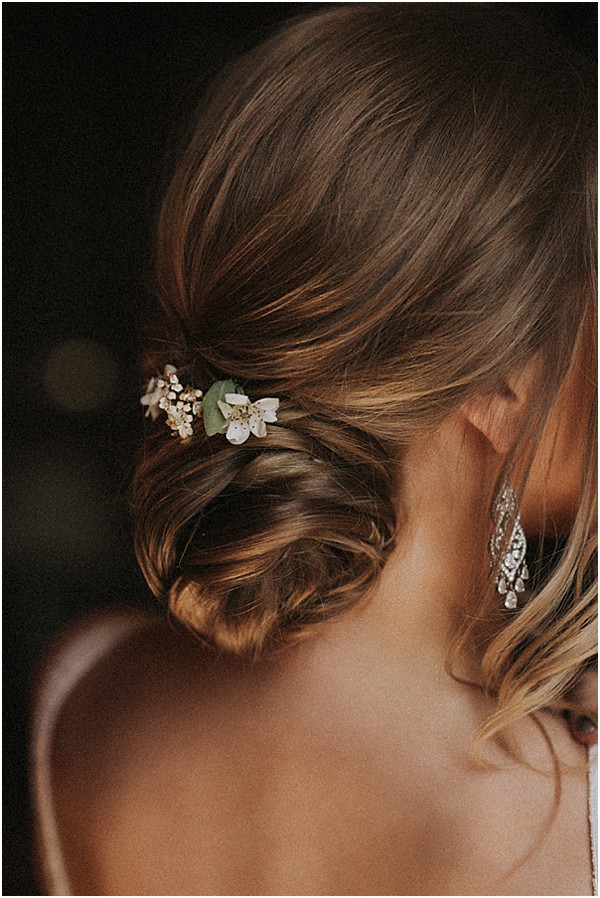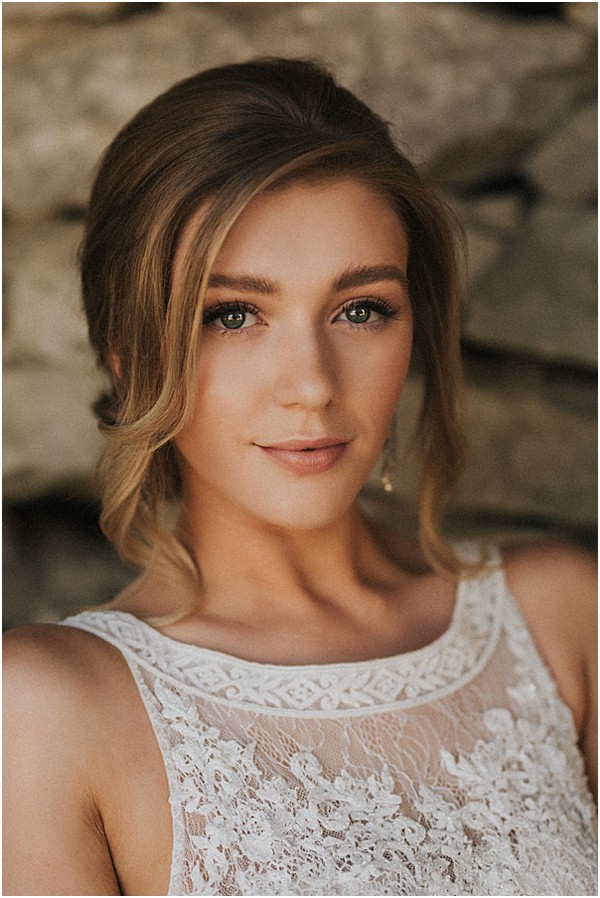 Soft and polished makeup by Fiona Neal resonates romance for the dreamy princess bride. The touch of golden eye shadow and natural color lipstick looked fresh and gorgeous, both in the sun and indoors.
For the bouquet, a talented local florist, Sarah Menager, used fresh spring blossoms and foliage. This simple but stunning flower arrangement adds a mysterious and surreal character to the final bridal look. We love the idea of using organic and seasonal flowers for an eco-friendly wedding.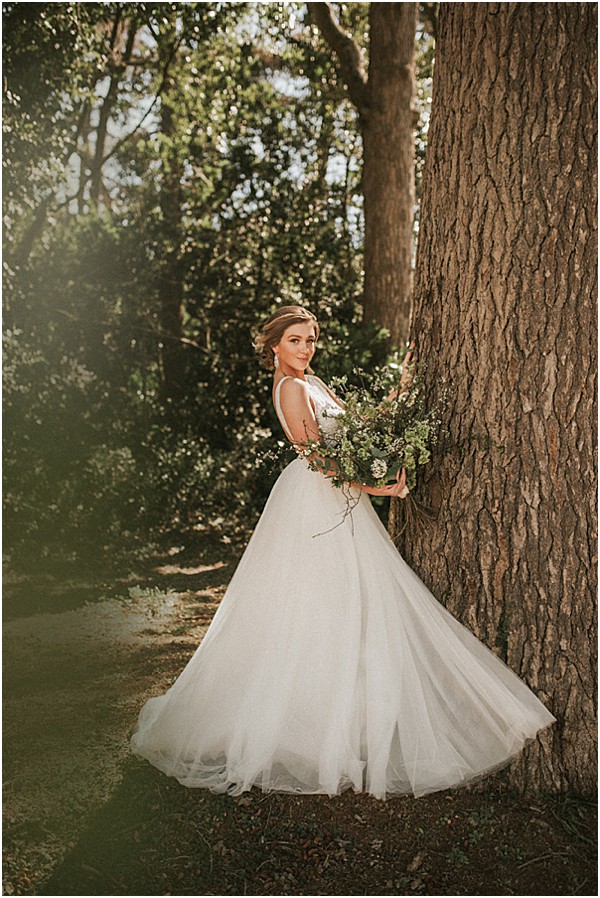 The bridal jewelry appears seemingly organic against the exquisite blossom bouquets. We loved Bijouterie Mohedano's engagement and wedding ring set decorated with a floral motif. They make romantic and beautiful pieces for brides looking for something unique and memorable, yet traditional.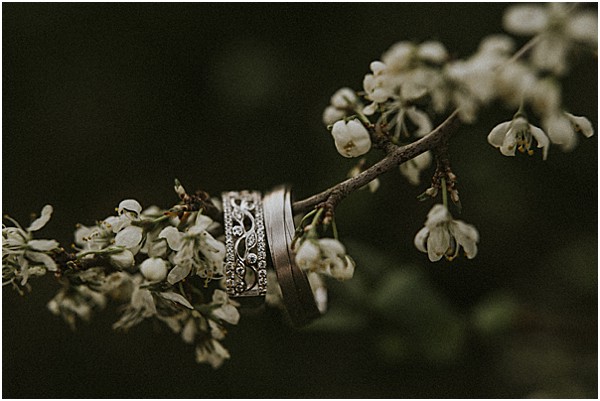 Something old, something new, something borrowed and something blue! For the table decor, Sarah Menager opted for a blue dominated and natural color pallet. She used vintage elements including a traditional dinner set in blue and a sculpture of Louis XIV borrowed from the Château. The fresh spring blossoms completed the look giving the overall feel of opulence.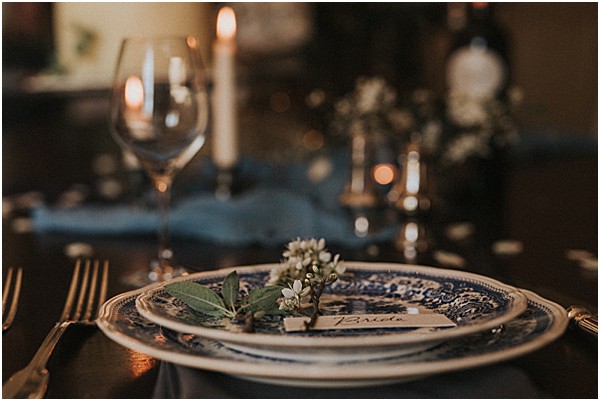 In this delicate style, a simple cream iced cake looked absolutely classic and tasty, especially once decorated with fresh flowers. Marie Arvidsson, who provided the cake, is a local baker specializing in traditional and custom made wedding cakes. Her baking is truly delicious.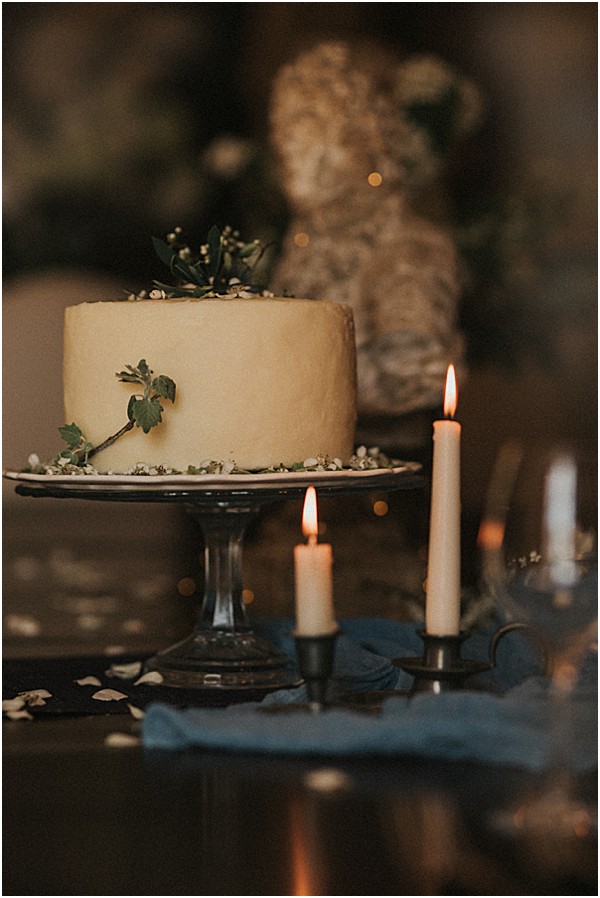 Château de Pennnautier is not only a stunning wedding venue. It also offers excellent wines, grown and made on the estate. Their wines are known to be leading in South West France because of the owners' expertise, long-held traditions, and the sunny vineyards. The Pennautier red balances bright and fresh flavors to create a wonderful wine for any occasion. Each refined and graceful element was encapsulated by classic, natural and painterly photography by Pattie Fellowes.
The Languedoc region will always remain a historic gem in South West France. We think this elegant but romantic style will inspire so many brides who are looking for a classic wedding with a delicate and dreamy touch. Thank you to this international team of vendors for creating such a beautiful shoot at this Languedoc wedding venue.
Romantic Languedoc Wedding Venue Shoot Snapshot

Romantic Languedoc Wedding Venue Shoot Vendors
| Venue Chateau de Pennautier | Florist Sarah Menager | Photographer Pattie Fellowes | Bride Dress Les Rubans de Leopoldine | Accessories Bijouterie Mohedano  | Make Up Fiona Neal | Hair Annette Carr | Cakes Marie Arvidsson |