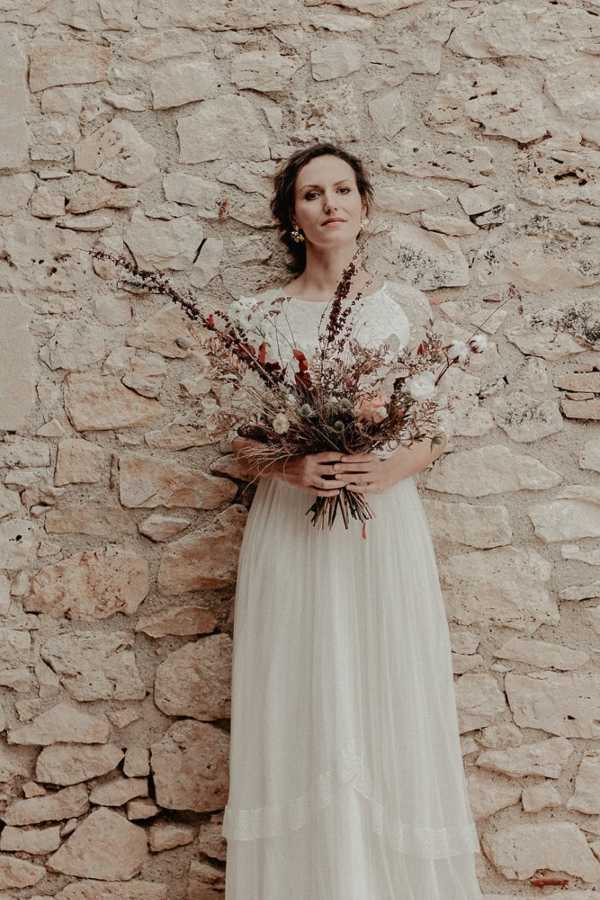 Hello and Happy Tuesday FWS Readers, this morning we are sharing some Romantic French Winter Wedding Inspiration located in the French Gers Countryside. Featuring one of our French Wedding Style Suppliers – Domaine de Puissentut, this French style venue is a renovated 16th century building with so much character. This romantic winter shoot has been designed by Le Labo Ephemere and captured by Marine Arborio. If you are looking to for that French Countryside style wedding, than read on for more details on this wedding venue…
This French winter wedding shoot was built around a single item, a top designed by the Atelier 2B collection.
The top is a tule, 3/4 sleeves crop top, embroiled with wool, which inspires a very subtle softness about the garment.
It was clear to us that we had to go for a winter inspired French wedding.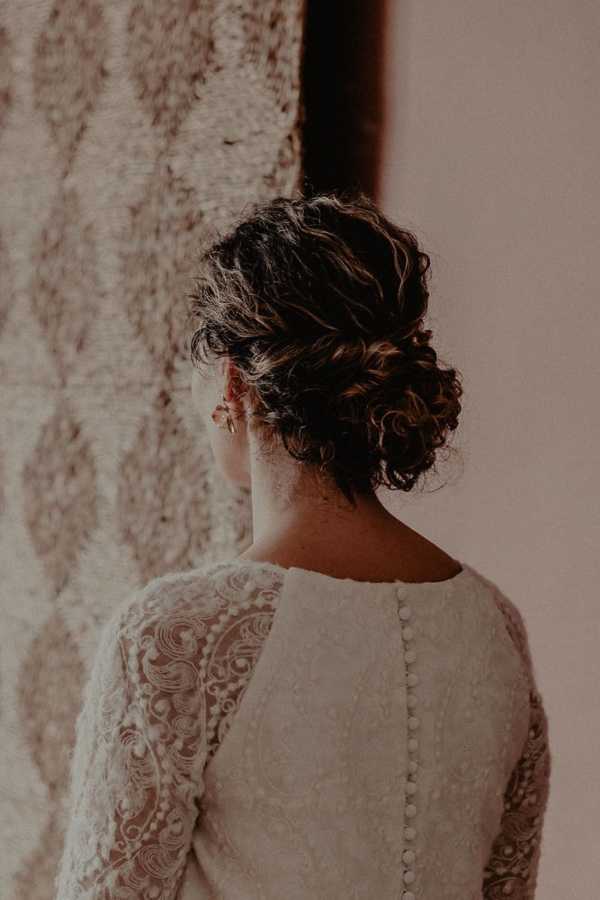 We decided not to fall into clichés like mountain and fireplaces, but to focus on the winter feeling itself. We thought about materials and textures, in a natural environment, with warm and velvety tints of caramel, gold and terracotta colours. This was matched with softer colours like nude, cream and beige.
You can't talk about winter without evoking nature. Foliage, trees and all many other delicate plants that can be found in the countryside this time of year. Branches, roots, fern, thistle and pampa grass are just so of the many kinds. Celebrating nature, is also putting forward raw materials and craftsmanship.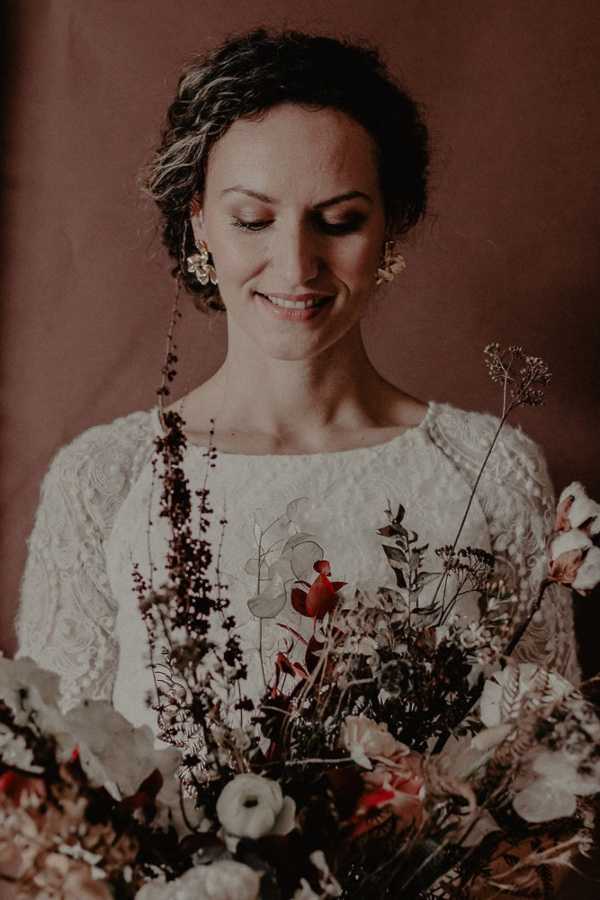 We collaborated with both Atelier Halo and Be Lounge who provided us with an Indian hand made bench, moroccan fiber carpet and the fine engraved porcelains that you see in the images. All of these pieces gave texture and deepness to this photo shoot.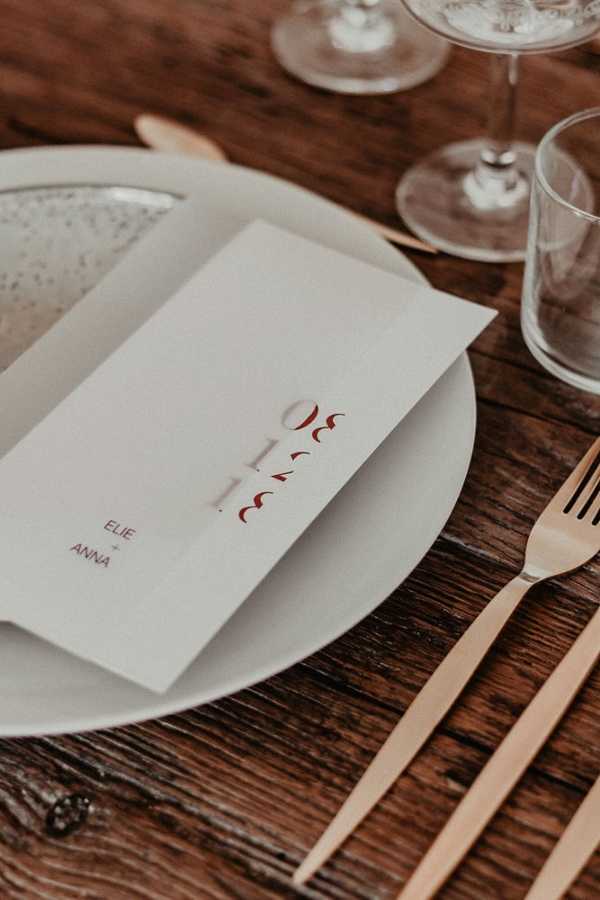 Lost in the French Gers countryside – Domaine de Puissentut – appeared to be the perfect venue. The building from the 16th century was partially demolished in time, but stunningly renovated. It is the perfect example of collected raw materials reused in a modern way.
With this wedding design, we wanted it to be intimate. We only kept the to the essentials, using the ambient minimalism style. This way, emotions and feelings would be the main focus of the images. We decided to use a small wooden table, with minimal crockery.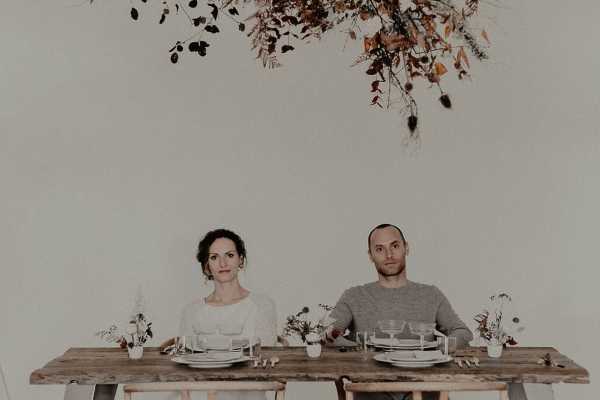 We used very few flowers on the table, enhanced by the suspended floral arrangement. A minimal and sober reception room, with white wall and wooden beams. For the groom, no shirt, but a raw edge on a boiled merino wool jumper and white leather sneakers.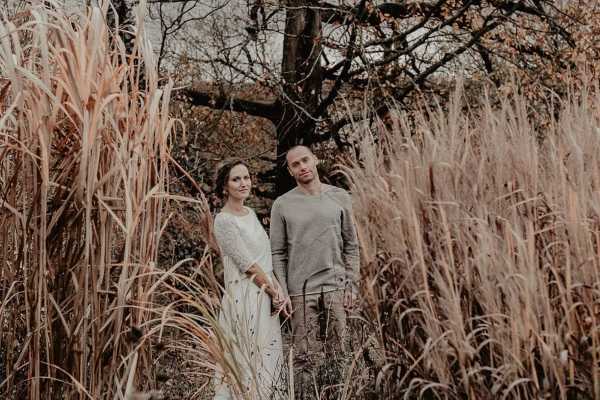 This wedding, as beautiful as it was, had also the utter synonym of lightness and comfort.
Romantic French Winter Wedding Inspiration Snapshot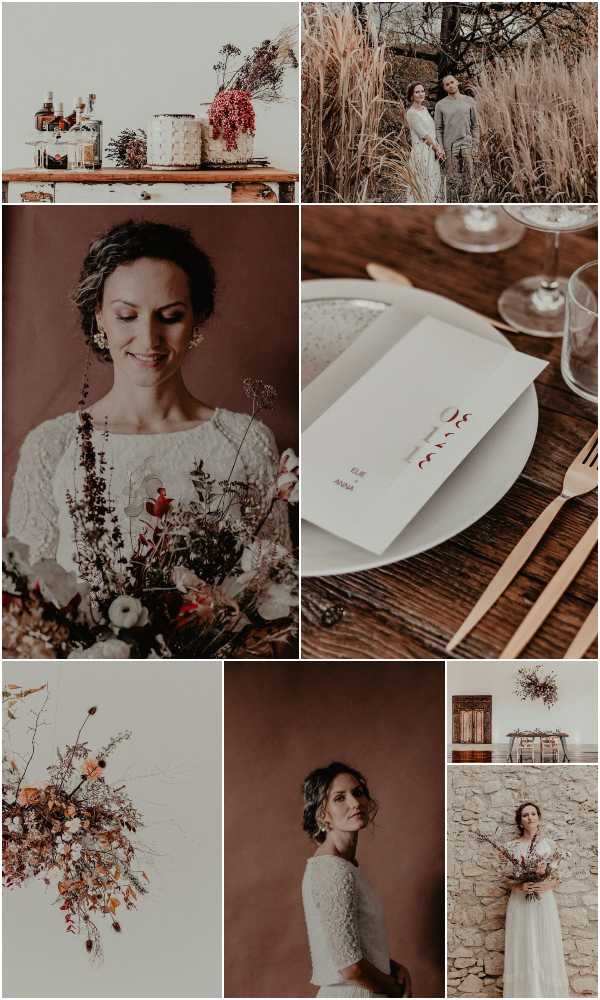 Wedding Vendors
Planner & Styling Le Labo Ephemre | Photographer Marine Arborio | Venue Domaine de Puissentut | Wedding Dress Atelier 2B | Hair and Makeup Sarah Fekir | Accessories Maison Sabben | Florist Poppy Figue | Favours Atelier Halo | Grooms Outfit Cos | Hire Be Lounge | Model Rock My Casbah