Some brides have a delightful way with words and today's bride Rachel talks us through her and Dean's love story and romantic wedding at Shangri-La Hotel in Paris, with such poise and heartfelt words that I welled up.
So I am passing the blog straight over to Rachel: "Dean and I met for the first time just about 4 years ago on a cold winter night in New York City after speaking on Jdate (a dating website) a few times.  Since that first encounter, we have spent almost every waking moment with each other.  He enjoys my easygoing nature and I enjoy his determination; he enjoys my creativity and artsy ways and I enjoy his analytical, business-minded brain — so on and so forth.  After a few months of dating, we moved in together.  And after even less time, he recruited me to help him with the business he had just started.
It had been two and a half years and thousands of hurdles and obstacles later, (yes, there are many when you start a business!), when Dean popped the question.  He didn't do it in just any location — he did it in PARIS!  On the Pont des Arts bridge overlooking all of Paris and the Seine River.   The proposal was perfect!  He also hired a photographer to candidly capture the actual proposal!  The photographer, Olivier, then spent two hours with us snapping pictures of us all around Paris.
Exactly 364 days later, on September 5th, 2012, we had our wedding, which we chose to also have in Paris.  It was an intimate affair — only 11 guests total.  We opted to host it at the beautiful, year and a half old Shangri-La Hotel.  Here is where the story gets interesting…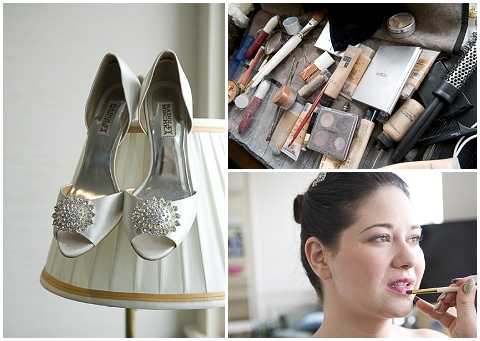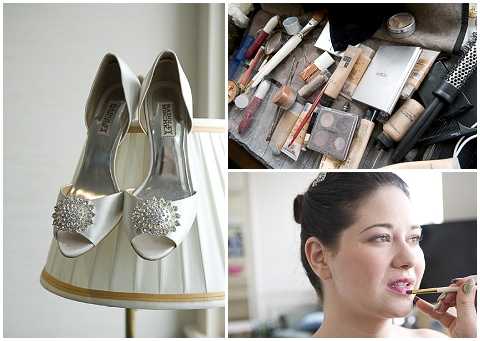 I gave my dress and veil to the hotel to have it pressed on the day of our wedding.  At around 2pm, which was when I needed it by, my mother came to me with a worried expression on her face.  She told me it would take a little while longer.  When pressed for more information, she went on to tell me that the hotel had accidentally burned my veil while trying to press it! This is where my easygoing nature comes into play.  One of the hotel's employees rushed out to Pronovias and bought two veils for me to choose from.  And while neither was as pretty as my original veil, I didn't make a big fuss over it and just picked one.
Once I was dressed in my beautiful Stephen Yearick gown and the makeshift veil and Dean in his custom-made tuxedo, we headed out with Olivier, (yes, the same Olivier who shot our engagement) for a couple hours.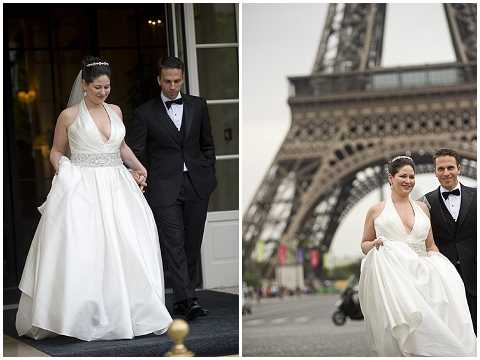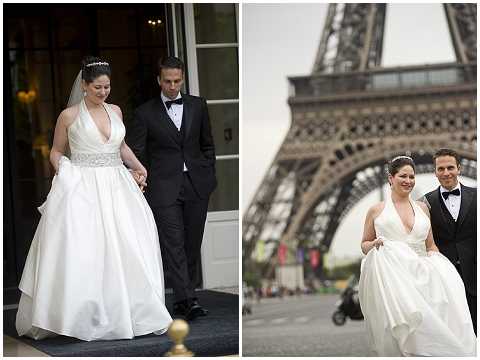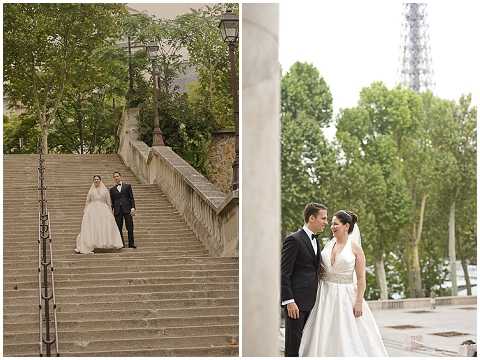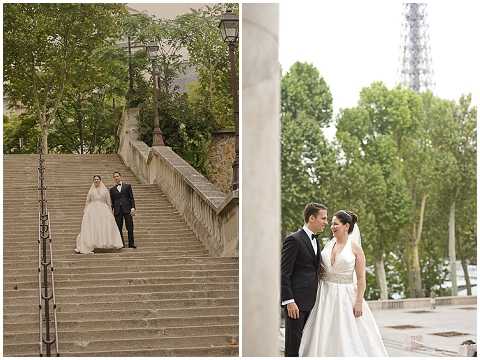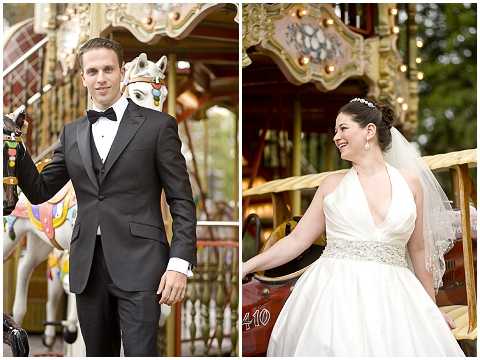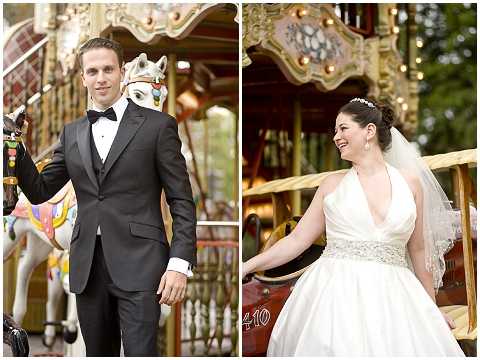 Upon returning to the hotel, the reception desk informed us that our luggage was moved from the room we were getting ready in to our actual room.  We took the elevator up to the 7th floor and proceeded to be stunned by what we walked into… the La Suite Shangri-La!  The most expensive room in the entire hotel and maybe all of Paris! Breathtaking views of the Eiffel Tower, lavish amenities, fresh French macaroons, etc…  All for a burnt veil?!  We'll take it!!
When Dean and I regained our composure, we invited our families up to the suite for portraits on our terrace overlooking the Eiffel Tower.  Our ceremony was held in Le Salon de Famille, a banquet room decorated in blue and gold with delicate hand painted designs.  We found a Rabbi to officiate our wedding who spoke very good English.  The ceremony was heartfelt and moving with a harpist playing in the background.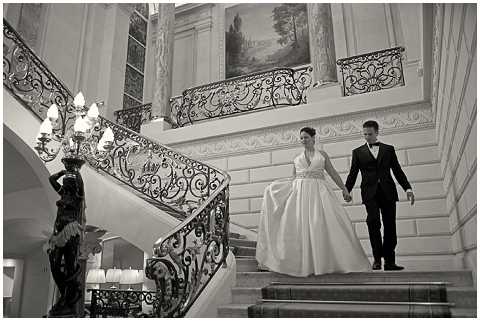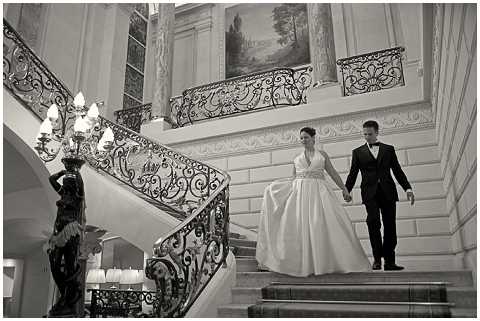 We had a dinner afterwards in the same room.  The table was decorated with tea lights and beautiful pink, ivory and green flowers.  The food was delicious, as was the wine.  The harpist and a violinist added music to fill the room and ambience.  The Shangri-La provided all of the food including the cake, which was as tasty as it was pretty!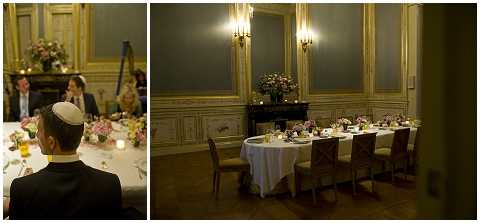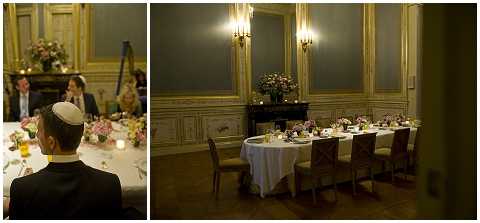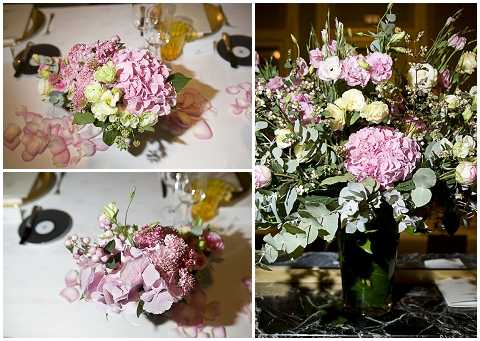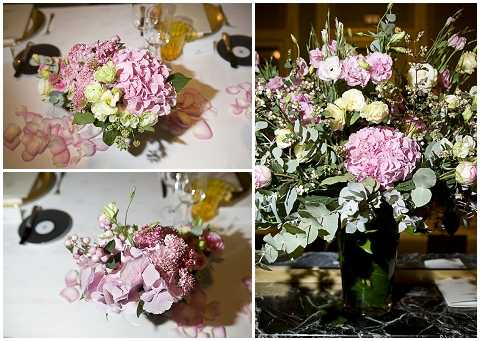 There is not a single thing my husband or I would change about our wedding day.  It will always remain in our mind as a romantic, moving day in which we got to celebrate our love for one another with the people we hold dearest to us."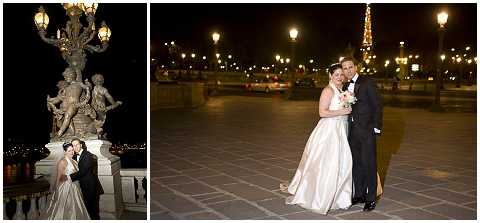 And if the wonderful photos weren't enough we even have the wedding video to share with you:
For some brides the burning of their veil would have sent them into Bridezilla mode, but I love how Rachel handled it.  Also unfortunately accidents do happen, but Shangri-La's staff rescued the situation and turned a negative into a funny wedding story with a positive experience for Rachel and Dean.
Monique xx
Wedding Suppliers:
Wedding and Engagement Rings: Tacori brand – purchased at Golden Nugget Jewelers in Philadelphia, Penn. USA
Rachel's Wedding Dress: Stephen Yearick gown www.stephenyearick.com
Rachel's Shoes: Badgley Mischka www.badgleymischka.com
Rachel's Veil: Pronovias www.pronovias.fr
Rachel's Hair/Make-up: Lexi DeRock www.lexiderock.com
Dean's Tuxedo: Custom-made by Henry A. Davidsen – located in the Rittenhouse Square area of Philadelphia, Penn. USA www.henrydavidsen.com
Dean's Shoes: Calvin Klein www.calvinkleininc.com
Rabbi/Officiant: Rabbi Pauline Bebe from Kehilat Gesher www.kehilatgesher.org/wp/
Wedding Location: Le Salon de Famille — Shangri-La Hotel (10 Avenue d'Iéna, Paris, 75116, France)
Reception Location: Le Salon de Famille — Shangri-La Hotel www.shangri-la.com/paris/shangrila
Harpist: Myriam Serfass www.harpe.bleue.over-blog.com
Violist: Frédérique Raymond
Food: Chef and Pastry Head, Francois Perret of the Shangri-La Hote
Cake: Chef and Pastry Head, Francois Perret of the Shangri-La Hotel
Flowers: Voici des Fleurs – (26 rue du Laos 75015 Paris, France)
Wedding Planning Services: Caroline Bonnel of Shangri-La Hotel [email protected]
Photographer: Olivier Lalin of WeddingLight
Videographer: Marco Schnittger of WeddingLight
Photography/Videography Company: WeddingLight www.weddinglight.com