Happy Tuesday to our lovely FWS readers, we hope the start of your week is going well so far! Today we have for you a romantic Chateau de Champlong real wedding.
We are heading down to Villerest near Lyon in the South East of France where today's bride and groom Beatrice and Sébastien tied the knot at Chateau de Champlong. Our couple opted for a vintage theme and with a little help from Nadege Archimbaud they managed to create just that, as you can see from the images by photographer Frederic Viallon. We particularly love their photobooth lounge, from the chaise longue and the old suitcases to the vintage frames it looks like the perfect place to create some fun memories and Instagram stories.
For a more intimate insight into this vintage themed wedding we shall now hand you over to todays bride Beatrice, who will be walking us through her Chateau de Champlong real wedding…
"Sébastien and I fell in love in a French Bistro in Munich where we live together, we got engaged in the very same French Bistro and eventually chose to get married not too far from his hometown in France."
"When he asked to marry him back in 2016 he had planned every single detail. A romantic dinner in our favorite French Bistro, the dinner table being decorated with roses, champagne waiting and a beautiful speech. I was over the moon! A few weeks after that we started planning our wedding which we knew should happen in 2018 as we had a 3 month south-east Asia trip planned in 2017. When we first went and visited Chateau de Champlong in Villerest, we immediately fell in love with the charming venue. The chateau park, the chateau interior and the welcoming owners convinced us that this is the place we want to get married at."
"The venue eventually inspired us to plan a vintage themed wedding and we immediately started to research vintage styled weddings. One of my main resources was actually the French Wedding Style Blog which I fell in love with immediately. Vintage and Boho Style Instagram pages helped to put our vision into a shaped picture. Once we decided on the venue and theme of the wedding we inquired main suppliers such as the pianist/DJ, photographer and the wedding decorator. All came together perfectly and we couldn't have imagined a better wedding day/weekend than we had."
The day started of by me and my bridesmaids getting ready in the rooftop suite of the Chateau and Sébastien getting ready with his best men in the Junior Suite of the Chateau."
"The vintage, free ceremony in the park of the chateau started at 5pm having Alexandre playing Frank Sinatra when I walked down the aisle followed by a 2.5 hours long cocktail in front of the Chateau."
"Our maid of honor and our groomsman did us the honor to act as celebrants during the ceremony sharing our story and taking our vows. The highlight of the cocktail was Alexandre, our Pianist, who created a magical atmosphere with his music, our polaroid photobooth/wall that was lovingly decorated by Nadege our decorator and two caricaturists who came to entertain guests and provide funny souvenirs for guests to take home with them."
"The chateau prepared four live cooking stations and made sure all glasses are filled at all times. We had our dinner reception in the Cuvage of the Chateau as of 8:30pm. The absolute highlight were the 6 minutes long fireworks at midnight in front of the chateau. I couldn't have imagined a more romantic moment at my wedding. After our wedding cake presentation and cutting shortly after the fireworks the party began and lasted until 7am in the morning. The weekend ended amazingly with an after wedding brunch on Sunday having guests relax in the vintage sofa lounges, listening to the piano music of Alexandre."
"Immediately after the wedding, on Monday morning, we went off for our honeymoon starting with a romantic night in Paris, followed by a one week private safari in Tanzania and one week beach time on Zanzibar."
"We are so happy and blessed that we had this amazing wedding and couldn't think of anything that should have been done differently. We truly had the time of our life. To other couples that are planning to get married abroad, I can only recommend to choose your wedding suppliers carefully and thoughtfully. They really make the difference, especially when you are not there supervising and planning every single detail by yourself."
Congratulations Beatrice and Sébastien from everyone here at French Wedding Style!
For even more vintage wedding inspiration check out this DIY wedding in the basque country.
Romantic Chateau de Champlong Real Wedding Snapshot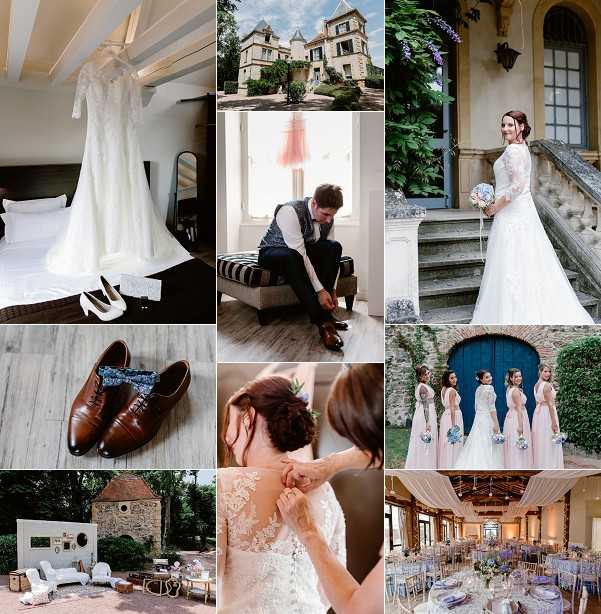 Wedding Vendors
Venue: Chateau de Champlong | Photographer: Frederic Viallon | Videographer: Sébastien Baus | Wedding Dress: La Kope Exquisite Munich | Hair: J.K. Top Hairstyling | Grooms Outfit: Hirmer Munich | Decoration: Nadege Archimbaud | Catering: Chateau de Champlong | Cakes: Patisserie Clarissou | Entertainment: Alexandre Pianiste | Entertainment: Olivier Lachaize Caricaturiste | Entertainment: Lyon Lumière Productions | Honeymoon: Zanzi Resort | Honeymoon: Tanzania Experience | Honeymoon: Hotel Raphael