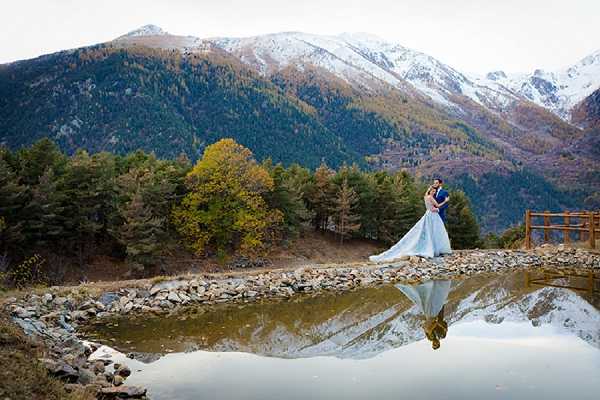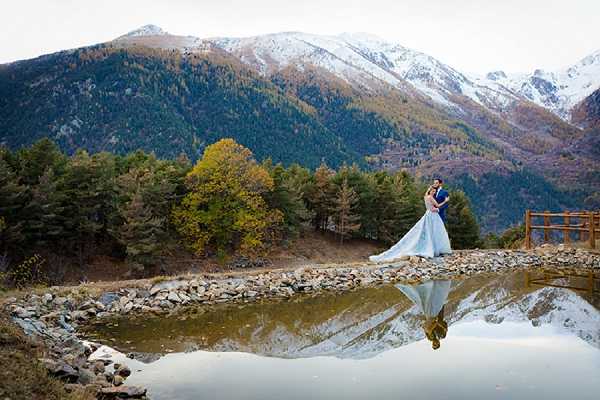 Happy Thursday folks, today we are heading just 15 minutes inland from Nice via helicopter to the breathtaking Alps for today's romantic Autumn wedding in the French mountains.
As you can see from the image above, this location is a stunner to say the least. We completely understand why this talented group of suppliers have collaborated together to help us discover this hidden gem.
There to help plan all the details was wedding planner and FWS vendor Nadia Fry Events who loves to help people turn their wedding dreams into reality. Nadia organizes weddings in the South of France and on the Amalfi Coast in Italy, she also speaks 5 languages which comes in very handy when communicating with international clients. Her curiosity, creativity and attention to detail make her the right person to organize your special day.
We'll now pass you over to Nadia who will be walking us through this breathtaking Autumn Wedding…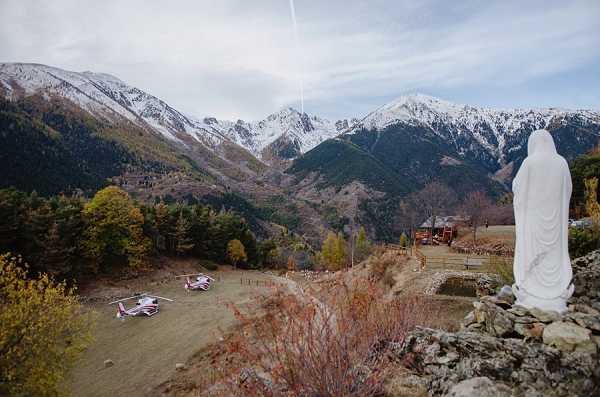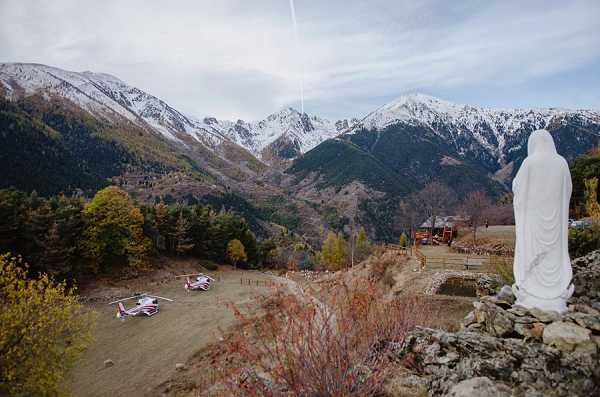 "The majority of couples prefer to get married during the warmer months, in spring and especially in summer. Many think less about getting married in Autumn or Winter. Nadia Fry Events and her team organised a photo-shoot in the mountains in November to show that getting married in Autumn can be very charming too."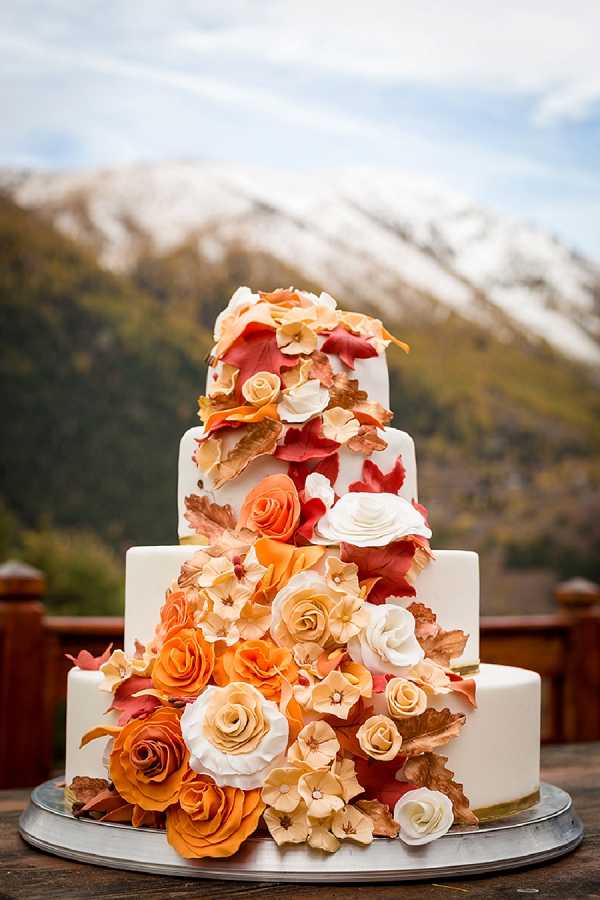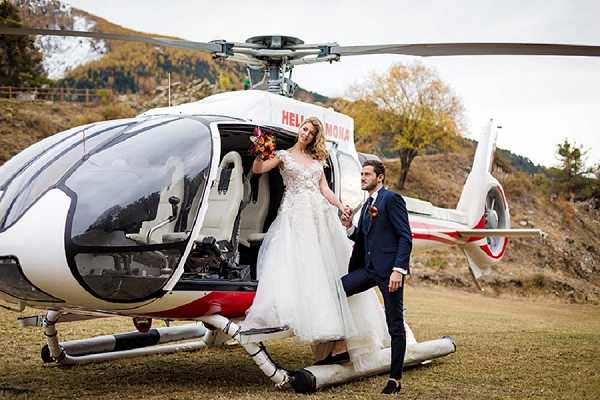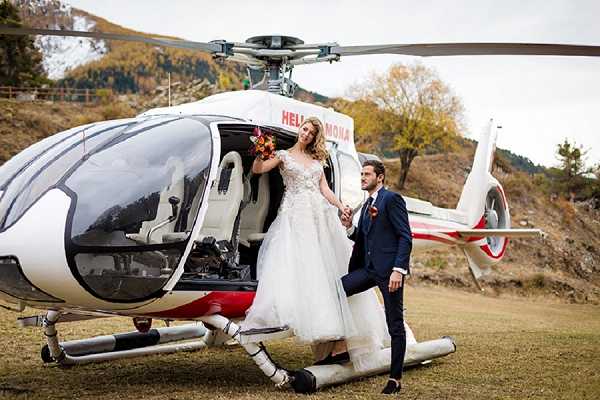 "In search of authenticity and quality, we went to the "datcha" of Le Coulet, a privileged and unique place. At the end of a forest trail, this haven of peace is at the gateway to the Mercantour National Park. Built on a ridge, it dominates the village of St Martin Vesubie and separates the valleys of Madone Fenestre and Boreon."
"Le Coulet is 15 minutes flight by helicopter from Nice airport! It is a total change of scenery guaranteed in a few minutes. It is also the gateway to the highest peaks of the Alpes Maritimes and many trails perfect for hiking. Park Alpha or Vesubia Mountain Park are also nearby and offer indoor mountain sports. This magical place offers many possibilities for the organisation of gastronomic events, fun or simply to relax and meet!"
"On a Saturday in November, the whole international team led by Nadia took the road to the mountains towards St. Martin Vésubie and found themselves in a wooden chalet surrounded by flocks of sheep, nature and all the beautiful colors of autumn. Together this team of 25 people prepared an unforgettable party high up in the mountains."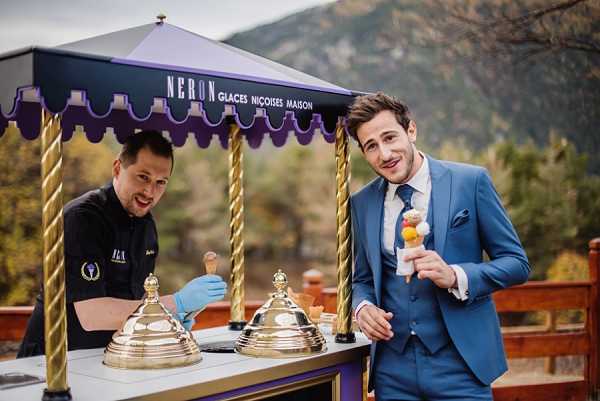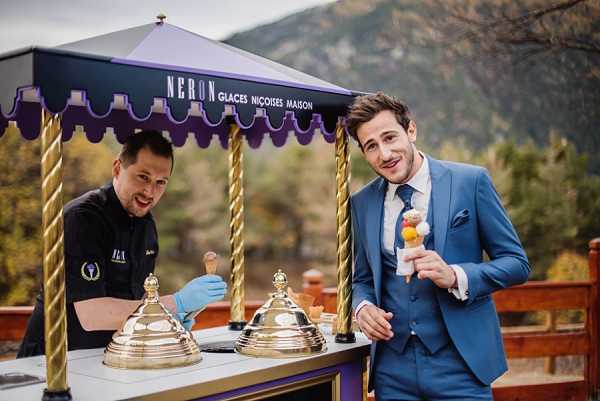 "For this styled shoot we enlisted the help of the talented Sophie from Les tables de Sophie who did a lovely job of preparing the tables with original decorations and high quality porcelain. Our florist Steffen from Jardin d'Alice prepared flower corns and bouquets for the bride and bridesmaids, boutonnieres and table decoration and a set-up of the altar for the bride and groom."
"We had the pleasure of working with Jaques Crovetto from Heli Air Monaco whose company has been flying people between Nice airport and the Principality of Monaco since 1976. HAM has developed many helicopter connections all over the French Riviera, to Corsica or even further to Courchevel, Italy, Switzerland, etc."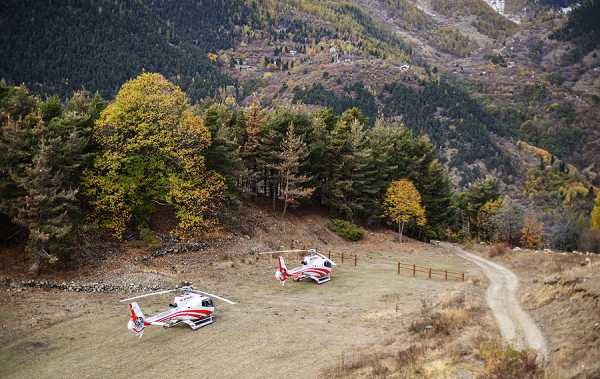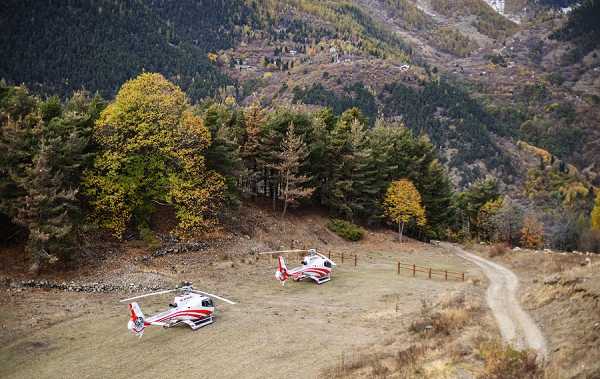 "The wedding dress, grooms outfit and those of the bridesmaids and bestman were all supplied by Lucia and Manon from Accord Parfait. The wonderful make up artist Olga Lozytskaya from One Day Hero Make Up was at hand on the day along with the fabulous hairdresser Barney from Barnabas Boros Hairstyle."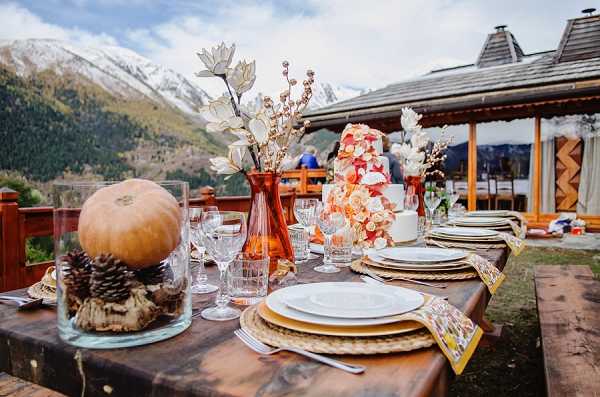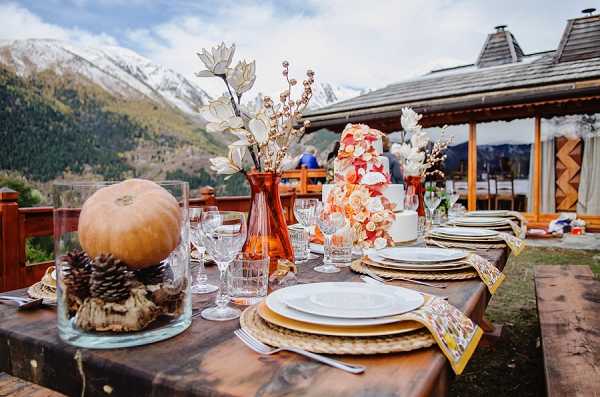 "Louis and Patrick of Pastry Plaisirs prepared a table with seasonal Niçoise cuisine, typical and delicious dishes. They also brought a Neron Glacier ice cream cart with homemade ice cream. To finish off our table setting we added the beautiful and delicious cake from Deborah's Family."
"The decoration was provided by Save the Deco, these two sisters have a talent for finding unique pieces that correspond to each party."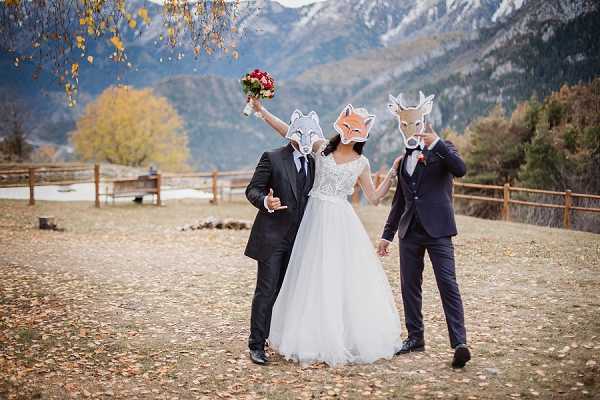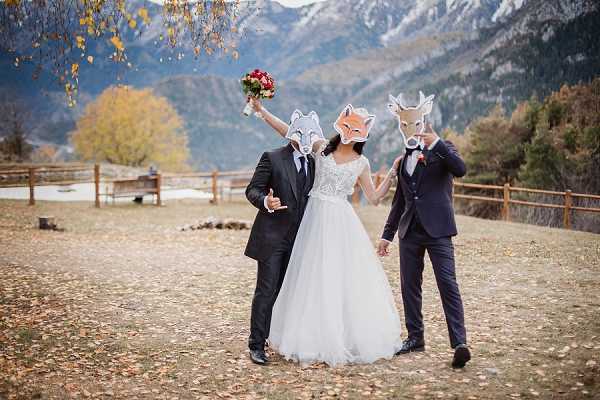 "For the shoot we used two photographers, Magali Tarasco Photographer and Ekaterina Kurilovich Photographer, who must have taken at least 5,000 photos, because the frame was beautiful. They could not resist the beauty of nature and mountains. We also had a wonderful videographer on hand who was able to film all the details and put together a film of the event to make you dream."
"Last but not least we would like to thank our amazing models Marine, Maxime, Amina, Elli, Ignacio, Antonio, Perrine and Camille who really helped to make this shoot."
For even more from this rustic styled shoot, check out this video created by Spix Production…
Romantic Autumn Wedding in French Mountains Snapshot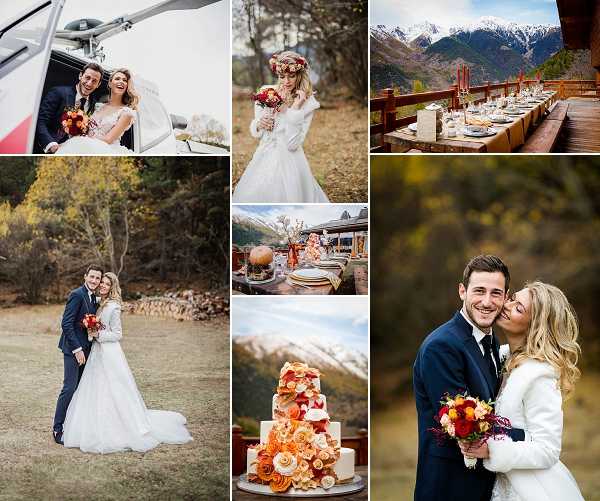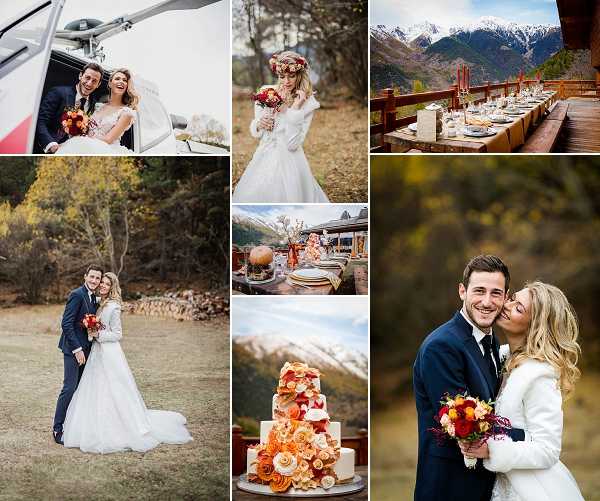 Wedding Vendors
Planner: Nadia Fry Events | Photographer: Magali Tarasco Photographer | Photographer: Ekaterina Kurilovich Photographer | Videographer: Spix Production | Wedding Dress: Accord Parfait | Make Up: One Day Hero Make Up | Hair: Barnabas Boros Hairstyle | Florist: Jardin d'Alice | Celebrant: Antonio Orozco | Catering: Pastry Plaisirs | Catering: Neron Glacier | Catering: Caviar MC Rio | Cakes: Deborah's Family | Decoration: Les tables de Sophie | Decoration: Save the Deco | Transport: Heli Air Monaco | Model/Groom: Maxime | Model/Bride Brunette: Amina | Model/Bride Blonde: Marine | Bridesmaid: Elli | Bridesmaid: Perrine | Best Man: Ignacio