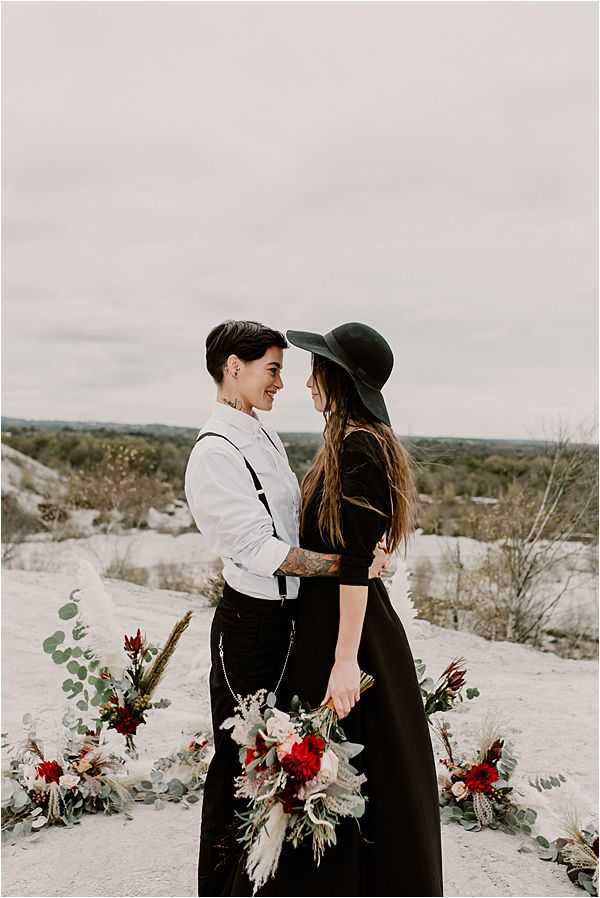 Happy Thursday lovelies! Today on the blog, we have for you an out-of-your-comfort-zone, rock and glamour international wedding photography inspired styled shoot! This is not your typical "dressed in white" bride, but a deviation that is too beautiful not to share and inspire future brides!
Brought to you from Anne Letournel and her team, Anne brings together a very chic composition of same-sex love and marriage in France. We'll give her the floor to share more!
One wild moment, two women, one love !
It was my desire to capture a bride in black that was the starting point of this editorial. I wanted to digress from the traditional bride in white, and to go for something more rock, but still glamorous and natural.
Sandrine Richard "Portez vos idées" created this beautiful dress, mixing sensuality and glamor. Morgane Cabaret from Malefic shoes lent one of her custom made shoes with clean and timeless lines.
It is all about love, sensuality and nature. As a photographer, nature has an important role in my work: it's one of my main source of inspiration and creation. I like its light palette, landscapes and seasons. It was necessary for that shooting session to find a wild and remote location, then came the idea of a large plain or a desert-like area similar to those in North America.
The mine of Abbaretz located between Nantes and Rennes appeared to me as the ideal spot: somehow between snow and desert, love is wild, intimate and far from everything.
The couple expresses their mutual love in this atypical and monochrome place, facing only the raw elements. The idea of a tension between the masculine and feminine is characterized piece by piece. There is the sensual woman on one hand, with her long slit dress, her hat and her hair in the wind, and on the other hand, the androgynous woman, with piercing and tattoos.
They are there, together, as in a bubble, loving each other.
The floral part of the shooting was entrusted to Corinne Brandon Petite Fleur. She immediately knew how to capture the desired atmosphere and impose her style. At once modern and elegant. I liked this mix of pampas and roses, all sublimated by warm tones in this seemingly cold coloured nature.
The Agence Meow took care of the decoration and the final staging. These two girls (lila & Inès) were able to mix with tact the various elements of the decoration, and to create an overall atmosphere that was intimate, captivating and vintage style at the same time.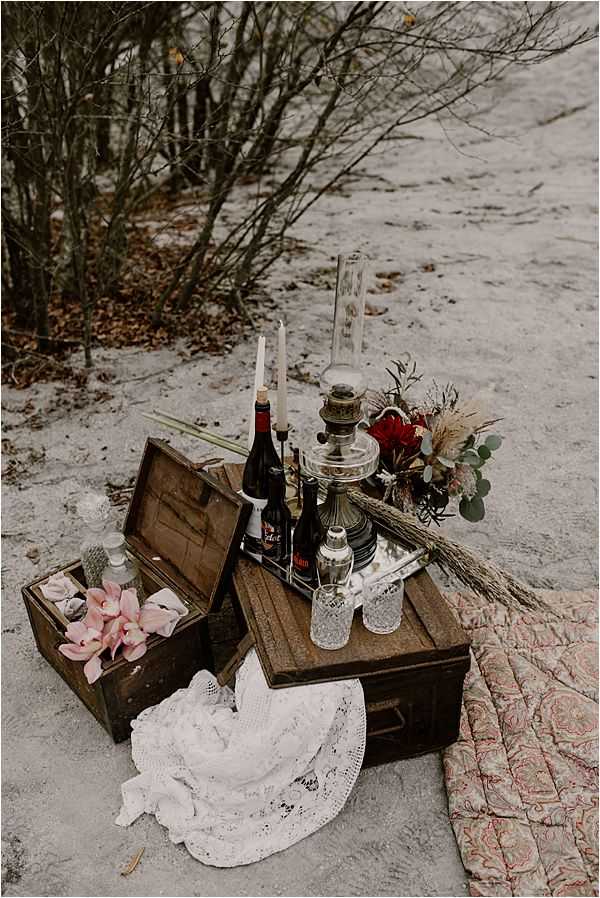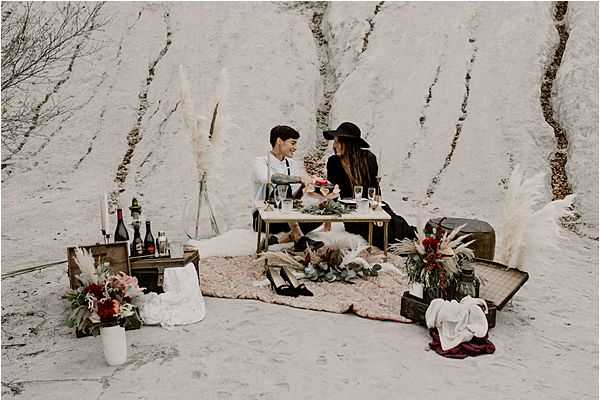 The cold atmosphere of the mine environment contrasts with the warm tones of red, chestnut and ocher found in the flowers, the wooden furniture and leather pieces.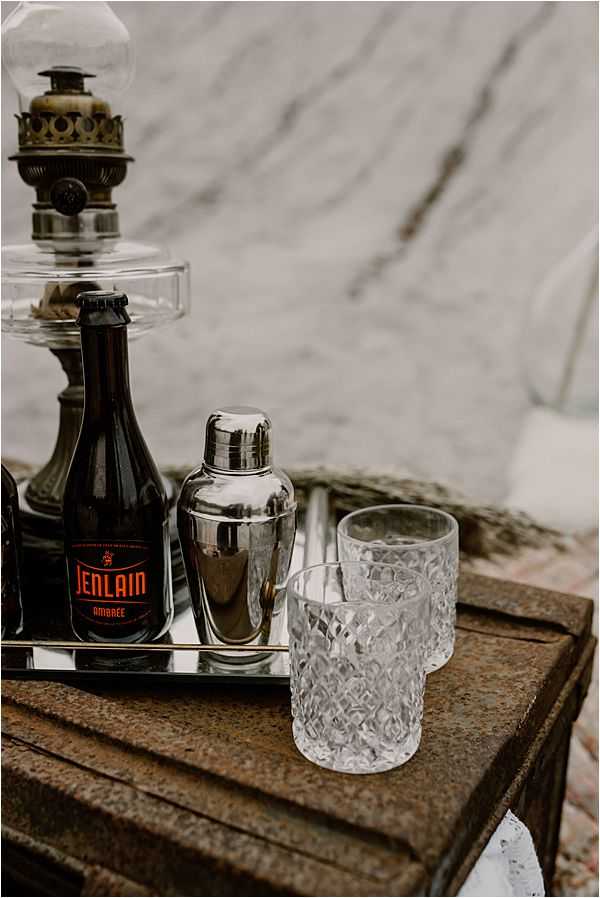 With its unique and genuine style, La Cocotte en carton provided high quality hand-made calligraphies.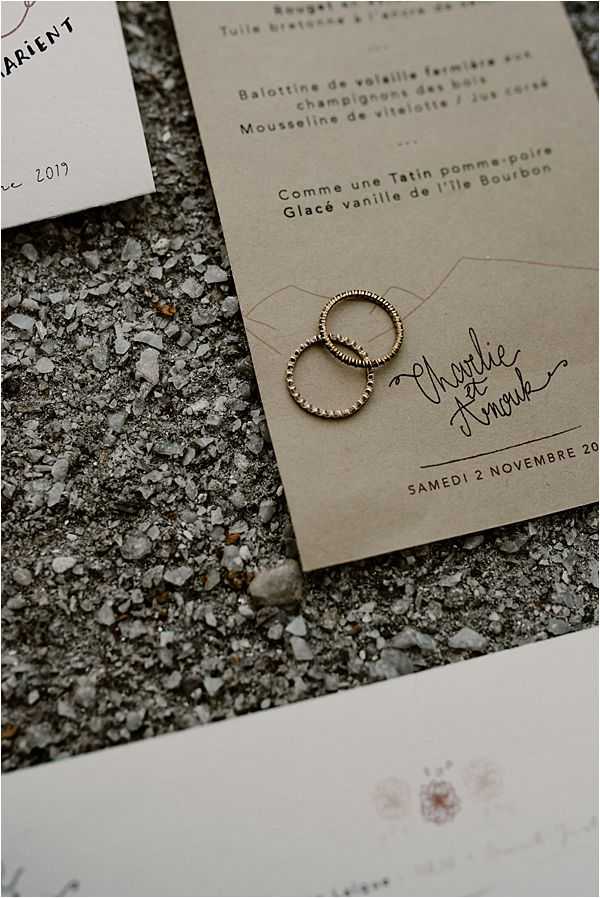 But how can we talk about this shooting session without mentioning the presence of these two horses from  Josiane Bellanger.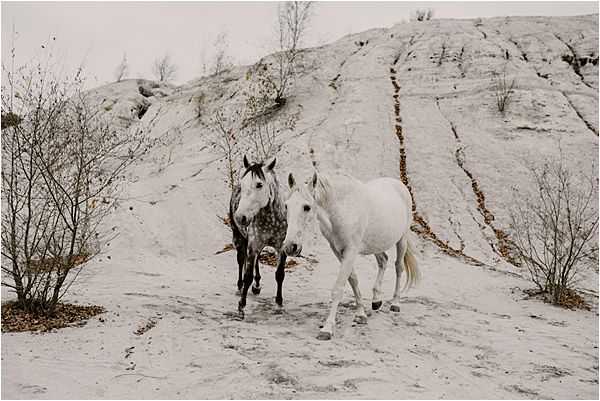 They embody on their own the desire of freedom, wild spirits and passion.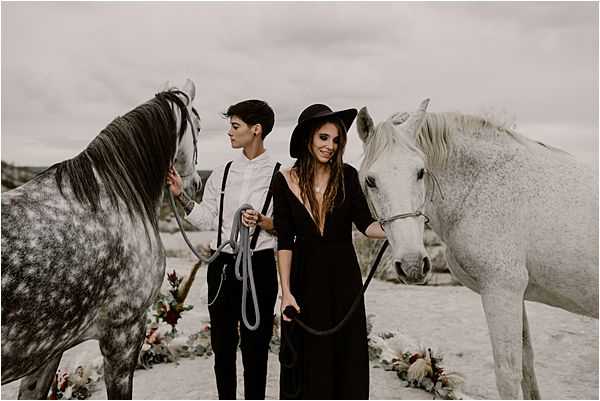 Elegant French Chateau Wedding in Lorraine Snapshot
Vendor Details:
Photographer: Anne Letournel  | Florist: Petite Fleur | Cakes: Dalila Creations | Hair: Amelys coiffure | Make Up: Lou | Decorations: Agence Meow | Shoes: Malefic shoes  | Bride's Dress: Sandrine Richard "Portez vos idées"  | Catering: La cocotte en carton   | Horses: Josiane Bellanger