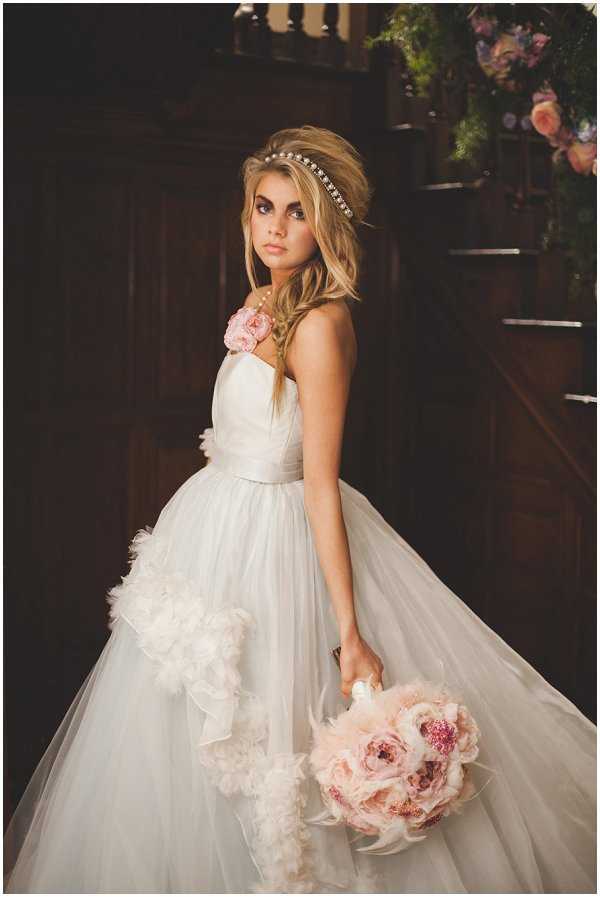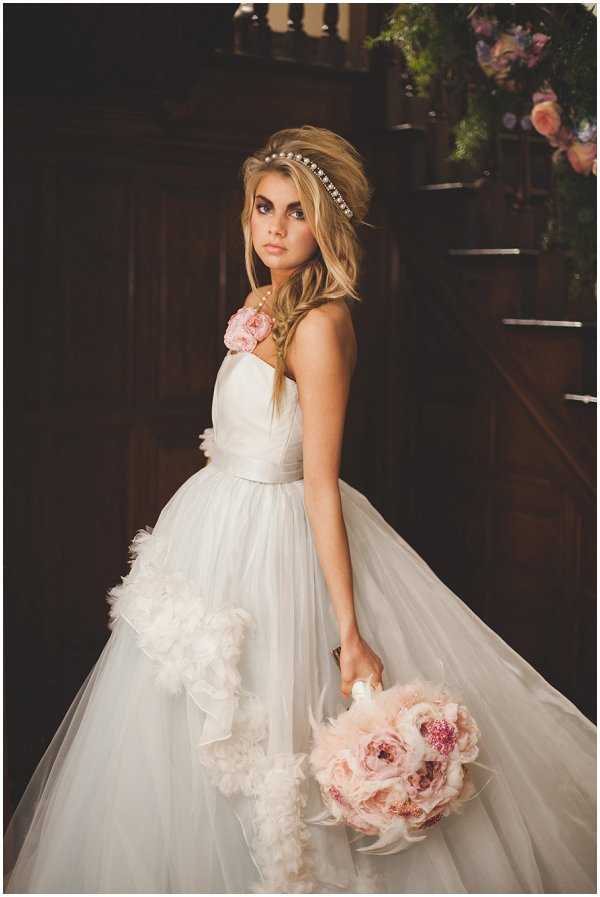 Let your imagination run away with you in our Renaissance French bridal inspiration shoot from La Candella Weddings.    Whether you are planning a wedding in France or taking ideas and planning your French styled wedding across the world, today's shoot is bursting with ideas for you.
Angie from Candella Weddings takes us through this shoot:  "This shoot was inspired by my love of all-things-French. I really wanted to do a couple different looks for this shoot- one being very soft and ethereal, and the other one, in front of a decorative old staircase, has a bit more of a "old-world" feel.
The rest of the shoot was more light and airy, and was more focused on colors- yellow, light blue, and light green in particular. The model, Emily, wore the same gown the entire time- a gown designed by Cocoe Voci. This dress, a light-blue tulle gown, was embellished with ruffled flowers lining the edges, and a beautiful belt accent.
Vintage Alley Rentals supplied the Light Blue/Green "Elsa" Chair and the vintage birdcages. The stairway was decorated with an elaborate floral garland, created by Carmel at Mt. Lebanon Floral. It included a variety of greens, blue hydrangeas, pink sweet peas, blue delohiniums, purple stick, and esperence roses 
The bouquet was delicately crafted with handmade flowers and brooches by Mlle Artsy, a French Canadian designer. She also designed the matching handmade floral necklace. For the makeup, done by Hannah Conard, we wanted a bit more of an "unfinished" edgy Renaissance look, to give contrast to the pastel wardrobe when combined with the thick, messy braid. We were lucky enough to get a plethora of jewelry/accessory designers, including Bella Belle Shoes, Edera Jewelry, Lindsay Marie Bridal, Sparrow Station, Urban Veils Couture, Ann Leslie Designs, Alice Sioux Design Studio, and Beyond a Veil- all who contributed necklaces, earrings, birdcage veils, embellished wedding shoes, capelets, and several several other accessories that helped achieve many different looks throughout the shoot.
The stationary was designed by Blush Paper Co, and mimicked the design of the bouquet.  The entire shoot was designed to show how one dress, in several environments, can emit an entire different look, but still have a French feel to it. "
Bridal Inspiration Snapshot:
Wedding Vendors:
Photographer– La Candella Weddings | Model– Emily Geary | Hair/Makeup- Hannah Conard  | Wedding Gown– Cocoe Voci | Shoes: Bella Belle Shoes | Vintage props– Vintage Alley Rentals | Florist– Mt. Lebanon Florist | Jewelry– Edera Jewelry  and Lindsay Marie Bridal | Bridal Accessories– Sparrow Station,  Urban Veils Couture, Ann Leslie Designs, Alice Sioux Design Studio and Boutique, and Beyond a Veil | Brooch Bouquet– Mlle Artsy | Invitations– Blush Paper Co.