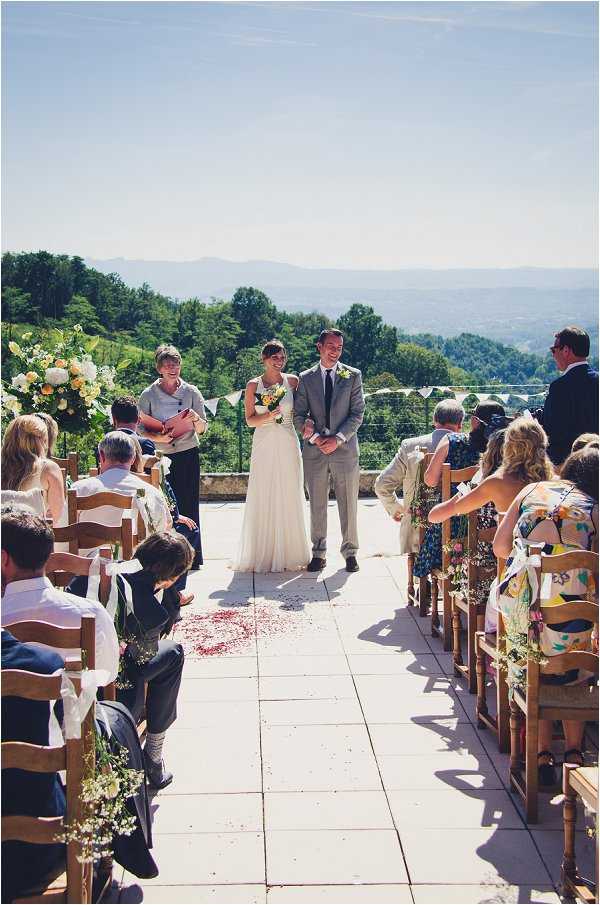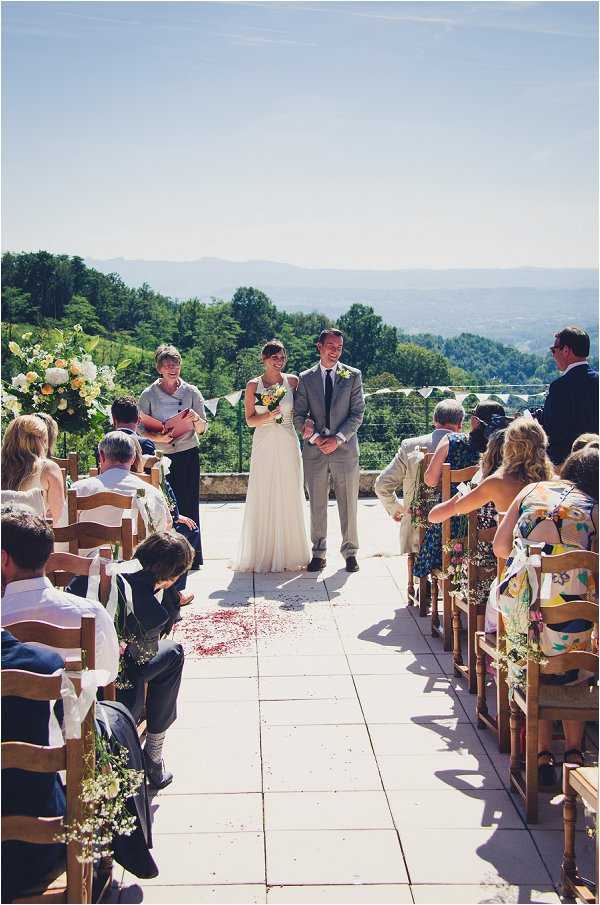 You maybe thinking that a wedding venue with a view would be nice and that is exactly what our couple Steph and Roo choose today for their relaxed September wedding in the Dordogne Valley, with stunning views!  The wedding was planned by FWS Vendor Joanna Burgess at  A Dream French Wedding and captured by Innate Form Photography.
Steph and Roo had an intimate and beautiful wedding day in France. They wanted a nice venue, food and wines but were also keen to keep the day simple and just let it unfold naturally, allowing their guests to enjoy the stunning surroundings. They were blessed with a hot September weekend which was the icing on the cake. The guests loved the amazing views at the ceremony and then they were able to come back out onto the terrace at sunset and dance under the stars.
The chateau, built in the early 1900's sits high on a hilltop with magnificent views and no neighbours to disrupt!  It can sleep up to 50 within the chateau and apartments and boasts a swimming pool, honeymoon suite, 2 large dining rooms, a bar and professional kitchen. The medieval town below has a riverside position and numerous restaurants and cafés, it is perfect for canoeing, boat rides and fishing.
Steph and Roo opted to incorporate some French elements into their wedding with accordian music and a 'croquembouche' wedding cake.  Steph chose to make her grand entrance down the aisle to 'Life on Mars' by David Bowie, played on the accordian which sounded great and really original!
They decided to keep costs down by doing many things themselves…Roo's brother James was the DJ so they just needed to hire the music equipment,  his mum Sue organised all the flower arrangements and Steph's friend Katie helped with the hairstyling. The flowers that Steph chose included lisianthus, freesia, rose and star of Bethlehem.
They enlisted the help of wedding planner Joanna at  A Dream French Wedding to help find their chateau and assist with their wedding organisation. They chose a talented photographer Jace from  Innate Form Photography to capture their wedding photos. Jace is orginally from Australia but has lived for many years in France. After the wedding week, they spent a night in Paris before flying off to the Amalfi Coast in Italy for their honeymoon.
Steph says, "We chose to marry in France for a few reasons. Roo's family have a place there and so we holiday there a lot, plus we love traveling to Provence, the South coast and also for skiing in the winter months. We feel at home in France and the food, wine and weather is a lot better than the UK! You can find amazing venues for a fraction of the cost of in the UK. There was no contest really…and we knew our friends & family would be on board and make a real holiday of it too.
If I had to pick the best part of our wedding day, it would be coming out onto the terrace with my Dad, in the sunshine, with the flower girls ahead of me, seeing everyone assembled for the first time on the terrace, with Roo at the 'altar' and that view behind him…that was pretty special.
I am glad I didn't choose to use my friends as bridesmaids…my little nieces looked so sweet and I think it was more relaxed and then my friends were all able to wear what they wanted to the wedding.
We had an excellent caterer who I would highly recommend and the Chateau was such a relaxed wedding venue with really nice owners who were helpful and laidback. Having everyone stay on site or nearby made for a great holdiay and wedding…so much fun.
We initially thought we only needed a wedding planner because we wanted to get married abroad – and we only spoke holiday-level French! However we quickly realised how much extra value Joanna was providing – her years of experience and network of contacts were vital to us. Decisions about parts of the day were made infinitely easier as she was our first port of call, knew budget-conscious tricks, could advise what many brides do and don't do, and how to keep guests happy with the smooth running of the day."
Wedding Suppliers:
Wedding Planner:  Joanna at A Dream French Wedding |   Photographer  Jace at Innate Form Photography | Venue: Wedding Chateau | Dress: Sanyukta Shrestha in Fulham: |  Suit: Marks and Spencer |