For our last real wedding of the week, we are off to the Dordogne for the relaxed wedding of Clément and Becca, planned by Marry Me in France and captured by Susie Lawrence Photography.
For those of you who are thinking of a church wedding and are not too sure how to combine this with a Chateau wedding reception, Clément and Becca manage to combine the two locations effortlessly.
Clément and Becca met in the Dordogne in 2011 at a family reunion, with Clément in attendance as best friends of Becca's cousin.
Bride Becca talks us through their big day: "We chose our wedding location because we had met in Bergerac so we wanted to do something close to there (in addition my family is from the area).  We selected Chateau de la Bourlie after looking at several chateaux in the area, because we found it to be the most charming!  The building itself is beautiful, but the rustic country setting gave it an additional charm and a relaxed feeling.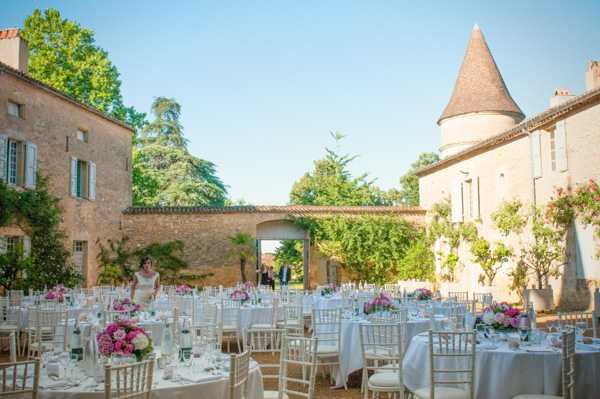 From the beginning, Clément and I decided that we wanted something beautiful and extraordinary, but at the same time relaxed and comfortable.  We wanted it to feel luxury, but not uptight or formal.  We both love the charm of Dordogne and wanted to parlay that to our guests who came to celebrate from all over the world.
Once we had found the church and the chateau, everything else easily fell into place.  We just continued with the theme of French country after that – deciding to stick more of the authentic French traditions than the american.  Most of what we chose for the wedding we chose with the guests in mind, so they would be having a good time and be comfortable, good food, good music, plenty of wine – and voila!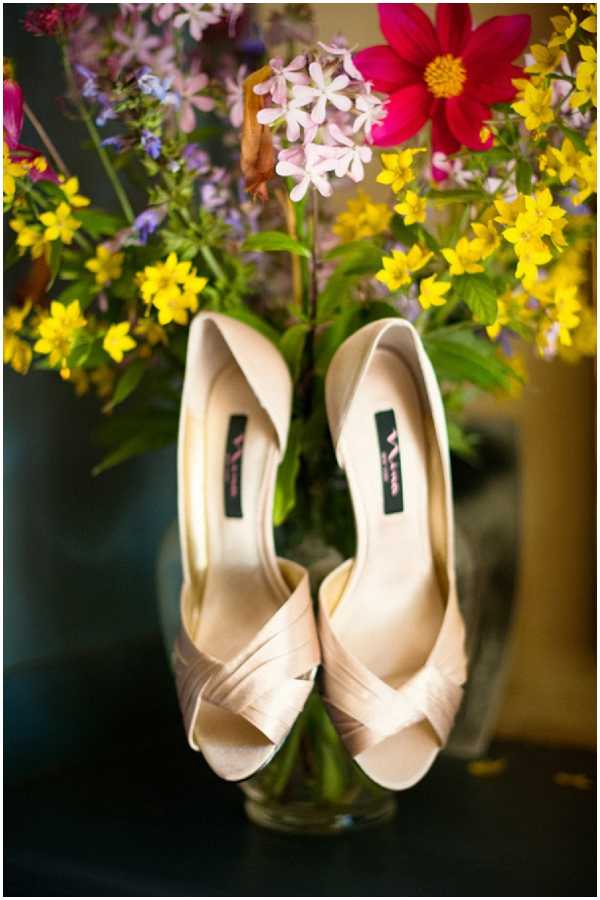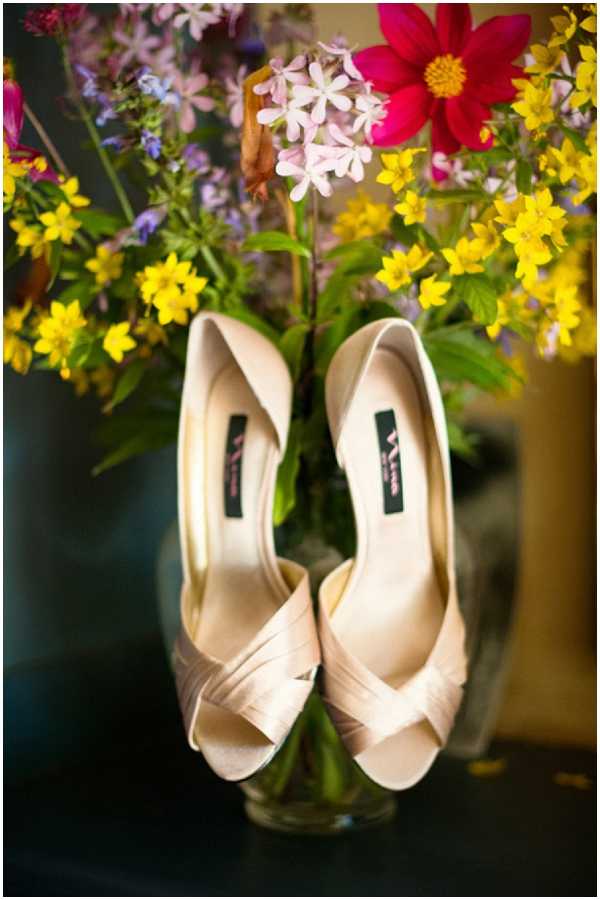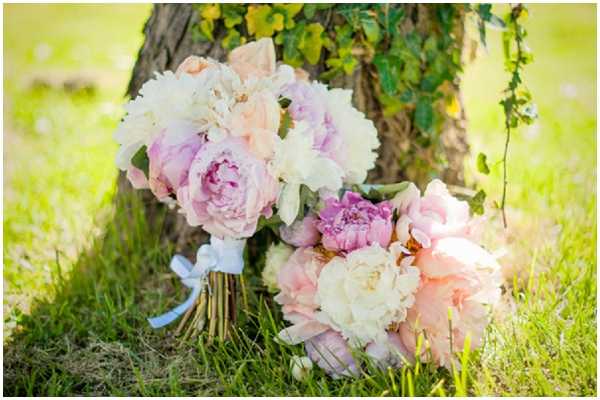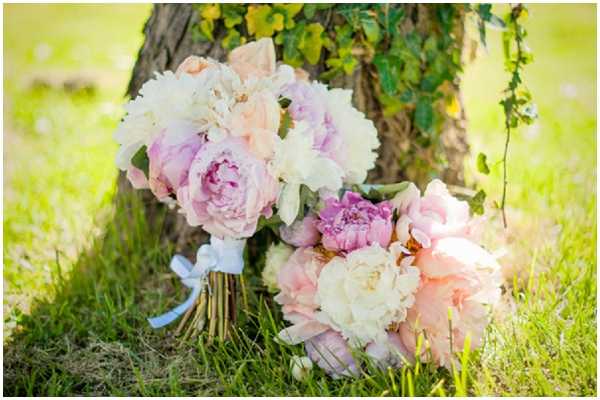 I dislike how often in american everything feels so orchestrated – like every moment is choreographed.  We wanted to stay away from that and keep it as natural and enjoyable as possible – and it was!
Very early in the search for how to plan a wedding in france, I found my amazing wedding planner Kate Bouyer from Marry Me in France.  She guided every step of the way – which made it so much easier to plan from far away, and to have someone who knew the best and most trustworthy suppliers.  She made the entire process such a joy!  She completely understood every detail of what I envisioned – and would then send me all sorts of suppliers and ideas to choose from.  She executed all the orders and bookings – and on the day of, from behind the scenes, made sure that everything went off without a hitch.  I don't know how I could have planned a wedding in France without the amazing crew at GMIF!
When it came to my dress, I tried on about twelve or so dresses before I selected my Lela Rose gown.  When I tried it on, it just seemed so perfect for how I wanted to feel on the day of – it was classic and simple – and I knew Clément would love it just as much as I did.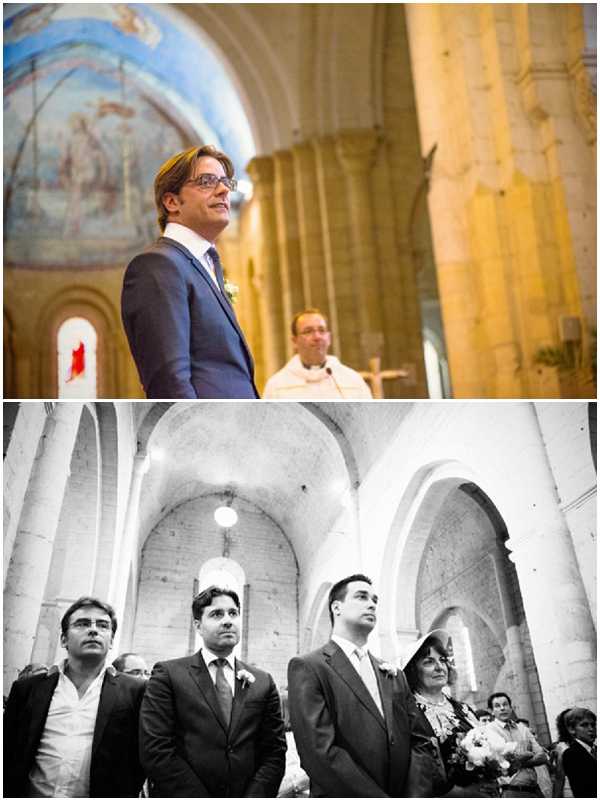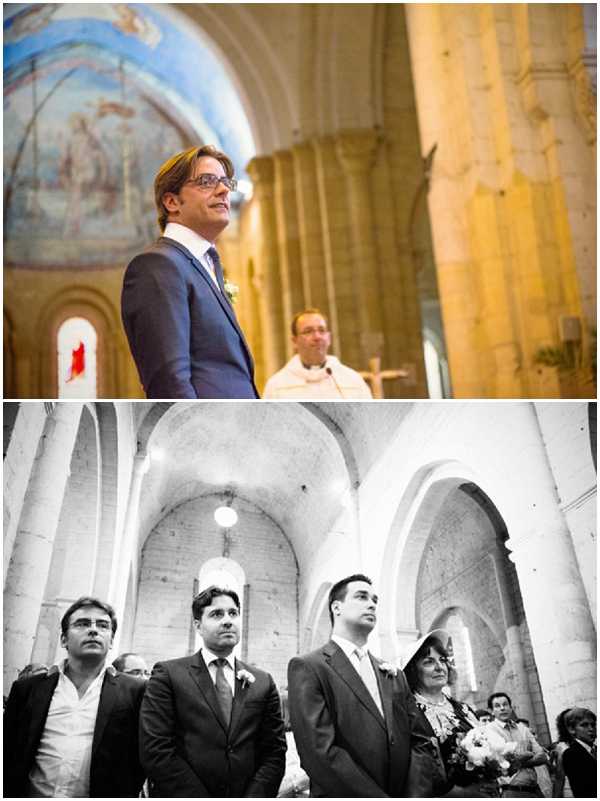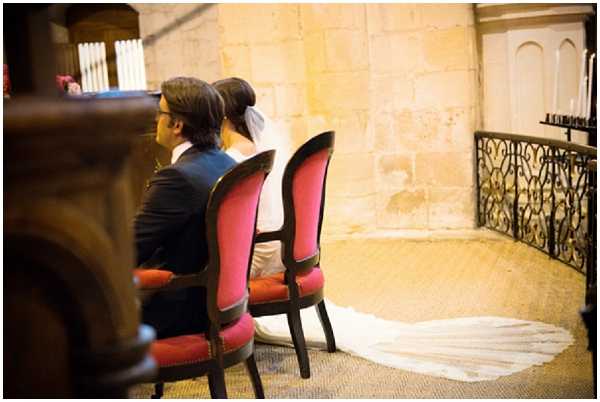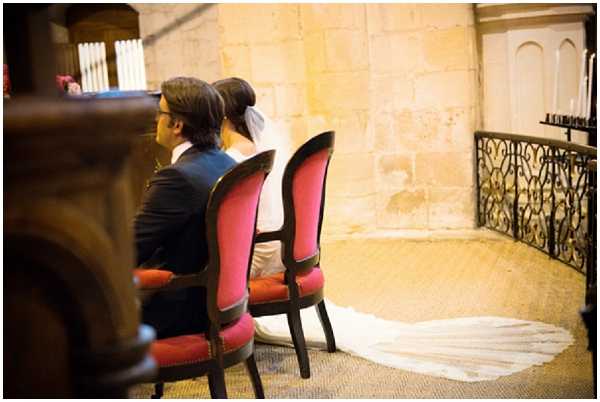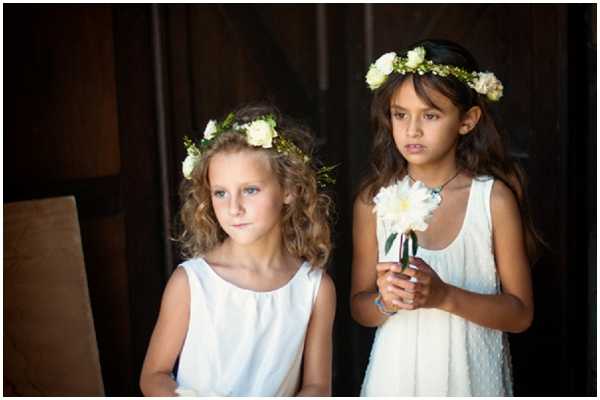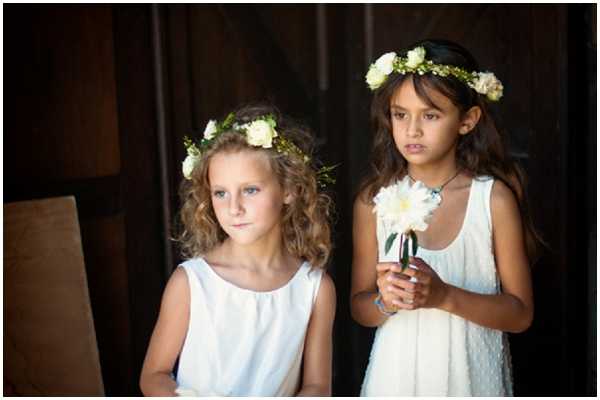 I always thought I would have wanted something more intricate or trendy, but the timelessness of the dress won me over and I felt like it was perfect for the day.  Clément chose a Dolce & Gabbana silk suit in navy blue.  Again, we liked the classic (but not overly formal) navy suit with my cream colored dress.  It was a touch of different with all the classical elements.  My sister, who was my maid of honor, selected her own dress from Alberta Ferretti.  I let her choose it herself because I didn't want it to be too "themed" with my flowers etc.  She chose the teal dress which was a perfect pop of color in the old abbey church.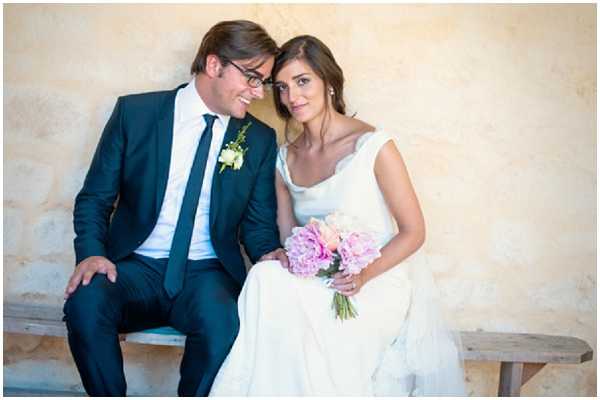 The day itself was absolutely beautiful – so much more than I ever imagined.  My favorite aspect of the day was how the wedding moved – it was a long wedding, but there were phases that kept the party going.  We had the ceremony at 3pm at L'Abbaye de Cadouin, followed by a drinks reception (vin d'honneur) in the rose garden of the chateau.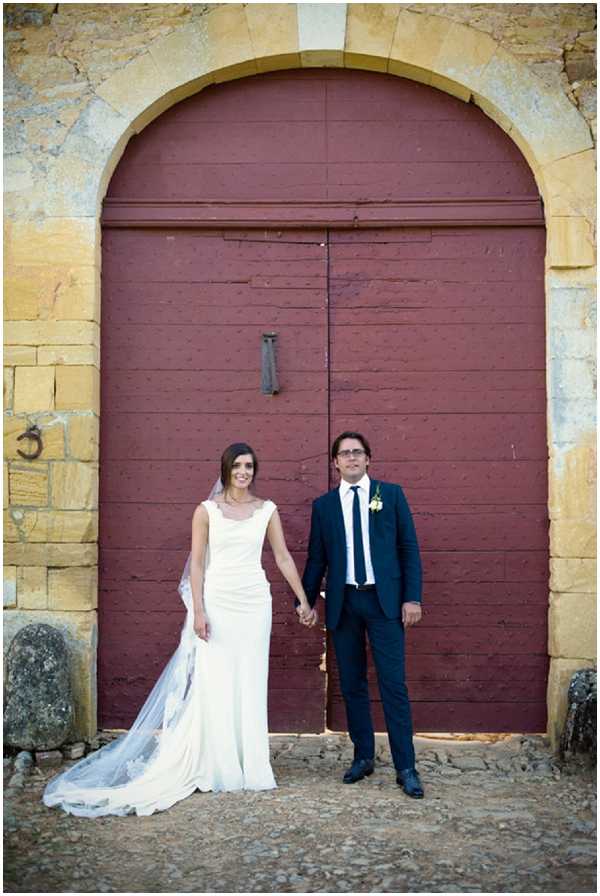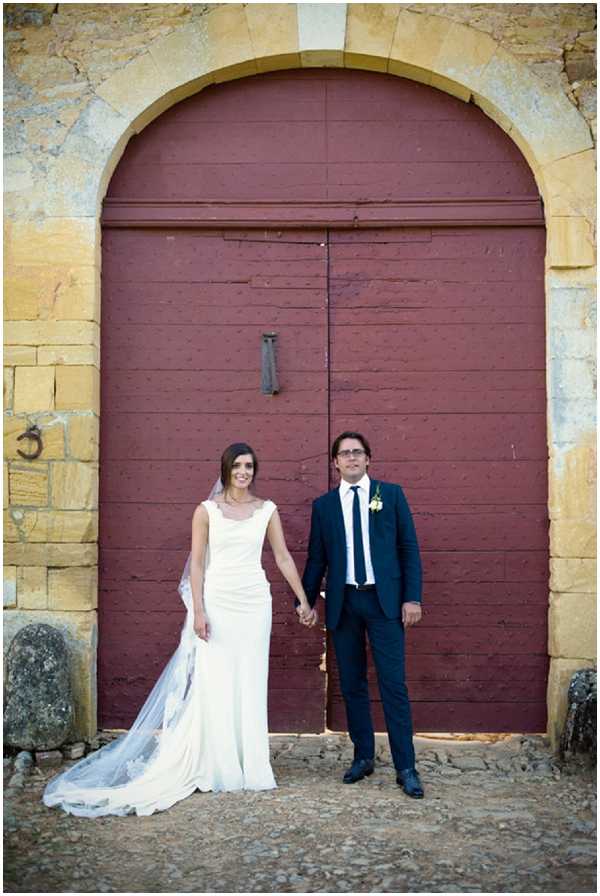 After that, everyone moved on to the courtyard of the chateau for the 4 course dinner, and then afterwords to the salle for the dance party reception.  At the vin d'honneur, we had a little jazz manouche band who was perfect for the ambiance and gave it an authentic feeling.  At the later reception we had a rock band from London and a late-night DJ.  It was just fun because each element surprised our guests and kept the energy flowing!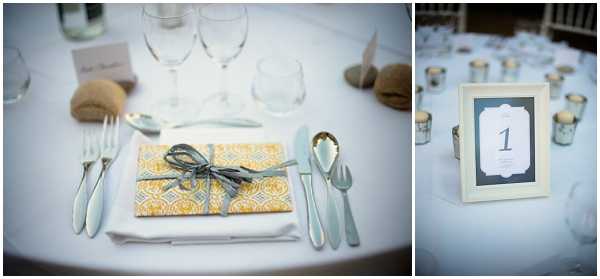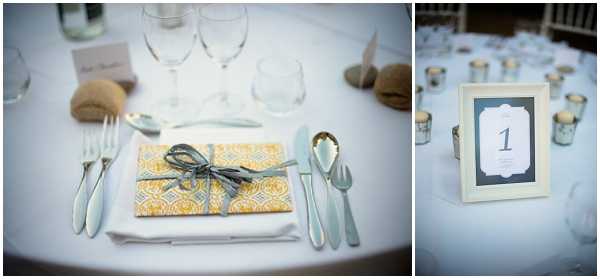 In terms of issue planning the wedding, honestly, I was so worried about planning a wedding in France and I was stressed about being able to make it happen.  With our wedding planner, however, I can't remember a single day of being stressed.  She handled all of the difficulties that could have arisen and I was able to relax and make all of the fun decisions!  All of our suppliers were outstanding – and it is all thanks to Kate.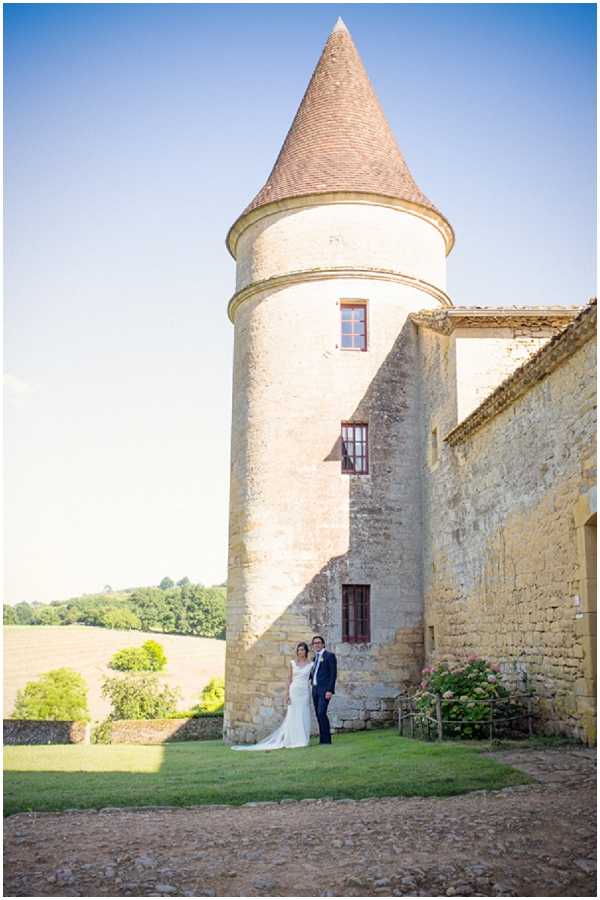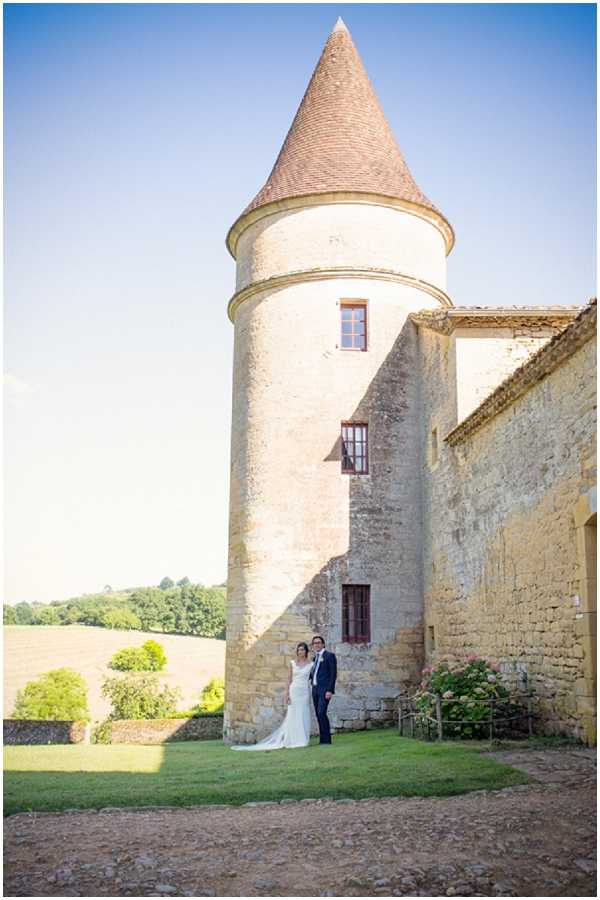 If I have any advice for couples it would be get a wedding planner!  I think it is absolutely worth it to have someone who knows the area and knows how to execute your vision!"


Wedding Suppliers:
Photographer: Susie Lawrence Photography
Wedding Planner: Marry Me In France
Wedding Ceremony: L'Abbaye de Cadouin
Wedding Venue: Chateau de la Bourlie
Brides Dress: Lela Rose
Grooms Outfit: Dolce & Gabbana
Maid of Honour Dress: Alberta Ferretti.