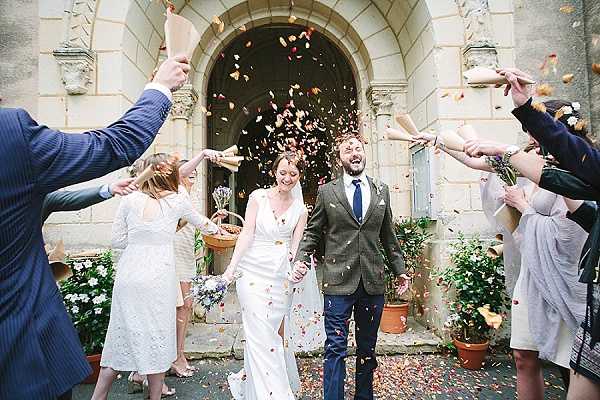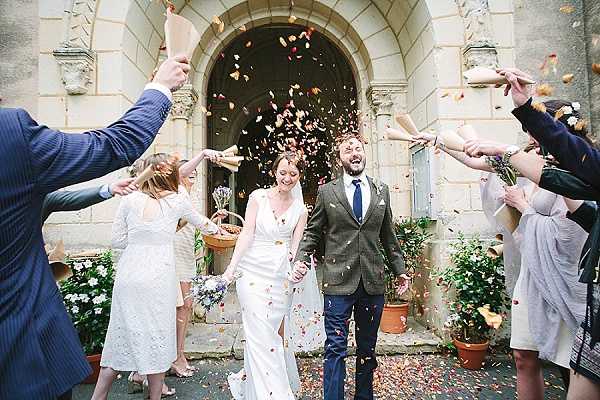 Hey lovelies, I hope you had a fabulous weekend! I have a really sweet relaxed DIY home wedding in France for you today captured by our lovely FWS vendor Julia Jane Photography, but first I have to share my excitement with you. Not only is February my birthday month (eeeek) but today I officially join the wonderful French Wedding Style family as the new Editorial Assistant. I'm beyond excited and can't wait to bring you even more wedding inspiration!
Preparing today's feature really took me back to planning my own garden party wedding back in 2013. I loved every second of gazing through Pinterest for pretty ideas and I found so many!! I'd certainly offer one piece of advice with Pinterest: Use it to your hearts content but don't bite off more than you can chew.
I love looking through gorgeous handmade weddings, they really give an insight into the bride and grooms personalities. Today's wedding includes pretty personalised confetti cones, unique dried flower bouquets and even a high street wedding dress perfectly complimented with a cathedral length lace trimmed veil which looks stunning on our gorgeous bride Caroline who will be walking us through her special day…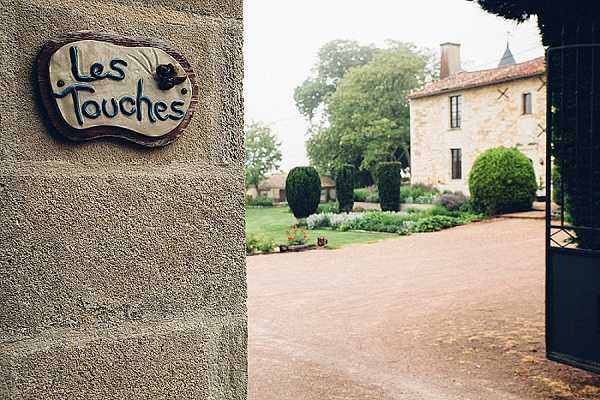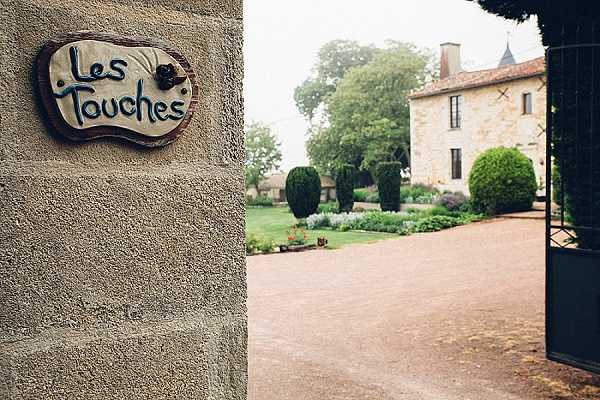 "From the outset we knew planning a wedding in France from London would be challenging, but we were prepared to overcome all obstacles to make our dream a reality. Our reception was at my parent's home, which used to belong to my grandparents, so holds lots of very special memories for us."
"We wanted to do and make as much as possible ourselves, and asked in favours from friends and family, who were more than happy to be involved! We had around 95 guests in total from all over the world and the celebrations went on for several days before and after the big day."
"I had initially bought a silk and lace vintage gown but after some consideration decided that it wasn't quite right for me. By chance, I stumbled across my dress: an off-the-peg dress from Coast and I absolutely loved its simplicity and classic style."
"I was very lucky that a family member is a make-up artist and I was thankful to have someone I trust implicitly doing my hair and make-up on the wedding morning."
"I always wanted a long veil and the one I chose was from Joyce Jackson with a French lace trim."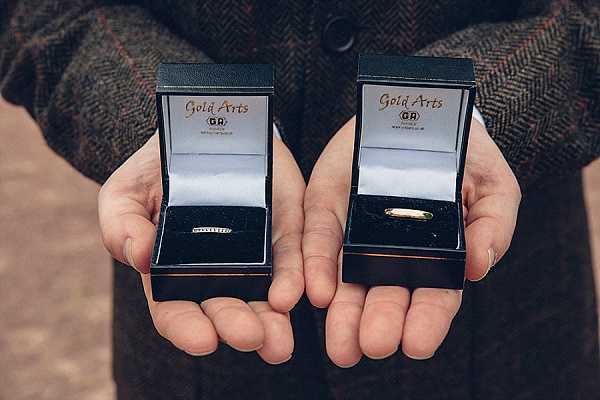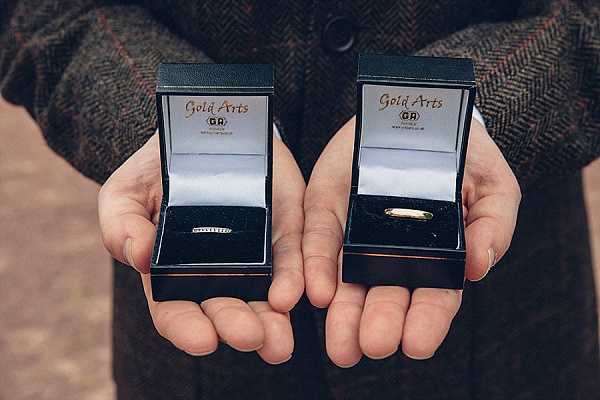 "Jonathan wears a suit to work every day so wanted to feel more casual with a tweed jacket and knitted tie with chinos and brogues."
"We didn't want to be formulaic about what any of our wedding party wore, so the groomsmen wore their own suits and the bridesmaids chose their own dresses.  On the day, I was so amazed and so happy how fantastic they all looked together – a mix of vintage and new cream dresses. All the girls wore gold shoes and gold and pearl necklaces and dried flower bouquets from Etsy which tied them together."
"Music was a key part of our day – we decided to mix classical, traditional French café music and a cover band for evening dancing.  We had two singers in the church who made the ceremony magical – I walked up the aisle with my Dad to Panis Angelicus and down again with my husband to Let the Bright Seraphim by Handel from Samson. My mum is a classical musician so had lots of input and suggestions with the ceremony music, which was wonderful."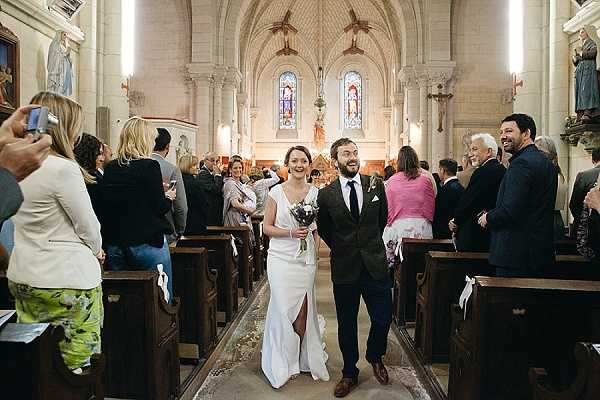 "We decided early on that we wanted to spend as much time with our guests as possible during the day, so only had a short photo shoot after the ceremony when we went to a vineyard at the back of the house for a few photographs together. Julia Jane Photography did an absolute fantastic job throughout the day. She just 'got us' and we can't recommend her highly enough."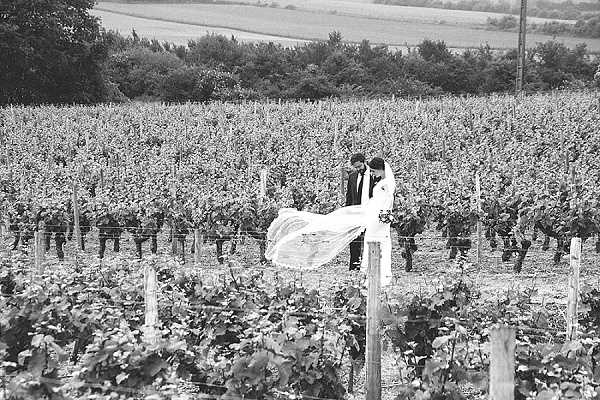 "After the ceremony our priest and his wife had laid on a 'Vin d'honneur' with champagne and canapes which was such a brilliant atmosphere seeing our guests getting into the party mood immediately after the ceremony."
"Our favours were bottles of homemade sloe gin which we had made together the previous summer. Our wedding cake was made by my grandmother."
"Food and wine was important to us, and we wanted everything to be sourced locally, so our wine was from our local vineyard (Domaine du Petit Clocher) that have provided all the wines for past family occasions and even personalised the labels with our names.  We hired in local caters and ate French salads, pork méchoui (spit roast), local cheeses and French tarts for desert."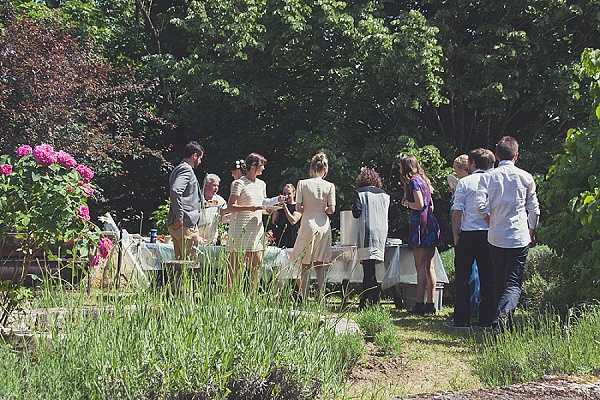 "Immediately after we cut the cake (and a minor disaster of the cake topper falling off!) we danced our first dance as a married couple; to The Isley Brothers 'This Old Heart of Mine.'  One of our first dates was to see the French film 'Little White Lies' and that song has since then been ours."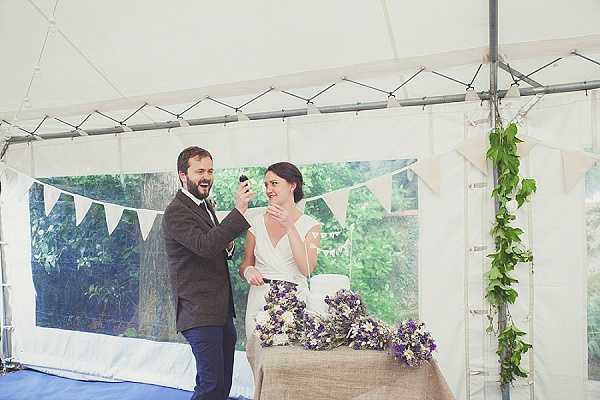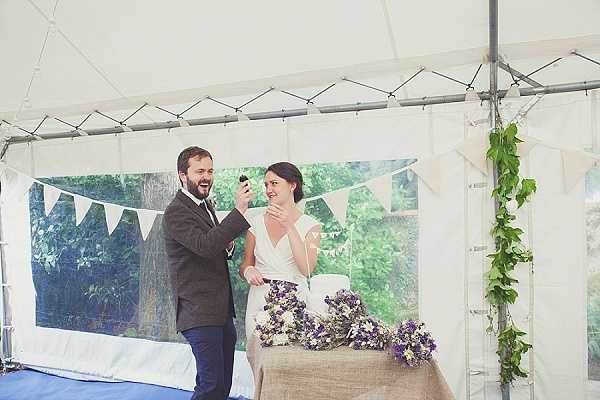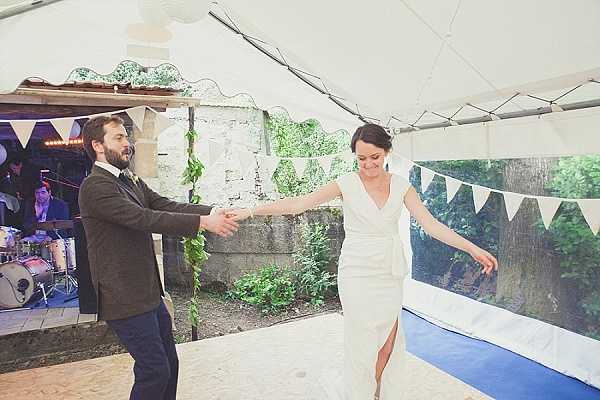 "For the reception we had an accordionist / singer Beatrice Perrin who sang lots of Edith Piaf and traditional French café music – which was magical as the clouds parted and the sunshine came out for the rest of the day!"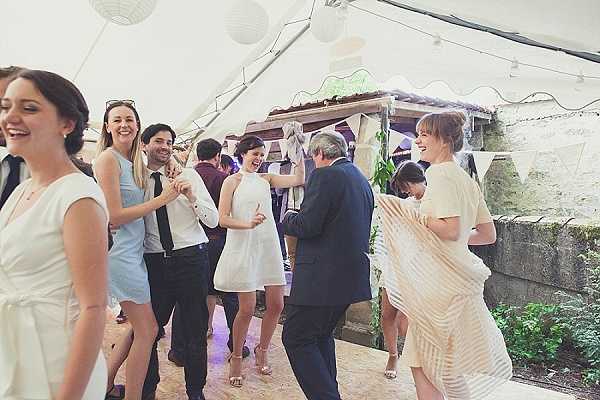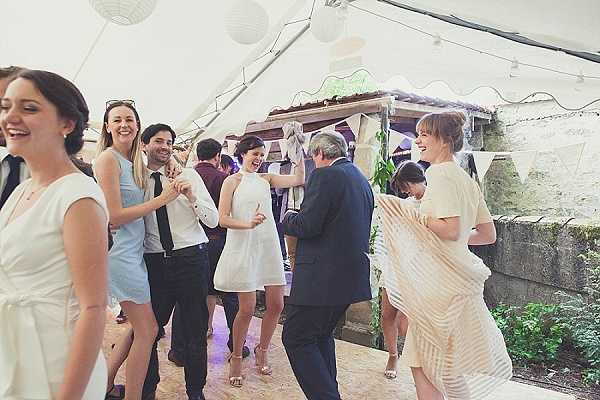 "Our evening band – Rip It Encore – were absolutely amazing. They had the whole party on the dance floor immediately and played an amazing selection of covers."
"We had a late night mass pizza delivery which was the best last-minute idea we had!  There wasn't a scrap left after a very long day of drinking, eating and dancing!!"
I hope you enjoyed our relaxed DIY wedding today! It seems when planning a DIY wedding the little details always find a way of coming together perfectly in the end. So remember with all your wedding DIY projects just breathe, enjoy the journey and above all "Don't sweat the small stuff and in the end its all small stuff"!
Have a wonderful week.
With love,
Christina x
A Relaxed DIY Home Wedding in France Snapshot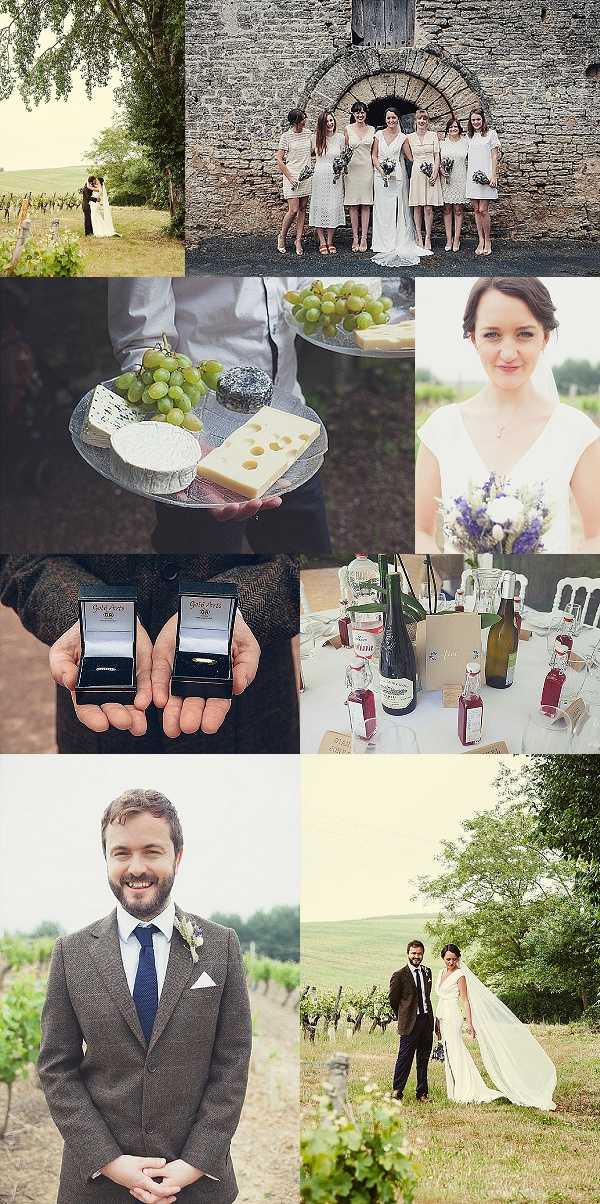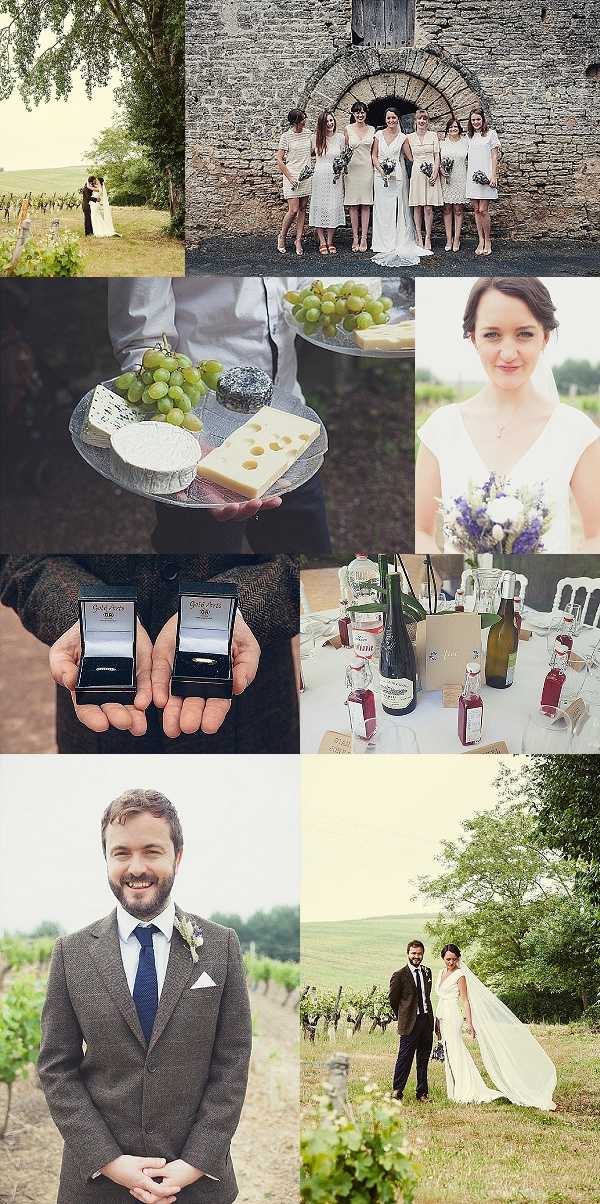 Vendors for post:
Photographer: Julia Jane Photography | Church: La Chapelle, Doue-la-Fontaine | Reception: Family Home | Marquee and equipment hire: Anjou Reception | Catering: Local friend and Maison Godet, Doue la fontaine and The Layon Cooking School | Drinks: Domaine du Petit Clocher | Wedding Dress: Coast | Bride's Veil: 'Orlando'  Joyce Jackson via Liberty in Love | Bride's Shoes: Dune | Bride's Hair Accessories: English Flower Farmer | Grooms Suit: Handsfords of Chichester | Bridesmaids: Zara | Necklaces: Hibiscus Days | Florist: Josy Fleurs and Flower Decoupage | Cake: Bride's Grandmother | Music: Rip It Encore and Beatrice Perrin | Wedding Rings: Gold Arts Brighton | Stationery: Made by bride | Bridal Make-Up and hair: Victoria Reynolds make up