Today we have for you a relaxed countryside wedding at Château Mouchac planned by talented FWS vendor and wedding planner M Creation Events. This relaxed affair features lots of little touches that our couple incorporated into their day to ensure their guests had a day to remember.
Under the glorious Bordeaux sunshine their guests enjoyed refreshing cocktails in the Château grounds whilst the children enjoyed a bouncy castle and a rather tasty looking candy bar that the parents enjoyed as much as their children. Mathilde and Medhi wanted a chic and festive wedding and judging by the images from Alex Schmautz they certainly achieved that. Without further ado we'll now pass you over to todays wedding planners to walk us through this wedding at Château Mouchac…
"We had prepared, imagined and dreamt of our D-Day for 18 months. Our wedding planner Emmanuelle Gervier from M Creation Events met us firstly to create specifications and define how we imagined our wedding. She really contributed to the success of our wedding. She helped us to find the venue where our wedding took place Château Mouchac, in Grezillac, Gironde, France and gave us some original touches, keeping a chic and festive wedding to the budget we fixed."
"We got married civilly first the day before in strict privacy. It was already emotional and finally, we were happy to spread the festivities over several days. So, we really enjoyed it. We felt very emotional and happy to reunite our families, uncles, aunts, cousins, current and old friends. We were happy to offer this party as a couple and to celebrate our union, but also to surprise our guests, giving them a memorable memory of this moment. The sun was out and made everybody happy!"
"We decided to rent an Austin Healey car from 1957 and this was noticed by car lovers."
"We enjoyed every moment, even if it happened very fast. We had nothing to manage because of our wedding planner took care of everything and divided the tasks with our witnesses, brothers and sisters."
"Coming from the church to the Château, our guests were greeted by refreshments which was well appreciated before the tasting of the champagne. There was a concert and an oyster stand which pleased a lot just like the photobooth! It was for the cocktail but also in the dinner room and finally in front of the Château for the brunch. Our guests had the opportunity to leave with a souvenir and left some to us."
"During the dinner and the party, the DJ set the mood with a saxophonist and percussionist for the entrance of the bride and groom. We entered under magic candles and with Highway to Hell by ACDC in instrumental version. We danced before the dinner and it was loud!"
"Our guests will probably remember the opening of the ball because we danced an Argentine tango to Bahia Blanco de Carlos Di Sarli! Our night bar consisted of champagne, mojito, beers, French fries and waffles, which was very very appreciated. The French fries were a big success! To cheer up the party, a cigar cellar was available. We also arranged a shuttle bus system for our guests so they could leave after the party and come back for the brunch the next day."
"Our witnesses reserved us an unforgettable surprise in particular a recorded and illustrated album made by Karen Brunel-Lafargue. For the children we had a lot of surprises (treasure hunt with Polaroid, giant bubbles, colouring table set on the wedding theme), but in particular, a remarkable inflatable castle in which they played without stopping. For gourmands also, a candy bar was proposed during the party and during the brunch and it pleased the children and also the parents! Each guest had a little personalised pot of honey as a souvenir gift. For brunch of the next day, a delicious food truck B.B.S Foodtruck allowed our guests to finish the weekend well, our taste buds were amazed."
"The decoration were, in a big part, homemade with some touches of tropical jungle and a little bit of rock n roll. Some decoration elements were brought by our two decorators Bazar sur la colline and Loc Vintage."
Congratulations Mathilde and Medhi from everyone here at French Wedding Style!
For even more relaxed French wedding inspiration check out this rustic countryside Charente real wedding.
Relaxed Countryside Wedding at Château Mouchac Snapshot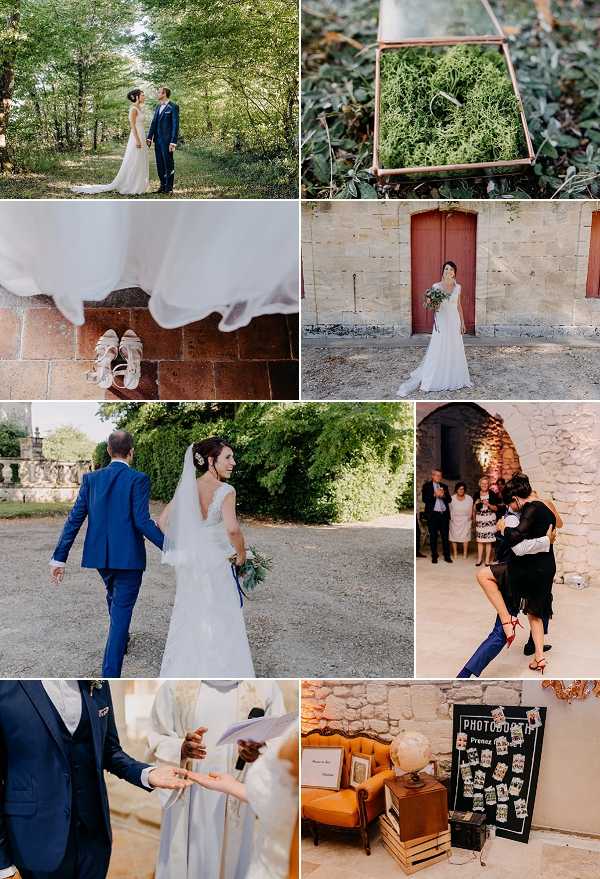 Wedding Vendors
Venue:  Chateau Mouchac | Photographer: Alex Schmautz | Planner: M Creation Events | Make Up: Suany Makeup | Florist: Les Mauvaise Herbes | Catering – Wedding: Lacoste | Catering – Brunch: B.B.S Foodtruck | Illustrated Album: Karen Brunel-Lafargue