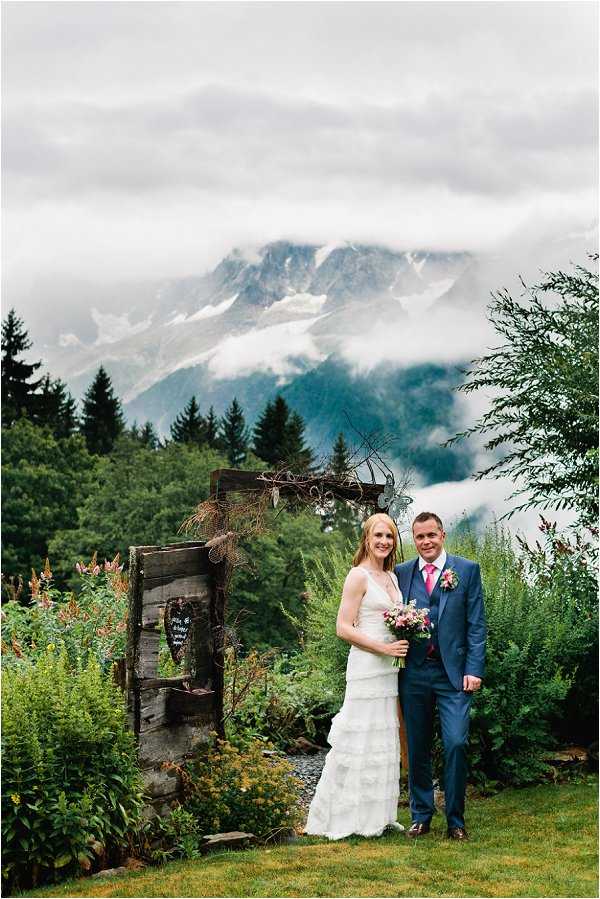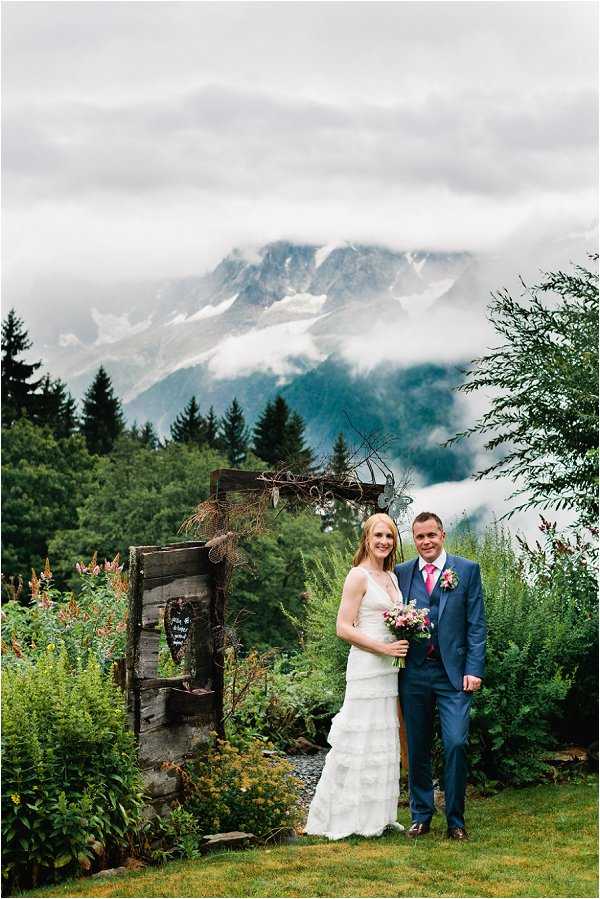 I am soo excited today as it is the real wedding in Chamonix of our very own Belle Bride Hollie C!  After being part of someone's wedding planning journey for well over a year, it is always a little sad after our real brides have flown the nest as newlyweds, but it always makes me so happy when they come back to share their wedding day with us.
I know that avid readers of the blog are keen to hear from Hollie, so I am delighted to introduce the new Mrs Costigan back to the blog!
Hollie: "As I sit down to write my last Belle Bride post for FWS, I'm going to try and avoid using the usual cliches about our wedding day because in actual fact, when I think about everything that happened and how incredible it was I genuinely struggle to find words that do it justice.
When Mat and I first started planning our wedding, our aim was to have all the people we love most in the world in one place, with some good food, wine and music and have an awesome party…well that is exactly what happened, in spades!
Apart from the minor detail of marrying my soulmate 🙂 the thing that I will treasure most about our wedding was just how much all our family and friends embraced Chamonix and all that it has to offer and how incredibly humble I felt to have all of those special people there with us, away from home having an absolute ball.
Even as I type now I'm smiling, thinking about different moments from the day itself and the days before and after when different people played a part, and so I'd like to dedicate my last Belle Bride Blog post to all our friends and family including those who weren't able to make it to France but who sent kind words or generous gifts.
So onto the day itself…
Unfortunately the weather was not as we'd hoped as it rained and we had to go to our Plan B option at the beautiful Chapel in Les Praz.
The days leading up to the wedding had been nothing less than glorious but I'd accidentally seen a weather report and so knew it was forecast to change. I was so worried beforehand but you know what? And maybe this is a cliche, but hand on heart on the day, the rain didn't matter one bit and genuinely I wouldn't change a thing about it.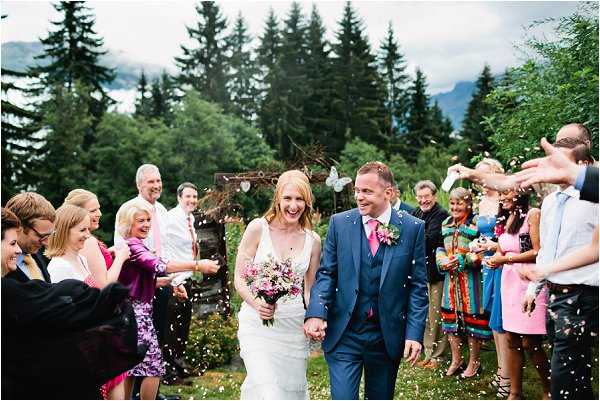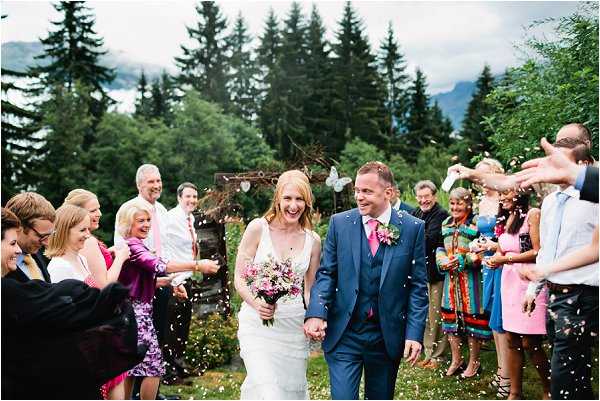 My morning started with having my hair done at the local salon before heading back to our chalet where I did my own make up and started to get dressed, I remember once I started to put my dress on, time seemed to fly and before I knew it we were getting in the mini bus to head to the Chapel.
Walking down the aisle to Mat was so surreal, I wasn't sure whether to laugh or cry I felt so overwhelmed by the occasion; the chapel, the music, our smiling guests…
But I'll never forget as I stood in front of Mat to read my vows the moment of pure clarity that I experienced. All of a sudden my mind cleared of everything else and as I read the words I'd written it was as though time stood still and I felt nothing but pure and complete joy.
After the ceremony we made our way by mini bus and then 4x4s up to the magical Les Vieilles Luges for welcome drinks, a fabulous dinner and dancing.
When we arrived the whole garden was shrouded in cloud, it really was like our own secret garden. Up until that point we hadn't been able to get many photos because of the rain, however we were in for a little bit of luck as just as we finished the main course, the rain stopped, the clouds lifted just a little and the mountains made an appearance, cue me and Mat running outside to get photos.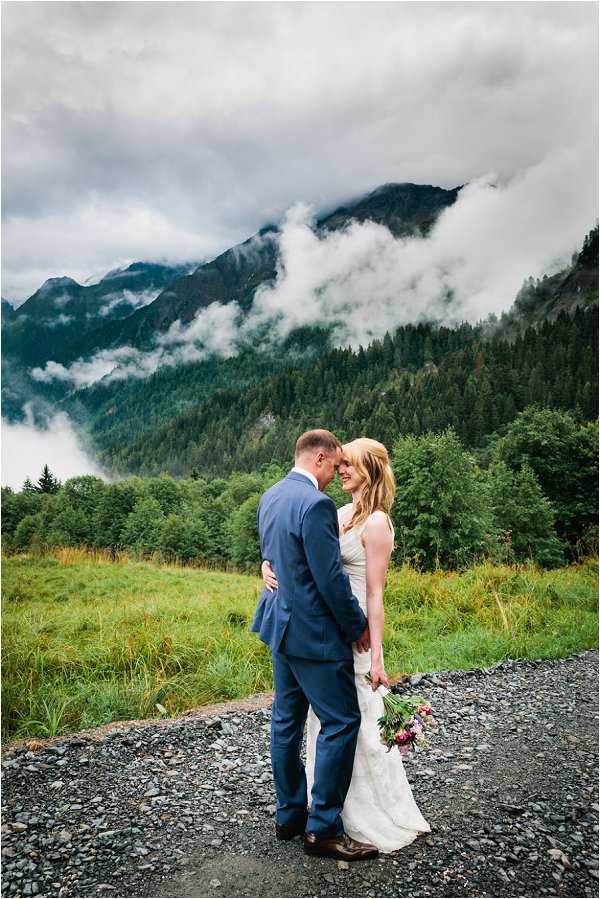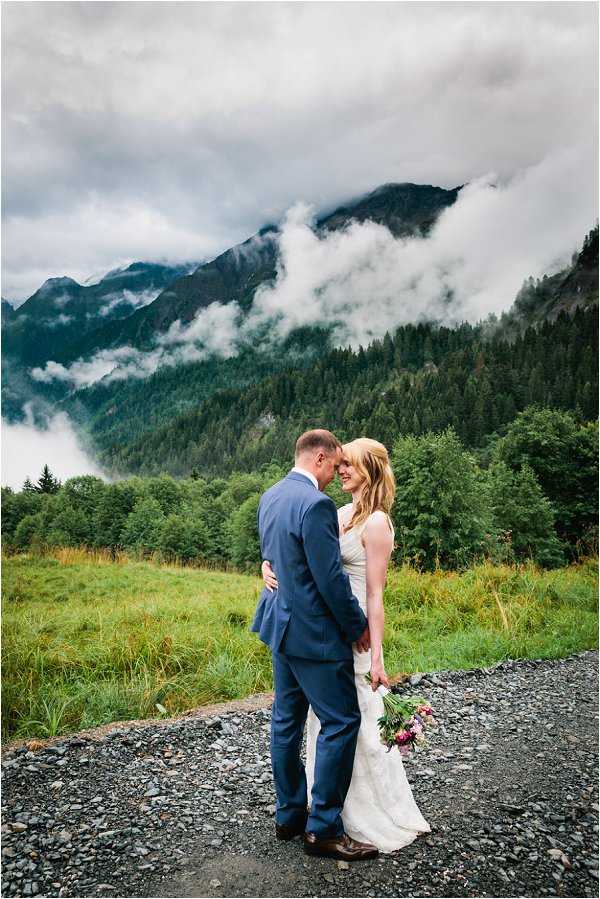 As the light began to fade everyone headed back indoors for dessert, speeches and an impromptu accordion performance by the most wonderful man who happened to live at the house next door – a massive thank you must go to Monica (our wedding planner) for this as she persuaded him to play a couple of songs for us to get the party started in style.
So I know I said I wasn't going to use cliches but if you'll allow me this one; was it the best day of our lives?
Without a shadow of a doubt and if we could, we'd do it all again in a heartbeat!
One final note, I feel it's only right to express heartfelt gratitude to all our wedding suppliers but none more so than Monica and the team at Haute Weddings, and Julie and Claude at Les Vieilles Luges. Thanks to Monica's expertise, ideas and unlimited enthusiasm and Julie and Claude's generous hospitality we really did have the wedding of our dreams."
Real Wedding in Chamonix Snapshot
Wedding Vendors
Wedding Planner: Monica at Haute Weddings |  Celebrant: Charlie at Haute Weddings | Photographer: Tarah Coonan |  Videographer: Adam Johnston | Venue: Les Vieilles Luges | Dress: Cymbeline | Grooms Suit: Hugo Boss