Modern chic wedding style doesn't have to be restricted to Paris and when I saw the real  life weddings in London of Samantha and Leslie by Tori Deslaurieres Photogrphy, I couldn't wait to share.
Samantha and Leslie are not your DIY-type couple, but knew that they wanted to organise the day themselves, with the aim of creating a contemporary chic wedding in the city.  They opted for a monochrome theme that was incorporated throughout the day held at Swan at The Globe, Shakespeare Theatre.
Newlywed Samantha takes us through her big day: "As soon as we got engaged, I became absorbed in all things wedding. I adore looking at real weddings and marvel at people's creativity. I became slightly obsessed with TV wedding shows…so much so that my husband mentioned it in his speech! I really enjoyed reading all the wedding blogs and gaining inspiration for our big day.
We allocated a significant portion of our budget to the wedding rings, photographer and catering. We wanted to invest in great memories of our guests enjoying themselves and the aspects of the wedding that would last into our married life.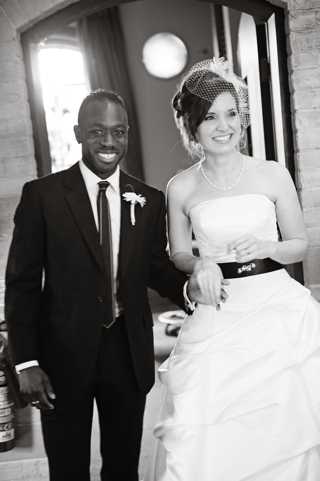 After deciding on the date and venue, one of the first decisions we made was our photographer, Tori. We used the internet to research the important questions to ask then my Groom-To-Be and I attended the National Wedding Show, armed with a spreadsheet of criteria to tick off, in search of our photographer. We found the wonderfully talented Tori Deslauriers who has been lovely from start to finish and, most importantly, has captured our special day perfectly. I think her pictures speak for themselves but I cannot speak highly enough of her.
On to the bridal attire…I luuuurvved my shoes! They were the first part of my outfit that I bought. I have always wanted a pair of designer shoes & thought my wedding day was the perfect excuse to indulge. I chose a pair of Manolo Blahnik's called Catalina which were mid-height heels adorned with black feathers, kindly procured by a friend of a friend who happened to be popping to NYC at just the right time. They are exquisite. I love them!
Next came the dress. I tried on a multitude of gowns in various stores and eventually decided on one by Alfred Angelo. I was torn between Pronovias Fiona and the gown that I wore. Mine won because it was more versatile, in terms of adapting to our theme, than the Pronovias gown. The bridal dress boutique we bought it from was a very traditional shop and the staff did not really get my vision of "modern chic" so they kept suggesting adding bling and bows. I had a clear idea of what I wanted so I remained resolute and added a simple, black sash (much to the chagrin of the shop ladies) and a birdcage veil, instead of a traditional veil…although, I have to say that if you have never tried on a traditional veil, you absolutely must because they feel/look totally different in real life.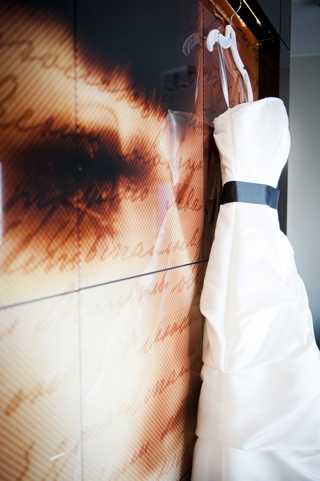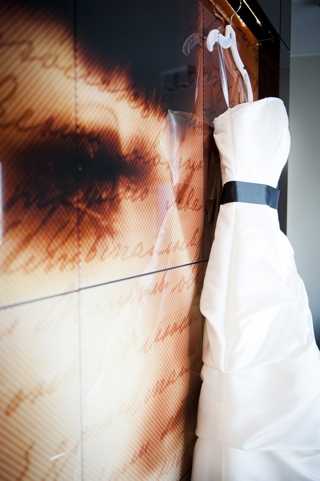 Our quirky cake was made by the loveliest lady, Jen. She completely understood what we envisioned when we met for our consultation/tasting session. Jen took control of the delivery and logistics involved in getting the cake there & setting it up. A couple of weeks before the big day, the cake topper arrived with a break in it so Jen contacted us straight away & we were able to resolve this with company in time for the wedding. Jen was totally awesome. Oh, and the cake…delicious! We had three tiers: chocolate ganache on the bottom, vanilla in the middle and lemon on the top. We had so many compliments on the cake; it went down a treat.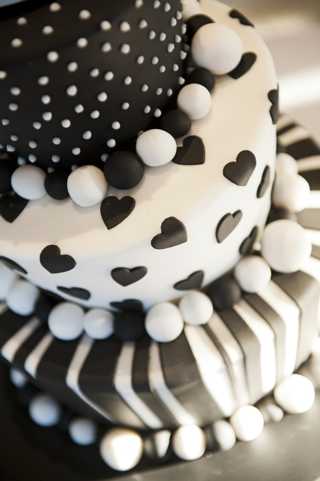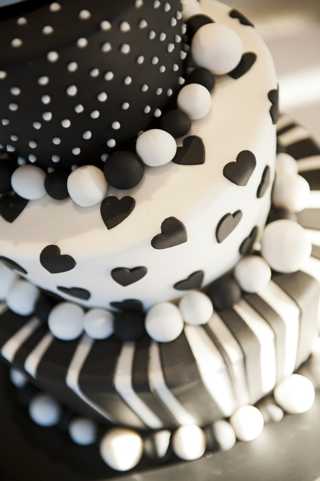 The flowers were amazing. We were so lucky to have my mum's friend, Bobby, who created all of the floristry creations for the day as a wedding present, from bouquets to buttonholes, centrepieces and decorations. I was keen on having globes of flowers as I had seen it in a magazine and Bobby made this happen. My bouquet was mainly gypsophilia (which I think is simple but so effective) interspersed with a few gerbera and some black feathers to tie in with my shoes, and the whole theme. The bridesmaids bouquets were gerbera and bear grass to match the mens' buttonholes.
The morning of the wedding was unbelievable. After almost a month of rain, we woke up to glorious sunshine, ready for the perfect day! Us girls felt that we started getting ready early at 9am, but the time seemed to pass in blur of make up, gifts and alcoholic bubbles. My bridesmaids looked fantastic in their 50's style dresses with a classic string of pearls and matching bracelets. They stole the dancefloor with their twirling, later in the day. 🙂 They were fantastic in the lead up to, and during, the wedding. I cannot thank them enough for their support and generosity. They rock!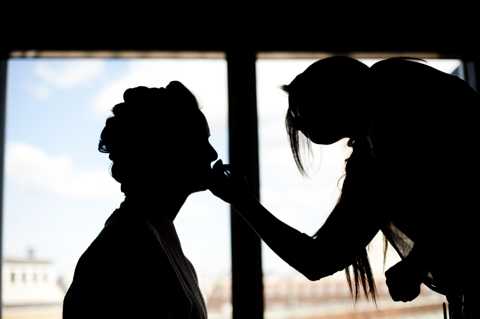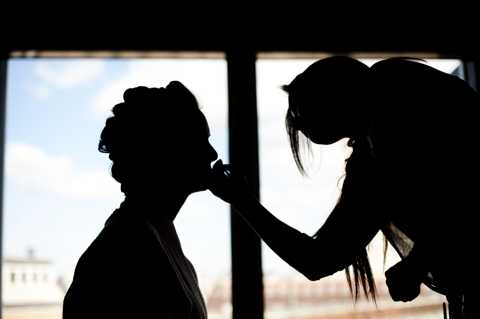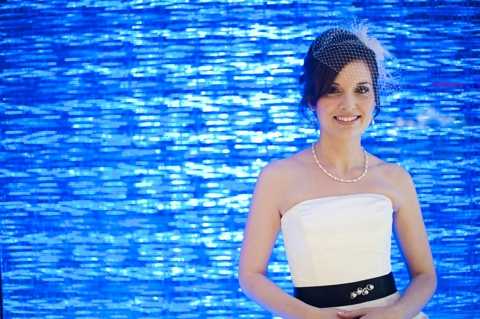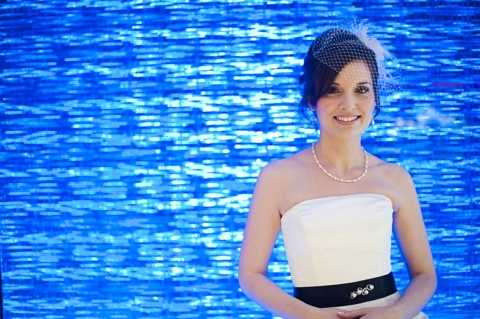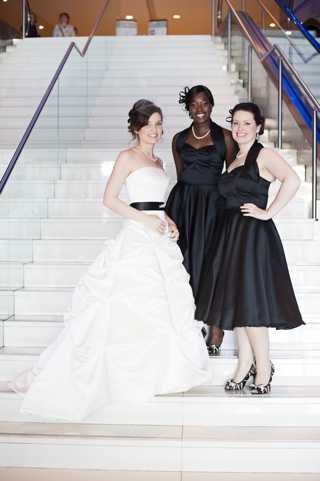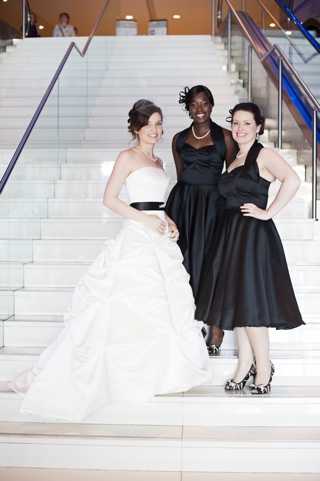 My bridesmaids and my mum helped me to get into my dress. Mum had made me a garter (my something blue) and I also had an embroidered flower, from her wedding dress, sewn on to my gown as my "something old". Once primped, preened and coiffured we made our way to Shakespeare's Globe where my groom was waiting. My Dad accompanied me in the wedding car while my bridesmaids went ahead.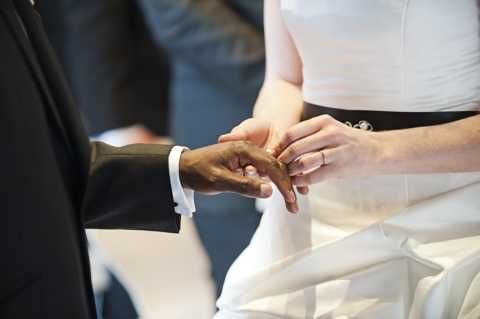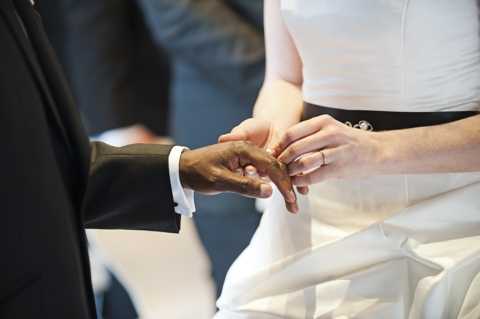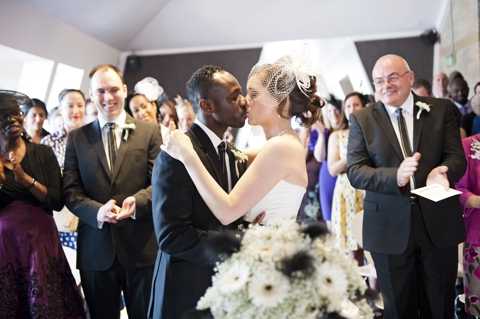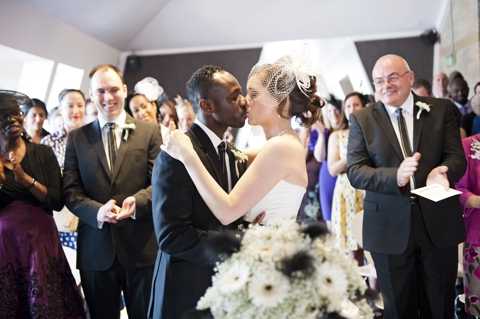 Apart from saying our vows, the most overwhelming aspect of the day was looking around the room and seeing all the beaming faces of the people we care about the most. The whole room radiated love and it was the most magical experience. I would love to bottle that feeling and keep it for a rainy day but there is no need as it all comes flooding back when we look at our photographs.
 After the ceremony, we had a glass of champagne each and took five minutes to ourselves to absorb the enormity of what had just happened before greeting our guests and posing for photographs. We went outside, on the South Bank, for further photos and received shouts of congratulations from passers-by while tourists took pictures of us. It was so much fun.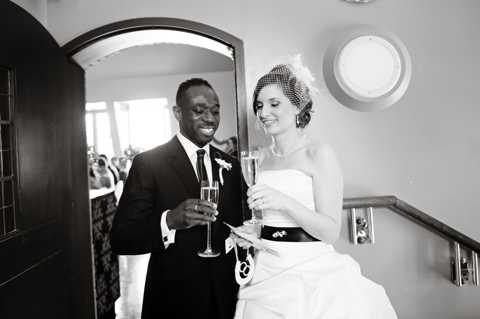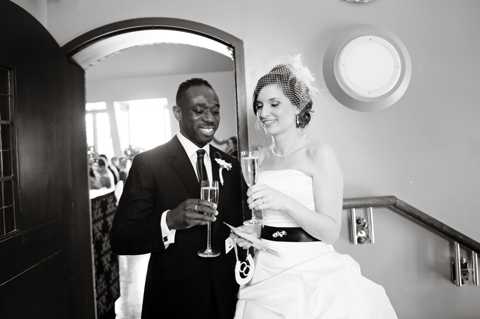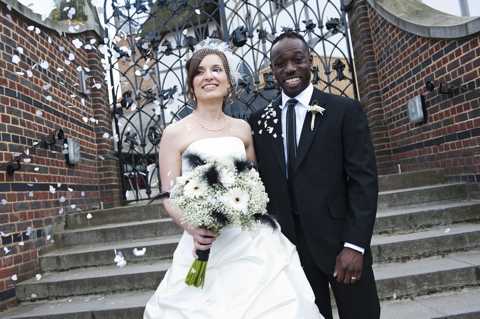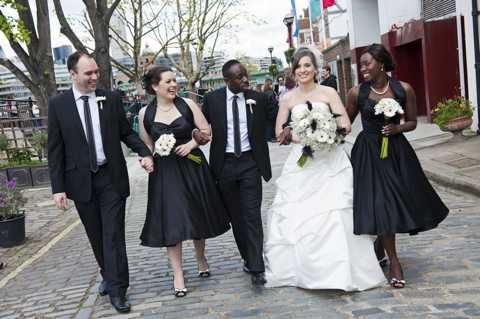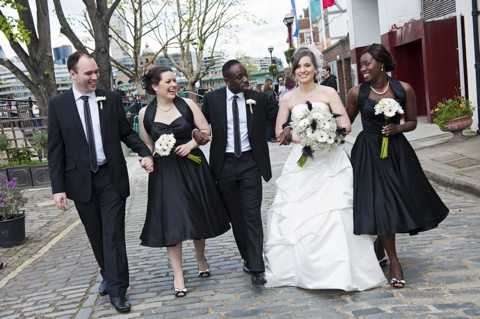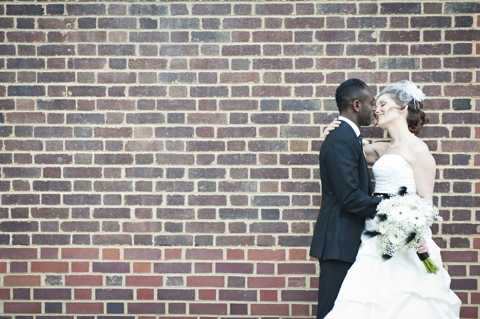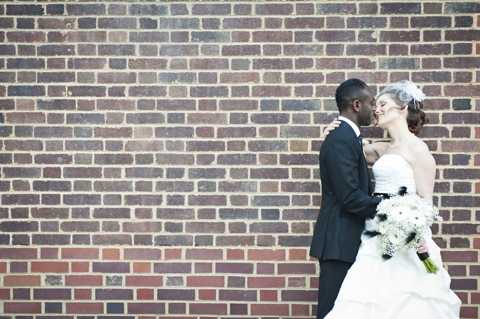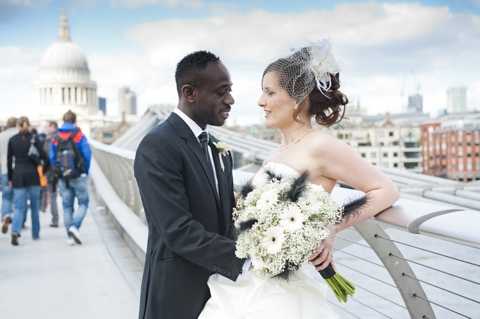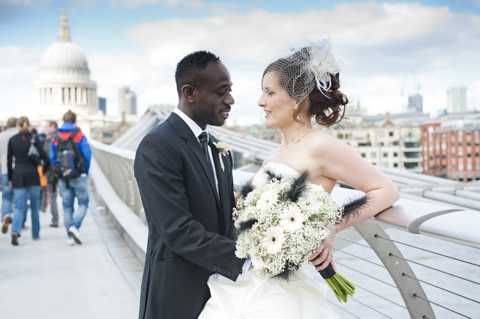 We returned to the venue for the speeches followed by the wedding breakfast. The tables looked stunning with black and white linen which contrasted with the monochrome crockery and favours. We had candelabra decorated with white gypsophilia and contrasting, black candles. Our favours were boxes of chocolates from Hotel Chocolat; simple yet effective. The tables were marked with black & white photographs of London landmarks, instead of table numbers. We had a feast menu which was a less formal way of serving the food so that everyone helped themselves from the platters on their table. There was a copious amount of delicious food and the service was outstanding. All of the Events Team along with the Best Man, Jon, did an excellent job of making the day run smoothly and ensuring that our every need was taken care of.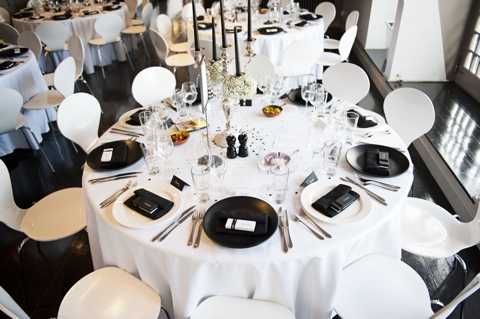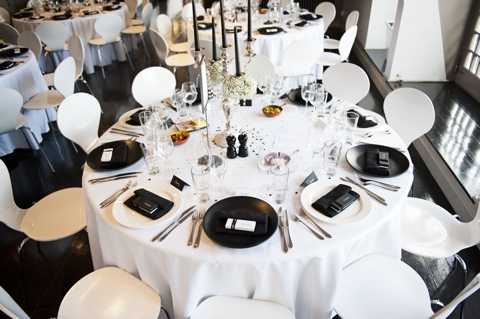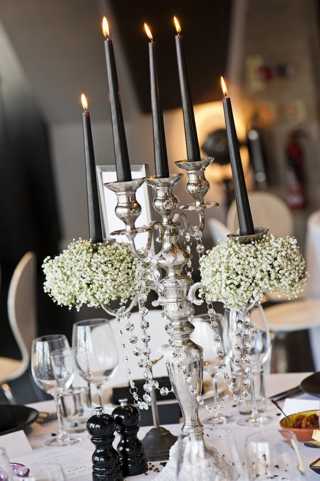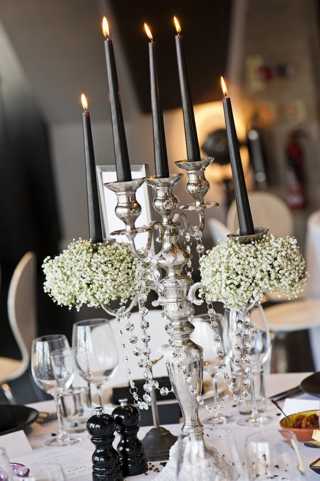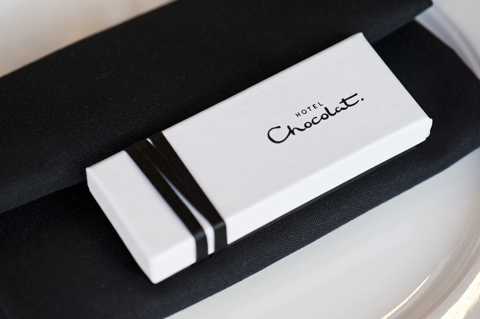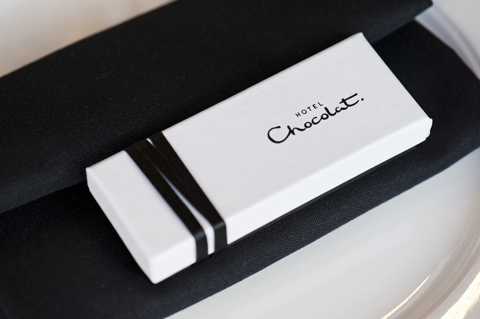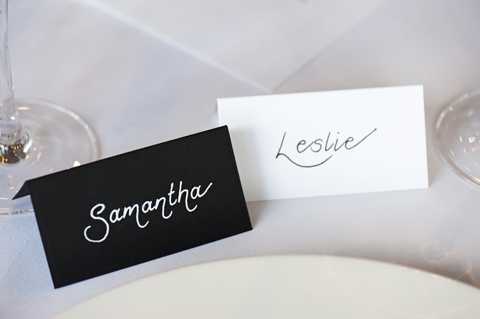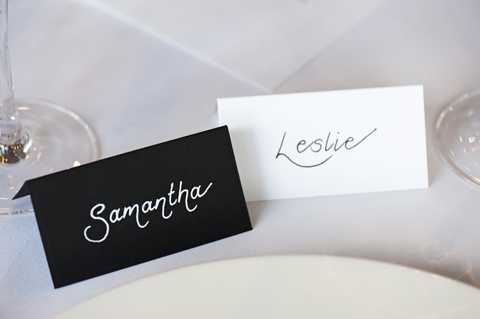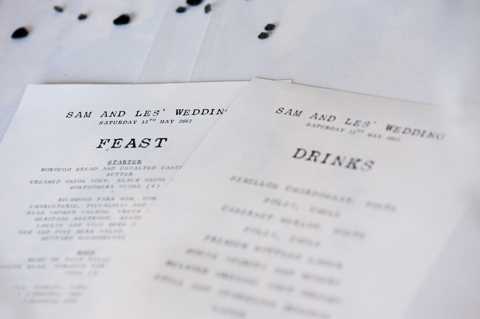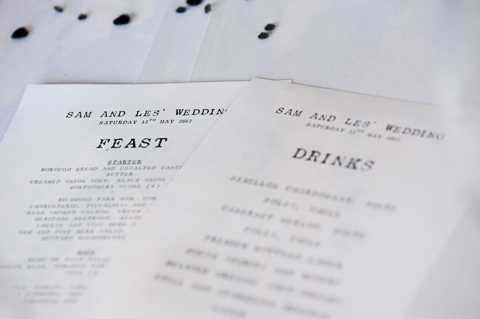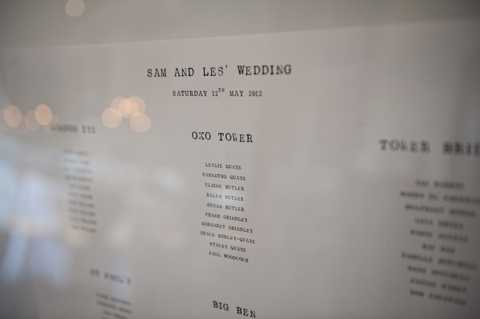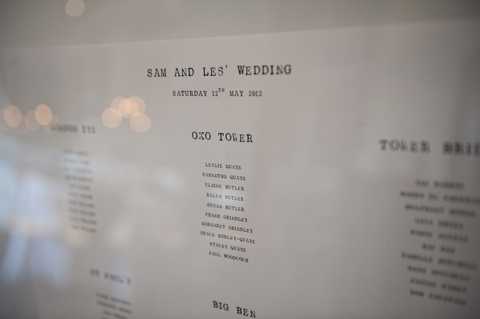 We quickly moved on to the evening reception as guests started arriving early. We had a photobooth in the lounge room as entertainment and to furnish our guest book. This was a hit with our friends and family…we even managed to get my grandparents to go in and have their picture taken. It was soon time to cut the cake and have our "first dance". We chose "Let's Stay Together" sung by Lemar (Al Green original) for our first dance and this led the way for the dancing. The drinks flowed and the music played so the party began.  We celebrated into the small hours and enjoyed every minute of it."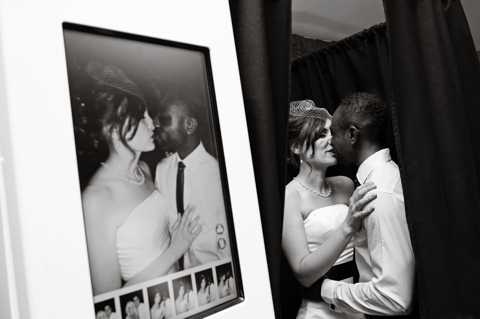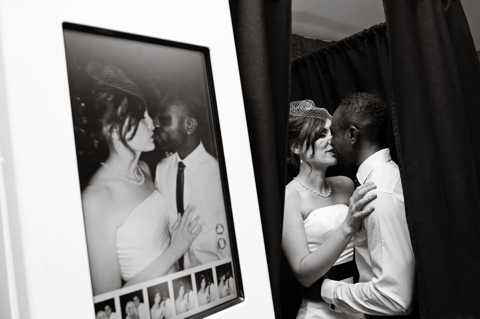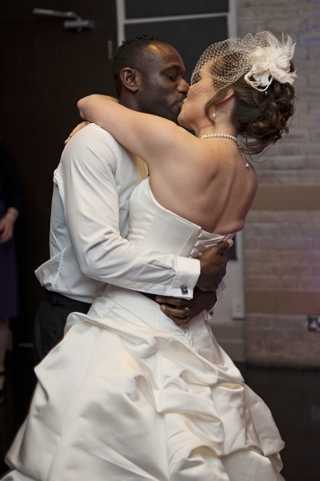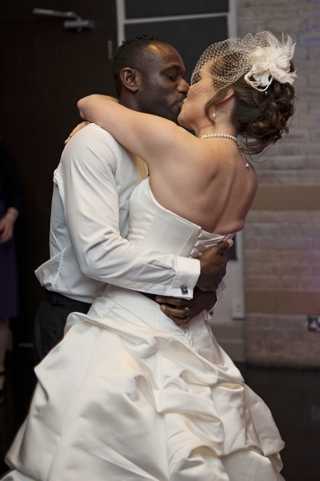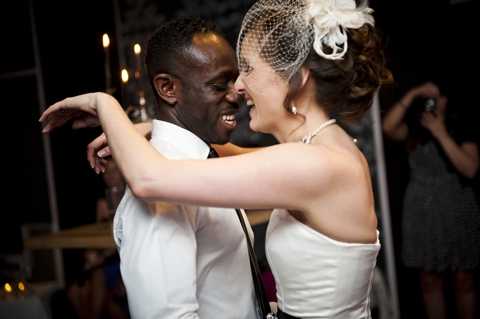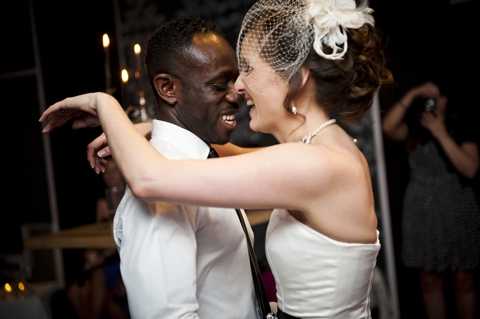 Congratulations to Samantha and Leslie.
Monique xx
Credits:
Photographer: Tori Deslauriers
Venue: Swan at The Globe
Electric harpist: Keziah Thomas
Photobooth: Say Fromage
Cake: Jen's Cakery
Cake topper: My Mini You
Florist – Family friend
Dress – Alfred Angelo but with brooch/belt added
Shoes: Manolo Blahnik
Veil: Lily Bella
Bride's back necklace and earrings: Cathy5591 on Etsy
Bride's brooch necklace: Divine Jewel on Etsy
Make up artist: Francesca Neil
Groom's Suit: Cad & The Dandy
Bridesmaids' dresses: Vivian of Holloway
Bridesmaids' shoes: Dune
Bridesmaids' jewellery: Debenhams
Bridesmaid hair accessories: Aspire, Stratford upon Avon
Stationary: Whites Letterpress