Today's real life weddings France takes us to The Château de Sorel, 13 miles North West of Compiegne in Picardie, to the elegant wedding of Giovana and Dominique coordinated by international wedding planners Mon plus beau jour.
The Château de Sorel is an idyllic chateau with very impressive gardens "à la française" where everything is just perfect.  It is a lovely château surrounded by the countryside including livestock grazing a beautiful french countryside setting for your wedding day.
Giovana and Dominique wanted their wedding to be elegant and rather classic but not too 'stiff'.    The overall theme was chic wrapped up in romance.  Giovana has a favorite color of navy blue and she wanted this color to be the main color in the palette mixed with other shades of blue and a touch of purple/lavender.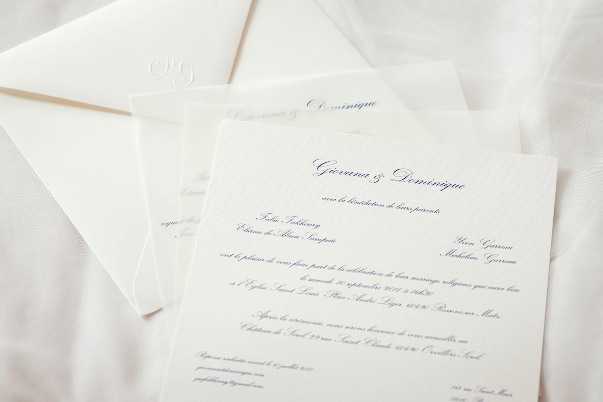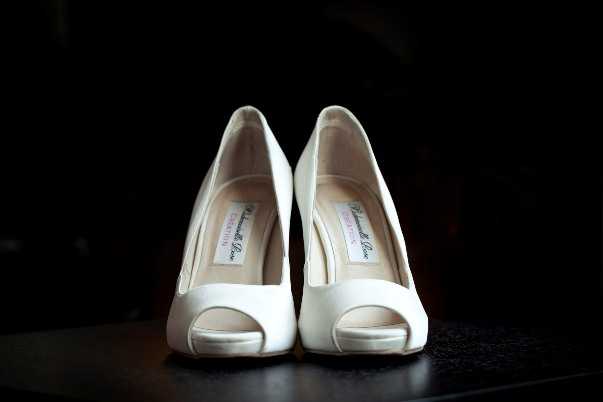 Marie-Emilie from Mon plus beau jour:  "As Giovana's favourite colour is navy, we designed bold flower arrangements with different kind of blue flowers and we also added green leaves for the natural look.  On the tables, among the flowers, were silver chandeliers and each napkin had a navy blue ribbon with a sprig of lavender.  Most Giovana's family and friends were coming from Brazil, who assosicate lavender being atypically french, so these were also included in the decorations.
Each table had the name of a beach where Giovana and Dominique spent  time together. Favors were personalized flip-flops: right foot represented France and left foot Brazil!
They also gave their guest 'Bem Casados' which are small cakes especially made for weddings or special occasions in Brazil.  It is like a soft cookie filled with Dulce de Leche and nicely wrapped…  The sweet table was also full of 'Docinos', these are all kind of chocolates: passion fruit, coconut, white chocolate….!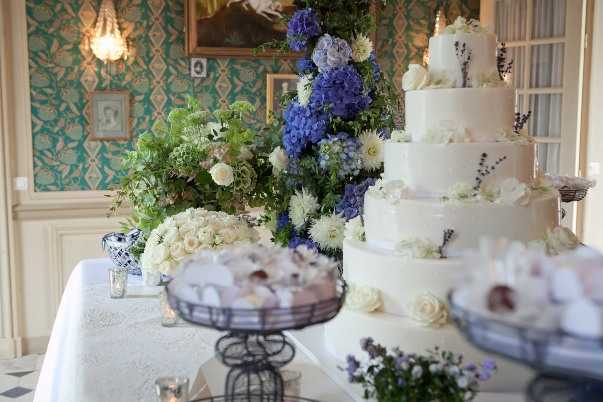 When it turned dark, guests discovered a sparkling garden…during dinner we had hundreds of candles placed everywhere in front of the château!…a truly romantic end to the celebrations."
Thank you to Mon plus beau jour for submitting this wonderful wedding, I particularly love the dessert table  with the delectable cake and gorgeous flowers.

Credits:
Location : Château de Sorel
Bride dress : Rosa Clara
Groom suit : Les Deux Ourson
Wedding planner : Mon plus beau jour
Photographer : Christophe Viseux
Wedding cake : Berko
Flower design : Mon plus beau jour
Hair and makeup artist : Lexi De Rock 
Stationery: La Clochette Argentée
Ceremony programs/Signs/Table label/Menu: La Petite Baleine