As the winter months are fast approaching, today's Wedding Paris in Winter organised by Fête in France has an enchanting winter wonderland ambience.
Jane and Craig are a couple that have been together for many years.  When they were first together they had spent a lot of time in Paris which is why they decided to bring about 100 friends and family over and have their wedding in France.  With their one year old son in tow, Fête in France helped them find their fabulous French venue at La Maison France-Amériques. They had a December wedding and to make things even more romantic that day it snowed in Paris – gigantic, fluffy flakes that turned the city into a winter wonderland and just when you though Paris couldn't get more magical, it did.
The ceremony took place on the grand stairway with a gospel choir for music.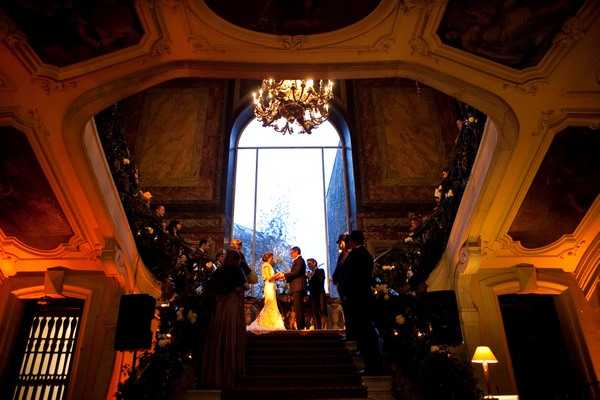 Afterwards there were cocktails in the foyer of the hôtel particulier with the sounds of a live jazz band.  During this time the bride and groom braved the snowstorm and got some amazing shots on the Pont Alexandre III.
Afterwards dinner was served in the grand reception rooms upstairs.  The bride and groom wanted to mix the traditional ballroom style with some modern twists so note the transparent Napoleon III chairs and the sleek martini style vases.

There were also a number of kids in attendance and they got their own salon with a mini table and mini Napoleon III chairs.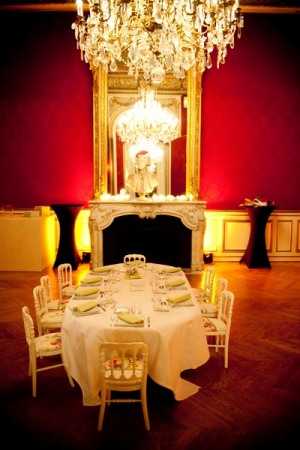 Being in Paris, they incorporated some French traditions like a cheese course of a cheese 'tower' for the bride and a traditional croquembouche for dessert.
There are so many wonderful elements to this wedding, from the stunning grand reception rooms at La Maison France-Amériques to the dramatic croquembouche, but it is the kids mini dressed table that is my absolute favourite.
Thank you to Fête in France for sharing Jane and Craig's wedding with us.

Credits
Venue – La Maison France-Amériques

Catering – Fleur de Mets

Celebrant -Pierrick Roynard
Photography – Studio Cabrelli

Lighting – GND
Music – Artmonie Communications

Rentals – Options

Floral design – Sol y Flor

Hairstylist – Sonja Benhamou
Email: [email protected]
Makeup Artist – Sophie France
Planning – Fête in France