How about holding your french country wedding in the UK?  Whilst a destination wedding to France is a fantastic option, it isn't feasible for all couples so how about finding your own little piece of France in one of the many vineyards available for weddings throughout the UK, USA and Australia.  That's exactly what are real life wedding couple Laura and Mike did at Denbies Vineyard weddings in the UK.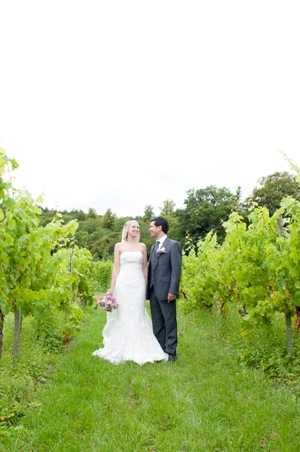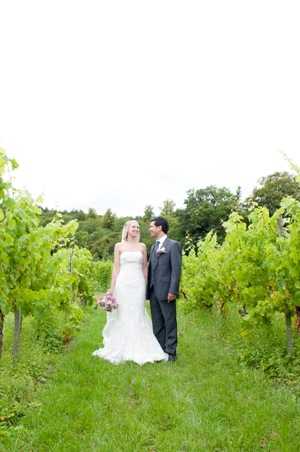 Bride Laura talks us through her wedding day: "Although we knew we wanted a short turn around time (engaged in March – married in summer) we, of course, spent a great deal of time looking at lots of venues. We also had to consider that we wanted a Church of England wedding too – so we reckon ourselves extremely lucky to find what we think is the best of both right there at Denbies Vineyard, Dorking.
As soon as we arrived to view it we knew were on to something special. Denbies Vineyard had everything that we were looking for in terms of space and facilities but it was the grounds and the general setting that really sold it to us.
They did a really good job for us on the day and we couldn't have asked anything more from them. We had great weather that allowed us to use all the venue had to offer – the estate house, the house grounds, the hillside over-looking the Surrey Downs, the tree lined roads and of course the vineyard. The team at the Denbies are first class, the food was excellent and, as you'd expect for a supplier of the worlds best rose – the drink wasn't too bad either!
 St. Barnabas Church, Ranmore  – Whilst not strictly 'a venue' we want to talk about the church and it's congregation, who were so kind and welcoming to us in allowing us to use their church for our wedding. The church in itself is linked to Denbies vineyard in that was commissioned and built by the Cubitt family in 1859, who owned what was to become the Denbies vineyard.
We are fortunate that Laura's uncle was able to conduct a large portion of the service itself and the parish priest Lyndi was happy to allow him to do so, as well as to actually marry us herself. Lyndi was absolutely fantastic and like we said the congregation were very welcoming.
The church is such a beautiful place, designed by Gilbert Scott of St Pancras fame, it's both intimate enough with our 100 or so guests yet pretty grand with it's marble columns and 150ft spire. We think we were pretty lucky to find a church like that at all let alone free on the same day as the venue."
As far as the dress – it goes without saying that this involved one half of the party more than others – although that's not to say the groom didn't have to do his fair share of chauffering around! As luck would have it, Laura found her dress in Provonias, From Teokath, Canterbury when going to view a venue. She chose the dress because the designer was one she liked from the start, although it isn't stocked in many bridal shops. Having tried on plenty of dresses all around Kent she had her heart set on lace and was looking for a train and cathedral length veil – on the day it turned out that she found two in Teokath that fitted the bill. The lightness of the fabric. comfort and the all round look of the dress sealed the deal. The staff at Teokath were always helpful, informative and patient and took a weight off of the brides shoulders.
"For the flowers we used Bloxhams our local florist, who we have used for a few different occasions and they've never let us down. They've got a great range and a real depth of knowledge and passion for flowers. The button holes and bouquets were hand tied by Bloxhams and the flowers for the church, tables and venue were arranged by myself and the (female side!) of our families."
"We are fortunate to have many family and friends who have a vast array of talents and we can certainly count Erin Tate among them. We had seen some of Erins other work, we had tried a couple of cakes in the past she really did us proud with the amazing cup cakes in both vanilla and chocolate in our theme colours as well as a delicious sponge cake for the photo's. All we had to do was let her know which colours wanted and she took care of everything else."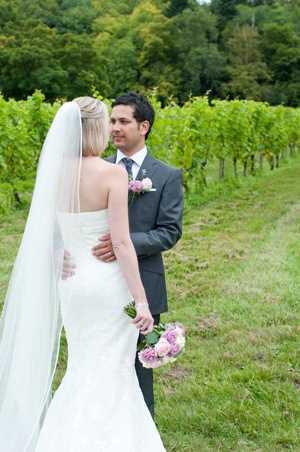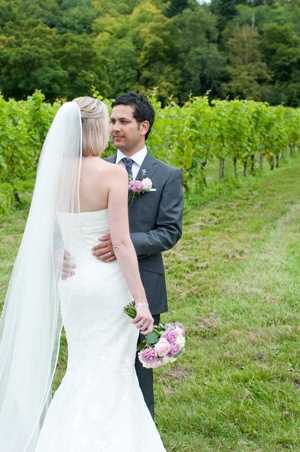 "We chose to use Fiona Kelly Wedding Photography and the verdict is a huge thumbs up all round! The photos really are something special – the colours of the flowers and dresses, the shots in the church, on the hill side and down in the trees, group shots, reportage shots, dancing 'action' pics… they're all so, so good and absolutely worth waiting for.
We're completely over the moon with them – I don't think we're able to express our thoughts through email but I promise you that, whilst we always knew Fiona was going to get some great shots for us and she really blow us away.
Looking at them again has bought back so many great memories that already seem a long way back, but looking at the photos put us right back there. They made us smile so much, I though we were going to end up with face-ache all over again!
We can't thank Fiona enough for the photo's she got for us and all the work she did to bring out the best in them. We can only hope Fiona enjoyed working with us as much as we enjoyed having her there – let alone the photo's we can now look back on forever!"
I would like to thank Laura & Mike for sharing their UK vineyard wedding day and to Fiona Kelly Wedding Photography for sharing the photos.
If you are planning a vineyard wedding in France or in home country I would love to hear from you.
Monique x x
Credits
Venue:  Denbies Vineyard
Wedding Photography: Fiona Kelly Wedding Photography
Wedding Dress: Pronovias
Cake: Erin Tate: [email protected]
Flowers: Bloxhams Florist