I am very excited to be sharing part 2 of Anastasia and Alex's real life wedding Angers, if you didn't see it yesterday here is part 1. The first part of the wedding took place at the Mayor's office in Angers, France and for day two we more onto the magical Chateau Challain.
Anastasia lets us know more about day 2 of her wedding:
"On Saturday we invited our closest friends (only 30 people, but from all over the europe) and organized our own ceremony in the garden of Chateau Challain, with personal self written vows and readings done by special people to us. It was very important for us to make the ceremony personal and really meaningful for us."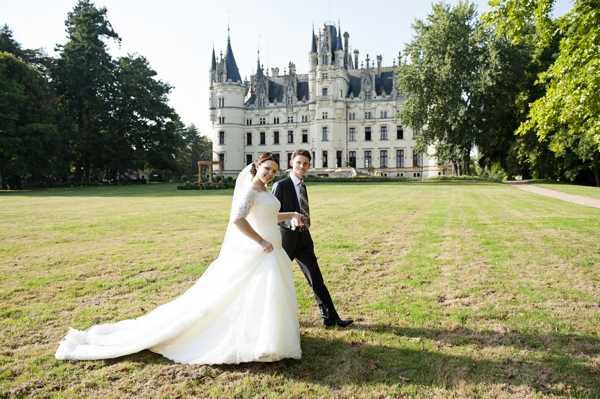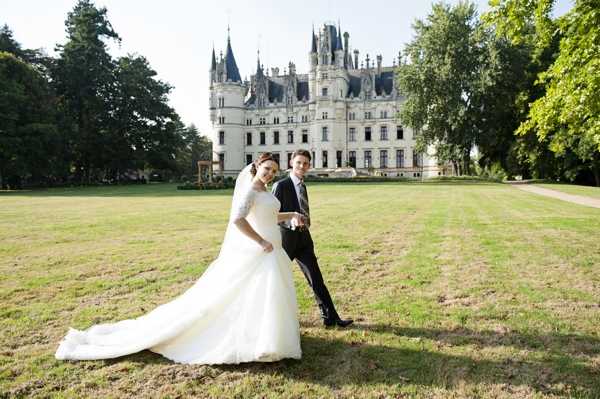 "For the stationery we wanted everything to be personalised by us – we  chose the paper, photos, text (including 3 different languages for all our guests) and the design for our invites. For the ceremony itself we have created our own journal – about us as a couple, about our ceremony and also the text." 
"During the cocktails in the garden we had an ice cream stand as we both love ice cream and my on my wish list a bubble machine."
"Each table was named after a town, that is special for us (Lille, Anger, Bruges, London, Kishinev) and table setting was also designed by us with our pictures from these towns."
"Alex and I chose a 3 level white cake with natural flowers. We had 2 flavours a black forest and then strawberry cake. As a cake topper we had a couple standing on the luggage – we love travel, so we thought it represents us well."
"On Sunday  the wedding celebrations continued we a bbq in the garden – just friends in a relaxed atmosphere."
I would like to thank the bride and groom Anastasia and Alex, I had so much fun putting together this post and can't wait to visit Chateau Challain in person.  I also have to mention the photographic talent of Tori Deslauriers, who supplied over 90 fabulous photos which gave me a hard yet wonderful choice of which photos to publish.  Tori is a UK based photographer who also specialises in destination weddings.
Please let me, the bride and groom and the photographer know your thoughts on this wedding.
Monique x x
Credits
Photography: Tori Deslauriers Photography
Venue: Chateau Challain
Wedding dress – San Patrick (a part of Pronovias group)
Shoes: 2 paris of shoes a Manolo Blahnik and Rainbow Club
Grooms attire – Alexandre had a DKNY navy blue suit and Hugo Boss shoes
Flowers: provided by Chateau Challain
Cake: provided by Chateau Challain
Stationery: Designed by bride and groom
Hair and Make Up: arranged by Chateau Challain