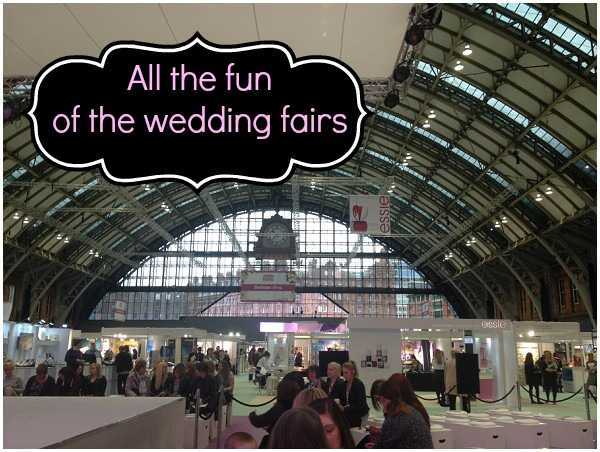 Good Afternoon Trulovers!  Sometimes when I blog the FWS Real Brides, I find myself questioning "Is it really 1 month since they were last one?". The time seems to be going so fast for me as a reader following their story, which means that it must be going twice as fast for our real brides!
Last time we caught up with one of our newest Belle Brides Hollie C, she was deliberating how to choose a wedding photographer and who to pick for their wedding.  There will be an update on this shortly, but since we last met Hollie C has been having all the fun of the wedding fairs!
*****
Hollie C :"With our wedding not until August 2015, I'm still fairly early on in the planning process and despite the fact that many of our suppliers will be local to Chamonix, I have still been keen to speak to lots of UK suppliers for ideas and inspiration for all the elements of our big day.
So, I thought I would take advantage of it being wedding fair season in the UK and go to as many as possible, to give me the opportunity to chat to suppliers, get professional opinions on things as well as inspiration from the many stands and displays, for things that perhaps I hadn't already thought of.
Plus, let's face it; I only plan to do this once so why not indulge in all things wedding.
One thing I did realise quite soon after my first fair (and perhaps this should have been obvious) is that for suppliers like florists and bakeries – that I definitely won't be taking with me to France – as soon as they asked me had I found a Venue and I replied "yes we're going to Chamonix in France," a lot of them turned off and weren't necessarily interested in chatting to me about my ideas any more.
Don't get me wrong, lots were very polite and wanted to know all about why Chamonix and what we were planning etc. And those that weren't I don't blame them. After all, they're there to get bookings to supply weddings and if they know that you're not going to be interested because you're going abroad of course they move on.
But it did make it tricky if, like me, you just want to pick someone's brains face to face about ideas / colours / table arrangements or whatever it might be.
So I decided to take a different approach and for the next batch of fairs that I went to, I chose not to mention our wedding in France instead keeping my venue plans vague.
It certainly was helpful when it came to discussing ideas and actually once I got chatting, I met some really lovely suppliers who I would be happy to use if I were getting married in the UK, and I will keep those details and pass them onto any friends / relatives getting married in the near future to help their planning.
Another thing that took me by surprise was that at the larger wedding fairs such as The National Wedding Show and The North West Wedding Fair (both in Manchester) the bridal gown shops allow you to try on dresses on the day and some will even offer a discount if you place an order at the fair.
So this led me to my first foray into trying on dresses.
It was a great experience, but after trying on five different dresses at one fair I did feel more than a little overwhelmed and came home with my head swimming with dress shapes, veils, flower arrangements, honeymoon ideas and so on…
The larger fairs are great for the catwalk shows and sheer number of suppliers, and you can quite easily spend a whole day there and still wonder where the time has gone. And the smaller fairs (usually held at hotels or wedding venues) are a little more intimate and often do allow for a bit more quality time chatting to suppliers.
My one bit of advice, especially for the big fairs, is to take a pen and a small notepad. You will get bombarded with flyers and giveaways but if you can jot down the ones you really like in a small notepad or on the flyers, then at the end of the day when you come to sort out your bag of goodies, you'll know straight away which ones are worth pursuing and which ones aren't.
Overall, I've really enjoyed wedding fair season, I've spent some lovely time with my mum, met some genuinely helpful suppliers and got loads of ideas for gorgeous things to build into my wedding.
Now, bring on the moodboards!
Hollie xx
*****
I remember my first time at wedding fairs many years ago, it was an experience I loved initially but depending on your wedding requirements and specifications it can be a mix bag. Of course there are many more niche wedding fairs now catering to different wedding styles.
Don't forget you can catch up with Hollie C and fellow FWS Belle Brides Cassie, Belle Bride Fiona and Belle Bride Cyndie and you can find all the Belle Brides past and present here.