Today we can show you the beautiful results of a passion project of a Parisian Photographer: A Quintessentially Paris Styled Shoot. Inspired by her love of the city of love, it's history and local designers. Marie Landoin wanted to share the beauty of the city and Parisian craftsmanship with you.
Showing you an amazing dress by local designer Atelier Emelia. Great accessories by Mademoiselle Chapeaux and Agathe vous gâte gives you plenty of inspiration for your ultimate french wedding. But we will hand you over to Marie so she can deliver this passion project to you herself.
The idea for this inspirational shoot came from my desire to take photos of real Parisian couples, elegant and in love. I first wanted to assemble a team of local designers. All the partners involved in the shoot shared the desire to craft tailor-made creations. Using traditional French methods and know-how for the newlyweds.
Lisa and Marc are a Parisian couple who are very much in love. They got ready in a Haussmannian apartment in the 5th arrondissement of Paris. We then went for a walk in a wonderful location known to Parisians: the ancient Jardin des Plantes. Created in the time of Louis XIV, it still has majestic trees dating back to the French Revolution. It was here in the "Grande Serre" that this gorgeous, botanical garden-inspired shoot took place.
The very understated and refined outfits of the newlyweds contrasted with the lush backdrop. The couple were able to kiss under the foliage of the banana trees and admire the colors of the orchids together.
The dress is a superb set from Atelier Emelia, which is close to the Place des Vosges. Composed of a high waist skirt and princess cutouts. It has a flared top with a large opening in the back which creates a sublime neckline. The set is made of sergine, a French fabric that has the appearance of quilted cotton. This perfectly cut silhouette gives scope for bold hairstyling, makeup or accessories.
The bride's hat is a Mademoiselle Chapeaux creation. It is asymmetrical, with a quintessentially French elegance. It is eye-catching but does not detract from the bride's face. The team of Mademoiselle Chapeaux makes its creations by hand in its Parisian workshop in the heart of Le Marais.
The bride's shoes were also designed and handmade with love in a French workshop located in Montmartre. The Aymée brand indeed offers fully customizable and tailor-made shoes to its customers.
The groom's bow tie and the bride's bouquet also have the French touch and come from elegant designers, whose creations are tailor-made to reflect the personality and wishes of the couple.
The day of the shoot was filled with beauty and I was delighted to accompany this couple to these hidden gems of Paris.
Quintessentially Paris Styled Shoot Snapshot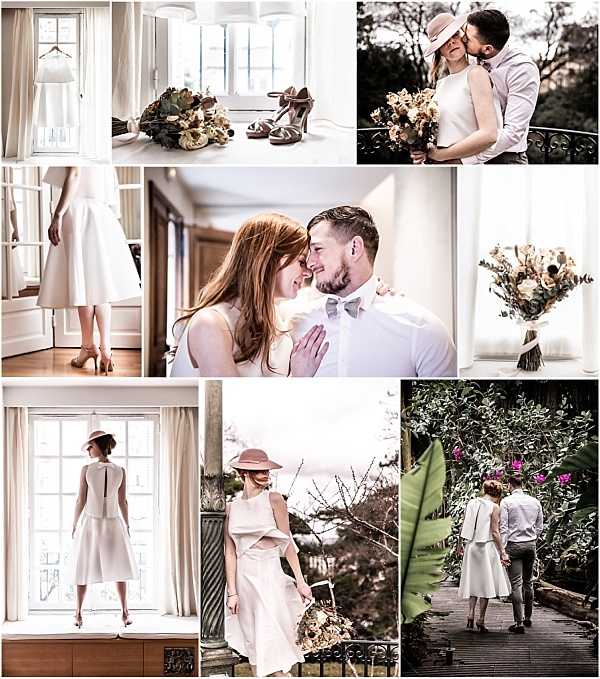 Quintessentially Paris Vendors
Photographer: Marie Landoin | Wedding Dress: Atelier Emelia | Hatmaker: Mademoiselle Chapeaux | Shoes: Aymée | Accessories:  Agathe vous gâte | Florist: Flower by Mariette