The wanderlust call plus the recent fabulous real weddings in Paris, has meant that Paris has been on my mind lately.  Maybe a little blogging mini adventure over to the city of love is in order.
No matter the reason for visiting Paris, whether as a holiday, celebrating an anniversary or for your wedding, one of the to do's that I must recommend is capturing your adventure in a photo shoot.  Now, any avid readers of the blog will know that I am camera shy, but in December when I was over in Paris, I stepped in front of the camera and I have to say it was liberating.
So it is with this that I am delighted to introduce P&S Paris Photographer, residents in Paris who are available to capture your big day.  Find out more about them in my interview.
How did you become wedding photographer?
We are a couple of photographers and a couple in life.
HE is in the world of photography for 15 years, he worked in the commercial field, in fashion and for magazines. But all his experiences of photography did not fit with his desire. He wanted to meet people, share emotions, make his photographs alive.
It happened that his friends ask him to take pictures of their wedding. On this day he understood what he would like to do. Become a wedding photographer. "It's so much more human. Be there and share these moments with them is really wonderfull. Each photo shoot is different and it is what makes my job so rich."
SHE has studied art and always loved photography but did not dare to start. She get a job for one year, lock in a desk, behind a computer screen without many interaction with people. It didn't fit her personality, because she is quite social and lively person. So she decided to follow her husband in the adventure of P&S Paris Photographer. "It's amazing what I'm living right now, I meet different people every day who share their stories so touching, and I capture these moments so accomplice and meaningfull for them. Work became a pleasure! "
What skills do you think that it takes to be a fabulous wedding photographer?
For us being the best wedding photographer means to know the couple you're photographing. Being a photographer is to be able to adapt and understand the subject of photography. So for a wedding photographer, it's important to know a little about the story of the couple, their tastes and especially what Paris means to them. Every couple does not expect the same style of photography, some want glamorous pictures, some very natural and others want funny pictures. That's why before the meeting, we exchange a lot of mail and we are available on skype and hangout.
Also be able to feel the atmosphere and be able to predict what's going to happen to never miss the unique moment, that means you must be very sensitive and careful with the couple.
The last thing to be a great wedding photographer is to love what you are doing. It could seems weird to say it, but many photographer forgot to love their work, start taking pictures automatically, but if a photograph loose his interest into his work, it will show on the pictures!
How did you choose a photographer for your wedding day?
To choose a photograph is quite hard especially when it's for a so important day such as your wedding. We get married not long ago, and we were confront to this question. It was harder for us to choose a photograph because we are ourselves photographs so we already had a precise idea for the style of photography we would like to have. Finally we choose a friend of us. We know her really well and like her work. I think trust is important and also to be confortable with your photograph the D-day.
The idea of spending hours to be photographed by a stranger can put uncomfortable. That's why at P&S Paris Photographer, we put every effort to install a trust and sympathy even before the first meet.
The day of the shoot, it is important that the couple be really relaxed. It does not seem easy for people a little shy or uncomfortable with the camera but they are quickly reassured because we create a friendly atmosphere, we talk a lot and shooting is always held in happy mood, finally we get fun together.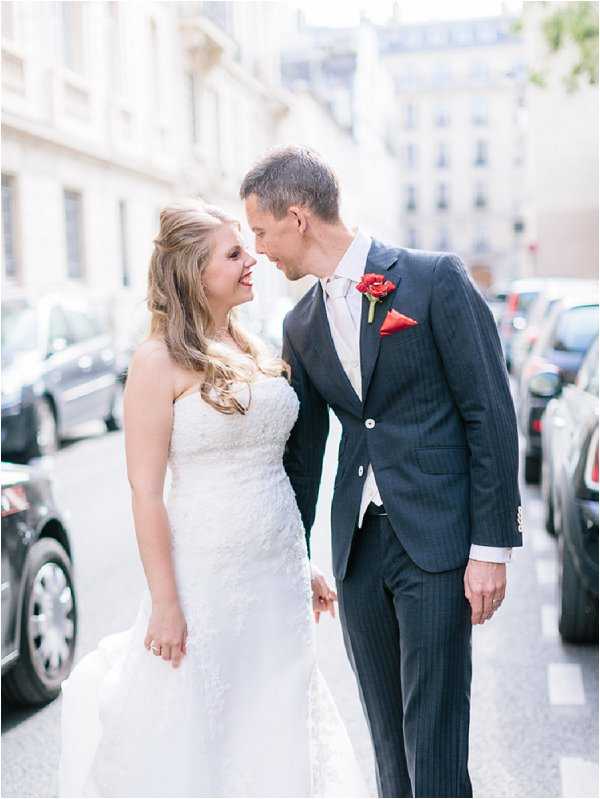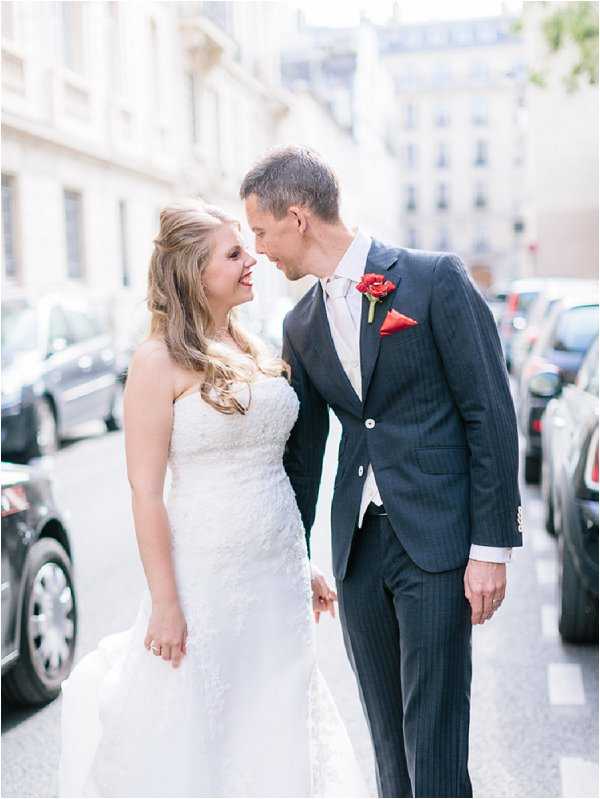 What type and locations of weddings do you shoot?
P & S Paris Photographer specializes in couple photographs, proposal photo session, honeymoon and engagement photo shoot. And also intimate weddings session, vow renewals and wedding anniversary.
We have chosen to work outside in the streets of Paris because for us there is nothing more romantic and typical than the streets of this city.
"Paris is a city that I love since childhood, now that I know it so well, it is with a great pleasure that I make others discover it. Paris is not only historical monuments, Paris is a feeling, a history and secrets!"
The spirit of this city is love, there is no need for staging and costume, natural is magic.
Photographed outside has a particular thing, which we can not escape : the weather. Many people are worried, what happens if it rains or if the sky is gray? The thing that we can say to reassure you is that whatever happens, there is still light outside! Whatever the weather, your photos will be successful, that's the advantage to hire professional photographers!
How does working with a destination couple differ from a domestic couple planning a wedding in France?
Working with a destination couple or a french couple is not different. The reservation are both on internet and we speak through hangout if they wish to. So we got same details for the D-day. We are fluent in english so there is no problem of communication.
The thing wich make the photo shoot special is the character of the couple, their way of being, their behaviour with each other.
What is your favourite part of the photography process for a couple getting married in France?
What is most amazing for us, it's the pre-wedding photoshoot or engagement photoshoot, when the couple are alone and totaly natural, it's really intimate. We focus on the couple and their emotions, we must use all our experience to reveal the feelings between the future bride and groom. We must expose something wich is not showing.
What is the funniest story about photographing a wedding?
Traditionnaly, we think that the bride is the more expressive and emotional during the wedding. We experienced something different. It was a intimate wedding in a park of Paris. Just the bride the groom and one of their friend reading a really touching letter. At the moment, when their friend ask the famous question « do you want to take… » the groom has shinny eyes, he didn't wait for the end of the question and kiss her bride. We stay silent during the kiss, and right after the newly wed started to laugh, so we join them. It was so touching, true love exist for sure!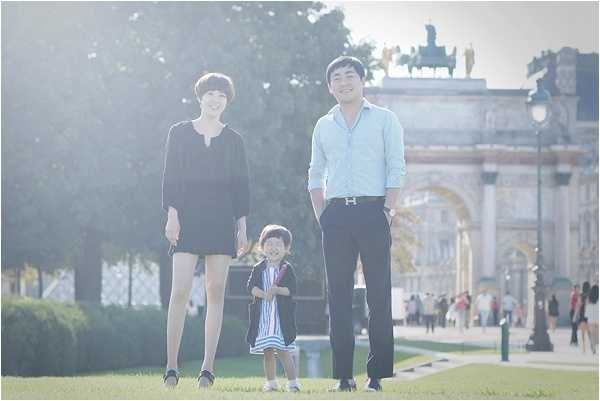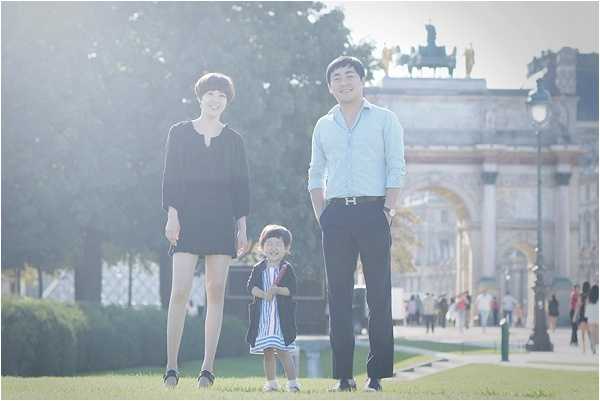 What is the best thing about being a wedding photographer?
Being a wedding photographer, or more simply a couple photographer, means you meet new people everyday, share with them precious moments. They trust in you to get this photo shoot magic. This work is full of emotions, that's what we like the most!
Tell me about your services
Our motto is P&S Paris Photographer will stop the time and makes Paris exist just for you!
We took picture of couple for proposal, honeymoon and engagement. And also intimate weddings session, vow renewals and wedding anniversary. But also we took pictures of family who wish to keep beautiful memory of their trip, and solo photo shoot.
Book a photo shoot with us will ensure you to see Paris with a new look, guided by true Parisian guaranteed french accent, have a good time in the city of love and immortalize those magical moments.
We will do our best to make your Paris trip's memory like a dream.
We will be very pleased to meet you and to make this photo shoot with you, so contact us now. See you!
View more of P&S Paris Photographer's work and email them to find about availability and prices for your Paris session.
Contact Details
Website: yourparisphotographer.com
Email: [email protected]
Facebook:www.facebook.com/PS.ParisPhotographer
Pinterest: www.pinterest.com/Paris_Photo/