I am starting off the week with Faye and Matt's beautiful garden style Provence wedding, held at Bastide St Mathieu and planned by Lavender and Rose Wedding Planners. Faye and Matt's wedding sought to take inspiration from the Provence countryside, creating their garden style wedding using vases filled with wild flowers, table arrangements of pastel blooms set against taupe table cloths and rustic picture frames as their tableplans.
This is a wedding with so many personal and delicate detailing to create a relaxed and stylish outdoor wedding, you can tell this by the number of photos in the post.  There were just too many delightful images to choose from!
Bride Faye talks us through their day: "We chose the South of France because we had a memorable holiday there and living in Dubai we really miss the greenery so we wanted an outdoor wedding. As there are no guarantees for the weather for a Summer, English wedding we both decided the South of France was for us."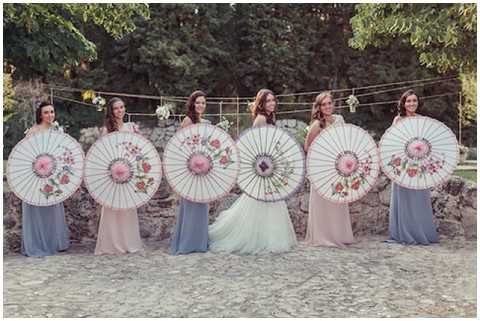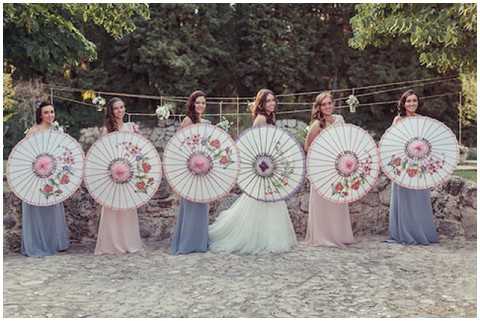 "After searching on the internet for a wedding venue we came across the Bastide St Mathieu. We instantly fell inlove with the outside of the building and the cute little shutters to the windows. The interior was equally as amazing as the exterior providing a friendly, warm and inviting atmosphere. The grounds were perfect for the garden wedding we were hoping for, the whole place looked so welcoming and we instantly knew this was the venue for us.
After speaking to the owners we booked the venue for our August wedding before we had even visited. The beauty of the building, the friendliness of the owners and the recommended wedding planner from Lavender & Rose saying this was her planned wedding venue sold it to us.!"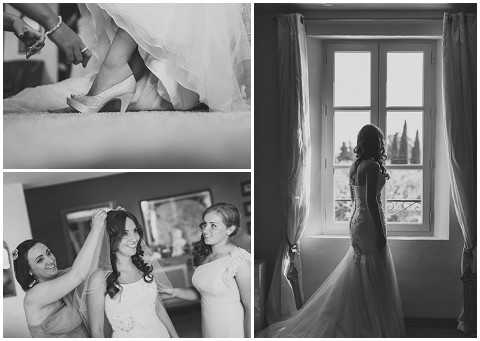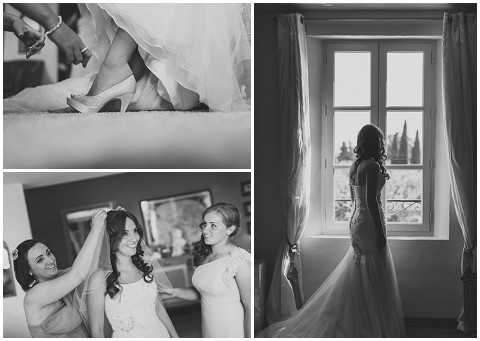 "Once we had seen our venue our theme was created, our aim was to work with the beauty of the place rather than to distract from it. We decided we wanted a pastel, garden themed style adding to the gorgeous blooms that were already there.
We wanted the flowers to look as if they had just been picked from the garden. After meeting with a very creative florist Sabine we decided on hanging paper lanterns, vases and jars filled with seasonal wild flowers and classic blooms between the 4 fruit trees in the ceremony area marking out the stone platform upon which we said our I Dos.  For the reception tables we selected taupe tablecloths which contrasted really well with the cute pastel blooms, with each table comprising of a different arrangement.
Our bridesmaids wore the same style dress but in two different colours, a silvered blue and a blush pink to complement one another. Our bouquets and buttonholes then incorporated these colours and gave a pop of colour to my white dress. "
"As I love to be creative I decided that I would create my own wedding stationary so it was personal and unique to us, the stamp theme to all our stationary was taken from the stationary of the hotel in the Seychelles where Matt proposed. I started off with a luggage tag Save the Date with a personalised stamp marking our date, a booklet invitation detailing all the events and activities throughout the weekend which was tied together with string ribbon and label displaying our guests names.
Throughout the planning of our wedding I bought signage and accessories that I loved to add special detail to our wedding. During this process I came across picture frames that looked like rustic windows; these instantly became our wedding seating plan which was hung in one of the garden trees.
The girls at Lavender & Rose made up welcome letters to compliment our invitations and cute signs to the back of our ceremony chairs displaying the names of our bridal party to match our colour theme. They also made up a fun photo booth table using props that we had purchased for our guests to use throughout the evening."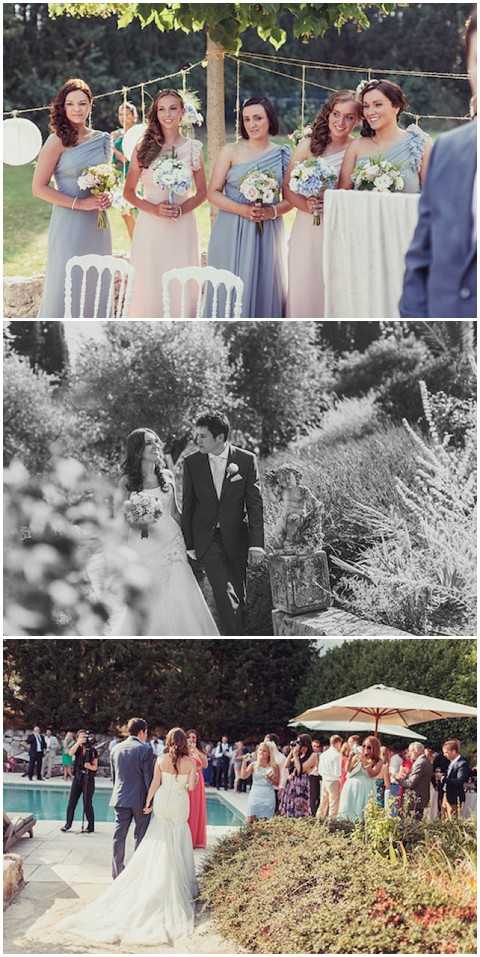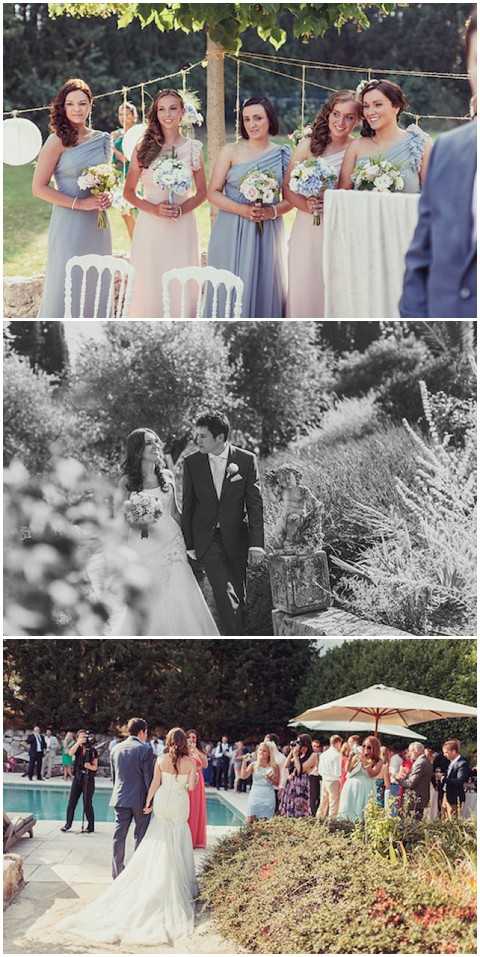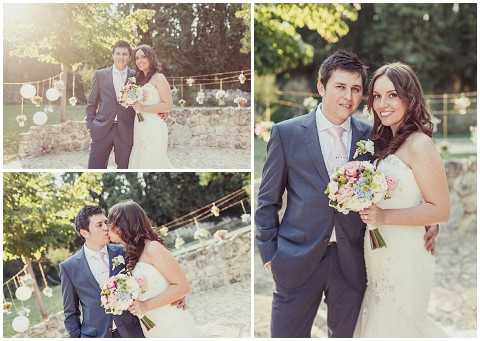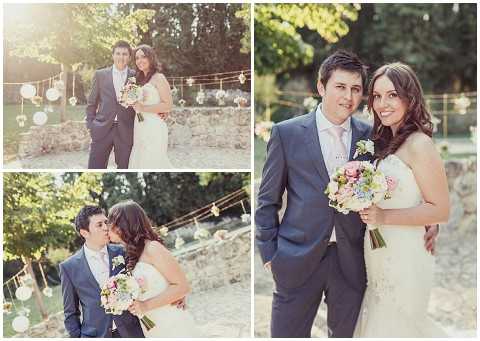 "The idea of the photo booth was created when I was trying to decide what to give our guests as favors, how to display guests names and where we were going to place our wedding guest book. It eventually came to me that I would incorporate all 3 with a memory card. The memory card displayed the guests name with a white area for us to eventually stick their photo taken at our wedding, which also guaranteed we would have a photo of each of our guests on the day.
The memory card also had blank space for a message, marriage advice and to predict our future; a fun way to get our guests talking around the table. Each guest was then given a personalised pen as a favor which displayed our wedding date.
On our Wedding Day we asked our photographer Alban Pichon to take a picture of us holding a Merci parasol which we then used as our main picture for our thank you cards."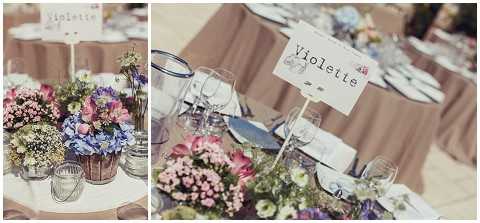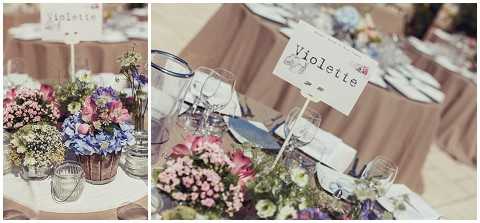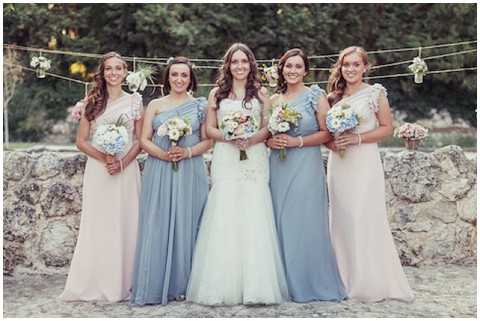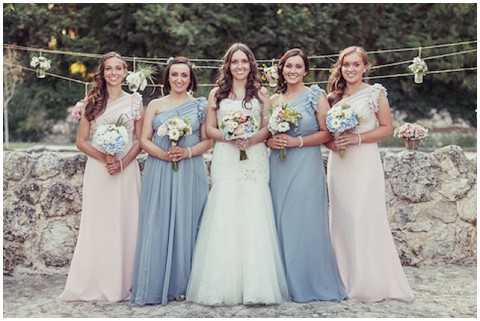 "Pre-dinner drinks took place in "Riviera Chic" fashion around the pool with canapes served, followed by the informal buffet dinner on the terrace to give us a chance to mingle with our guests throughout the courses. The meal was finished off with a mouth watering dessert table to bring a bit of the Dubai Style Brunch to our wedding.
The dessert buffet was opened by us cutting our Wedding Cheese Cake that was gifted to us by my parents, whilst playing their first wedding dance song. Displayed in the center of the dessert table was our second wedding cake that was made up of cupcakes, displayed in different types of cup and saucers over 5 tiers.
On the top tier was a gorgeous fresh strawberry and cream cake iced in colours to compliment our wedding theme, this displayed the most important part of the cake as the ribbon wrapped around the top cake was held together with my nan's brooch, in memory of her on our special day. Around our centered cake was a selection of mini deserts, tartes and of course macaroons."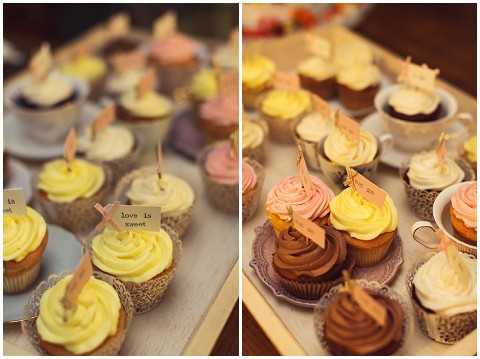 "For the ceremony music the bride walked down the aisle to 'here comes the sun' by the Beatles played by a talented Acoustic Guitarist Peter, which felt fitting assuming it was a bright and sunny day. We wanted the bridal recessional song to be up beat so we selected 'We Found Love' by Rhianna feat. Calvin Harris. The song got everyone dancing back down the aisle.
Our evening music was selected by our guest's. We had previously sent out wedding song request cards with our wedding invitations, which allowed us to have everyone's style of music played at our wedding.
For our first dance we wanted something slightly up beat, we chose 'Roses are Red' by Mac Band. We had asked our bridal party to join us half way through, followed by our guests which really got the party started with everyone dancing all night."
"As we live away from most of our family and friends it was really important to us that our wedding was a fun get together with all our loved ones. By hiring the Bastide St Mathieu for the whole weekend and having the girls at Lavender & Rose with us throughout the process we were able to spend quality time with everyone whilst feeling relaxed and care free.
On the Friday before the wedding, the day was spent lounging around the pool, we then had a chef come in and cook the bridal party a 3 course meal to mark the start of the celebrations. On Saturday was our wonderful wedding followed by the Sunday Pool party with a Pimm's reception and a BBQ. To say it was a memorable weekend is an understatement; the memories will be cherished forever."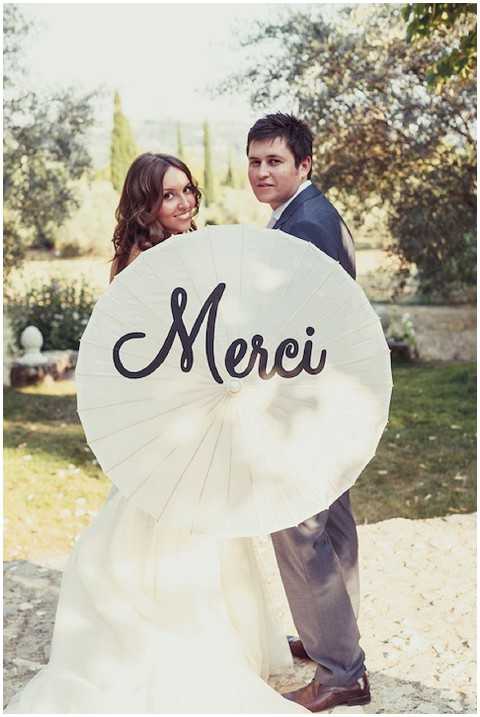 The flowers and detailing at this wedding are just sublime.  Congratulations to Faye and Matt!
Monique xx
Provence Wedding Suppliers:
Wedding Planner: Lavender & Rose www.lavenderandroseweddings.fr
Venue: Bastide St Mathieu www.bastidestmathieu.com
Photographer & Videographer: Alban Pichon www.pichon.com
Flowers: Sabine Flowers www.sabineflowers.fr
Catering: One Shot www.one-shot.fr
Dessert Buffet: Weil Patisserie in Grasse
Cupcakes: Scrumptious www.scrumptious.fr.
Wedding Cake: Chef à Domicile: www.chef-adomicile.fr.