Today's post really is a MUST read if you are planning a destination wedding.  Whether it is in France of another wonderful place, our own real bride Hollie C today finds out one of the problems with destination weddings.
There are those days when we all feel overwhelemed and emotional about planning your wedding, but I know that Hollie would love your support as they work through this wedding planning "challenge" in the pursuit of their dream wedding in France.
*****
Let's catch up with Hollie: "Well after the excitement of my last post, where we headed off to Chamonix for our wedding recce trip, I'm afraid there has been a significant twist in our tale.
A couple of days before we flew out to Chamonix we received some news from Monica, our Wedding Planner.   The venue that we booked and paid a deposit for way back at the start of this year has gone into liquidation and has closed down almost immediately.
It was devastating news to say the least, but our first reaction was actually to be thankful.
We found out on the Wednesday, and Monica was due to have a wedding at that venue on the Saturday!! So she'd spent the few days prior to breaking the news to us, frantically trying to find an alternative venue for that couple that could accommodate their wedding at short notice.
Luckily, she was able to and the wedding went ahead – phew!
Thank-goodness we said to ourselves, for still having enough time to find a new venue and more importantly for having got wedding insurance in place so we can try and recover our deposit.
And of course, thank-goodness for Monica who has been fantastic over the last few weeks both with recommending new venues and with helping us get our thoughts together.
If I'm honest, after the initial shock, we both felt a little numb, but we flew out to Chamonix trying to think positively that at least we had our week there to visit new venues etc.
However, for me I think the news only really sunk in 3-4 days into our Chamonix trip after we'd been to see the new Venue options.
Amongst others, we went to see the Grand Hotel du Montenvers – a fabulous historic hotel overlooking the Mer de Glace and we initially thought that this was the one for us, but for various reasons after sleeping on it I changed my mind.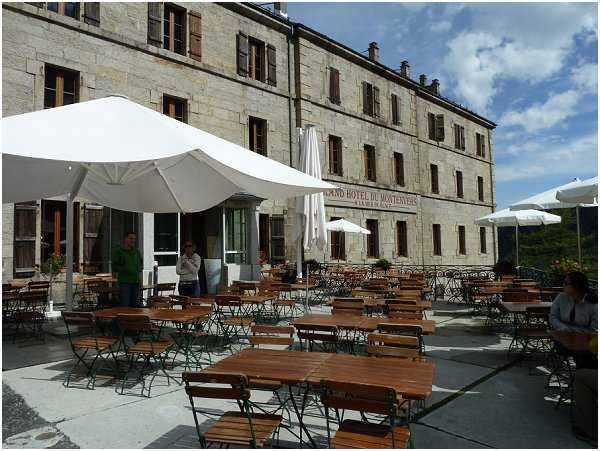 And I think that's when it sunk in; our dream venue was gone and that we may need to re-think things slightly.
Although we have a couple of great options currently the table, we have yet to make a final decision and my parents are currently in Chamonix on a pre-planned trip, so they've also been doing a lot of research for us into properties that have cropped up since we got home from our trip.
Places such as the Chalet Zannier – which featured in Monique's recent post, as well as other options in Chamonix and further afield to Morzine and Samoens.
One place my parents visited for us, is this gorgeous Chalet just outside Samoens I can't wait to see the pictures when they get home.
To be honest it's been a pretty emotional few weeks trying to work out which venue to move forward with and to try and stop myself from comparing everything to what we had before, it's also got us both wondering about whether a smaller more intimate day might be appropriate.
On a practical level, we're just going through the process of trying to reclaim the deposit we paid via our Wedding Insurance policy. As with all insurance claims we need to submit various bit of paperwork, including details of the payment we made, the venue's receipt of payment and a written document from our wedding planner, confirming all the details of the liquidation.
Another reason to be thankful really, our Wedding Planner has struggled to make contact with the owners of the venue since the news, so it would have been even more difficult for us if we'd have booked directly.
That's not to say that you have to have a wedding planner, but what I would say – and this applies as much to UK weddings as it does to those abroad – is keep copies of all your paperwork.
Whether it be invoices, proof of payments, confirmation of date / numbers etc. and if your venue aren't forthcoming with a receipt of payment, chase it up because you never know if it might come in handy.
Obviously, all the paperwork is useless unless you have Wedding Insurance, so I would also urge all couples out there to get wedding insurance, it'll likely only work out as a small percentage of your overall budget (even if you're on a small budget) and should you find yourself in a situation like ours, it will be worth every penny.
So for now, we will continue to ponder on our wedding venue options, and we'll wait for my parents to return from their trip before we make a final decision but if anyone out there knows of any possible venues in / around Chamonix or the French Alps, we'd love to hear from you."
If you are looking for ideas and inspiration on planning your wedding in France, don't forget you can catch up with Hollie C and fellow FWS Belle Brides Cassie, Belle Bride Fiona and Belle Bride Cyndie and you can find all the Belle Brides past and present here.
Alternatively see more Chamonix weddings here.