Happy Monday and we are starting the week off with a beautiful private and small wedding in Paris captured by the talented Claire Morris Photography.  Paris offers so many wonderful opportunity to create a wedding day that is personal and perfect for you, which is exactly what our couple Mathias and Sofie did with the help of Lesley Kirk-Renaud.
Mathias & Sofie takes us through their big day:  "We met in University 2005, but it wasn't until the spring of 2014 that we started dating and became boyfriend and girlfriend. I always thought Mathias was so charming and I definitely had a bit of a secret crush on him all through uni, but we we're both in other relationships so nothing ever happened between us.
In 2011 we started working in the same law firm in Copenhagen and became good friends but shortly after I moved to London to finish my Masters and with a secret dream of pursuing a career in music. We still kept in touch via Facebook.
We both became single in the fall of 2013 and our contact increased. I was working in Copenhagen quite frequently and when I was home for work in the spring 2014 we went out for coffee and it took off from there. Soon we became inseparable and spent the whole summer together in Copenhagen, Berlin, London and Paris.
Mathias spontaneously proposed to me one night in a taxi outside Place de la Concorde in July. We had been out for dinner and drinks and we're completely intoxicated with love and wine, and he just asked the taxi driver to push the front seat forward and he went down on one knee and asked me to marry him.
I said yes but wasn't sure he was serious as we had both had a lot of wine, and had only just been together a couple of months. I said that I would marry him but that he had to propose properly so I could know that he was serious.  A few months later he popped the question one evening in Copenhagen. Again it took me by surprise as it was a regular weeknight and working on my computer. He came over and sat down next to me, and said he had something to ask me. Then he went down on one knee and pulled out a red velvet vintage box with a beautiful vintage ring.
Deciding on how and where to do the wedding was quite easy after that. We wanted a private and small wedding with only our closest family and Paris seemed like an obvious choice because of the proposal and because we both absolutely love the city. We also thought eloping would make it easier for our friends to accept that we only invited our family to the wedding.
On the evening before the wedding we had a rehearsal dinner with our family in a rustic French bistro in Marais. We spent the night before apart. I stayed with my two sisters in Raphael Hotel and had a girly morning and afternoon with them and my mum getting before the big event!
We had the ceremony in the garden of "Palais Royale" and then went to the beautiful rooftop of "Hotel Raphael" for champagne and canapés. We then had dinner at the beautiful Parisian institution "Café de la Paix" and ended in the piano bar of the Grand Hotel where I performed a song that I had written for Mathias."
Advice to other couples about marrying in Paris
"Even if it is a small wedding it does require quite a bit of planning to have a wedding abroad. We went to Paris a few months before to make arrangements, and thought we could handle everything ourselves but we ended up needing the help of a wedding planner to get permissions for the ceremony etc. Claire recommended Lesley who was absolutely great! So our advice would probably be to get a wedding planner involved from the beginning."
Private and Small Wedding in France Snapshot: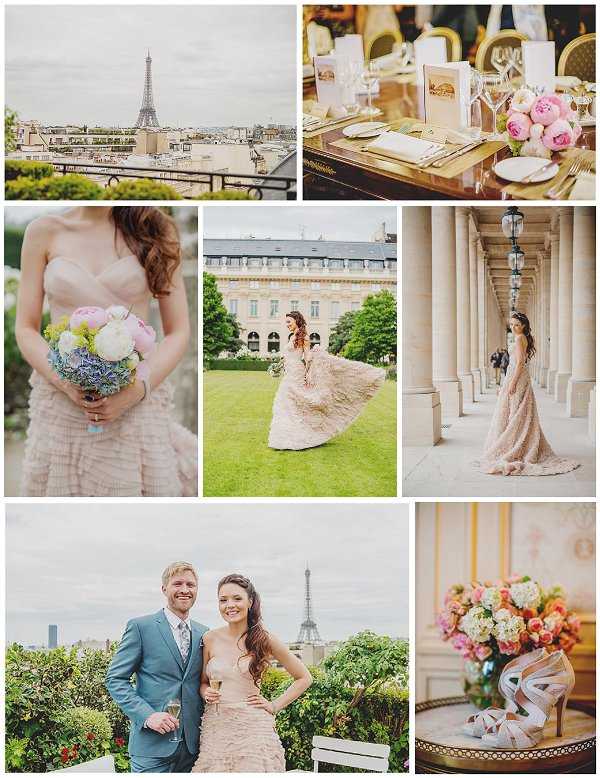 Wedding Vendors:
Photography: Claire Morris Photography | Wedding Planner: Lesley Kirk-Renaud | Celebrant: Kasia Wright | Flowers: Estelle Preston, Paris | Mathias' Ring: Hatton Garden Jewellers, London | Mathias Suit: Ted Baker (shirt by Hugo Boss) |   Sofie's Dress:  By Watters, bought in London Bride Couture in London | Sofie's Rings: Vintage