There are so many different areas to consider when searching for a wedding destination in France.  One such diverse region is Provence which is often stereotyped as having the same characteristics across the region, but don't be so hasty when planning a wedding in Provence.
Today's guest post is by Just-Provence a proud member of the Emotional Escapes group of local specialists working together to discover the finest rental properties in some of the world's most beautiful destinations.  It was inspired by another article entitled: destination wedding mythbusters which raised the  crucial points that destination weddings were not more expensive, nor complicated to organise and offered the advantage of doubling as honeymoon destinations.
Just-Provence looks into how organising your wedding in Provence can be a variety of experiences beyond but not excluding the restrictive postcard image of lavenders, sunshine and cicadas.
The Côtes Du Rhône region.
Provence is famous for many produces from olive oil to cicadas printed napkins. But among its noblest of products is the world renowned Côtes du Rhône wines. As mentioned in a previous article, Vaucluse has been once again recognised in 2012 for the quality of its fine wines.
Planning a wedding in North Vaucluse  not only means that you'll be able to welcome friends and family in the heart of  these exclusive vineyards, but also that you will have at hand beautiful sites such as Les Dentelles-de-Montmirail, the foothills of the highest peak in the Provence, the Mont Ventoux to  historically rich towns such as Vaison-la-Romaine or Orange.
Weddings are festive  occasions where your loved ones travel to gather and share your joy. By choosing an exclusive holiday rental in the heart of Provence you will ensure that not only will they have a wonderful time during the wedding but will also be able to visit a beautiful region and enjoy its products.
North Vaucluse is very versatile in the themes it can bring to your wedding and honeymoon. You can choose to organise a chic wedding reception near Grignan with  Mme de Sévigné's romantic 17th century as backdrop or add  wine tasting tours to the occasion with the famous vineyards of Chateauneuf-du-Pape, Gigondas, Valréas within a short drive. Treat yourself and your guests to not only a trip to Provence but a voyage through the flavours of rich and exquisite wines sought the world over.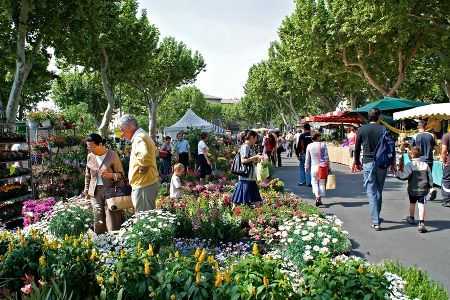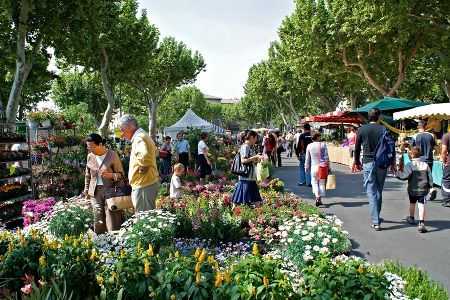 North Vaucluse is one of the most historically rich regions of Provence and gives many options to choose from for your wedding photo shoots, from the steps of the popes' palace in Avignon to the Roman ruins of Vaison-la-Romaine. Planning your wedding in Provence will mean that local caterers will supply you with home grown produce from this agriculturally rich part of France, whilst the owners of holiday rentals who can accommodate wedding receptions will direct you towards services and the possibilities the properties offer.
Luberon
The Luberon offers a wonderful setting for a romantic hide-away honeymoon in the heart of a UNESCO recognised National Park, doted with perched villages from which you  can choose to stay or visit. A great choice for a more rural weddings, the splendid views of rolling hills, lavender and poppy fields as you exit a small Provençal chapel greeted by your loved ones.
Planning your wedding in Luberon means you will be a short drive from the  history rich capital that is Avignon or the large market town of Apt.  Al whilst being in a quiet and idyllic part of Provence which has proudly retained its Provençal heritage of stone-built houses, winding streets  and isolated monasteries dotting the hillsides. What could be better then spending your honeymoon in such a peaceful setting, overlooking the Luberon Valley with only the endless horizon greeting you, every morning.
 Les Alpilles
Les Alpilles  is  a mountain range  in Provence, South of Avignon and has inspired world famous artists like Cézanne, Picasso, Gauguin and famously Van Gogh who spent time in Arles and Saint-Rémy-de-Provence. The famous impressionist was inspired by the colours and beauty of this region. The Mont Sainte Victoire was Cézanne's favourite subject having painted it 60 times, it most certainly won't leave you indifferent.
Les Alpilles shares with Vaucluse a strong Roman Heritage and like Luberon has been -and still is- home to many artists. It has a close access to the sea and the regional capital that is the city of Marseille whilst being quietly nestled in a low mountain range.
By planning your wedding in Les Alpilles you could embed the occasion in artistic influence with views from Cézanne's paintings and colours that inspired Van Gogh enabling you and your guests to literally walk in pictures only seen in the great Art Museums of the world.
 Planning your destination wedding in Provence
Now the strong points of various destinations in Provence have been laid out you can consider your choice of wedding venue.  As well as the traditional wedding Chateaus, renting a holiday villa in the South of France  to host your wedding and honeymoon can be a flexible option.  Enjoy the comfort of a home: privacy, exclusive setting and modern comfort whilst being able to plan your stay as you wish. Whether you wish to live like a local,  experience an intensive tour of this beautiful region or simply enjoy the sun by your private pool.
Just Provence has an extensive portfolio of properties from the isolated mas for a romantic honeymoon in the Luberon or a luxurious farmhouse near Saint-Rémy-de-Provence that can welcome up to 20 friends and family to enjoy the week leading to or following  your wedding. Just Provence will be more than happy to help you pick the destination for your once-in-a-lifetime emotional escape in Provence.
To find out more information about planning your wedding in Provence  email [email protected].
Thank you to Just Provence for their insight into Provence and find their contact details below.
Monique xx
Just Provence:
Website www.just-provence.com
Email: [email protected]
Facebook: www.facebook.com/justprovence
Twitter: www.twitter.com/JustProvence