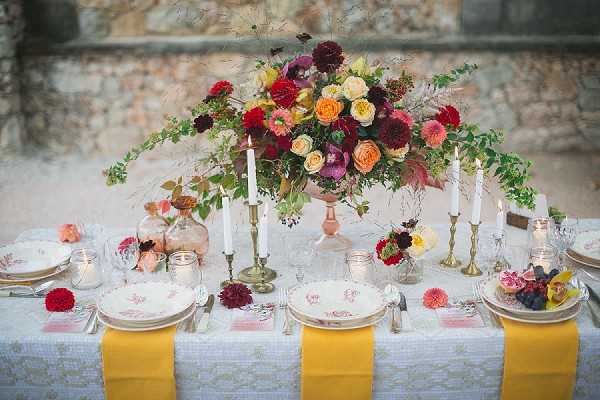 As the seasons start to change we can turn our attention to planning a fall wedding in France.  Fall or Autumn in France is a delightful time and to help us go through the steps for planning a fall wedding, we've turned to our resident French wedding planning expert, Fabienne, owner of Elian Concept Weddings and Events.
June, September and October are reported to be the best months in which to get married and I agree.  I won't discuss June, but September following on from summer into the fall, still has plenty of sunshine and warmth, although is not scorching hot like July or August. October is certainly becoming more popular and I understand why. It is a gorgeous month in France, very pleasant temperatures during the day, even warmer in the more Southern regions, so an outdoor ceremony and reception can still be considered.  November is more challenging with much shorter and cooler days, cold nights, and increased chance of rain. Therefore an outdoor reception, even in the South is more risky.
Photo credit: Lydia Taylor Jones
Are you considering getting married in France during the fall season?
There are good reasons to have a fall wedding:
The nature is stunning at this time of year.
The light and the colours are fantastic for wedding photos.
Temperatures are not scorching hot like in the middle of the summer.
It's less busy. Most of the popular French wedding destinations are also popular with holidaymakers and can be crowded during the summer months.
It's more cost effective, mainly for the above reasons.
There is potentially more availability, although this is not always the case as after a busy season some venues may take a break as early as October.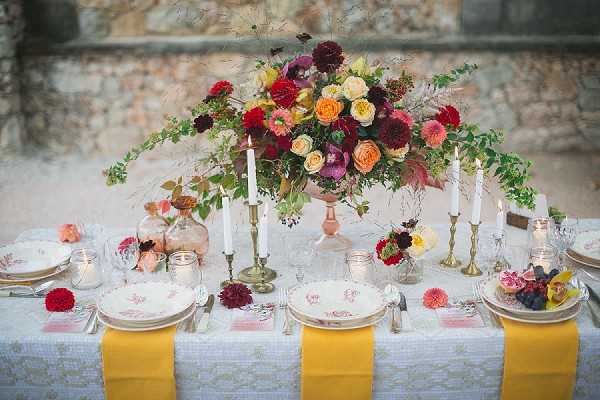 Photo credit: Wild Roses
If you have chosen the fall for your celebrations, I have compiled a few tips for you to get started.
Choosing your French wedding venue:
Pick a venue that offers indoor as well as outdoor options. In summer, it is important to have a back up plan, in autumn it is essential. Venues with multiple indoor or covered areas are best. I would recommend at least three, one for the ceremony, one for the cocktail reception and one for the dinner. Depending on the layout, the evening party can be set up in any of the three. With these possibilities, you can plan for an outdoor ceremony and cocktail party, but swiftly move indoors if the weather is not as expected, without disturbing the setting in the other parts of your reception. So check how easy it will be to rearrange your décor and furniture if need be.
Pick a venue with a view. Either it's in a city –a Paris wedding in fall is fabulous- or in the countryside, make sure you can take advantage of the striking autumnal foliage in the background. You won't need much more to have the perfect backdrop for your wedding photos.
Be mindful of the outdoor space in case of rain. How practicable and safe, it will be in wet weather.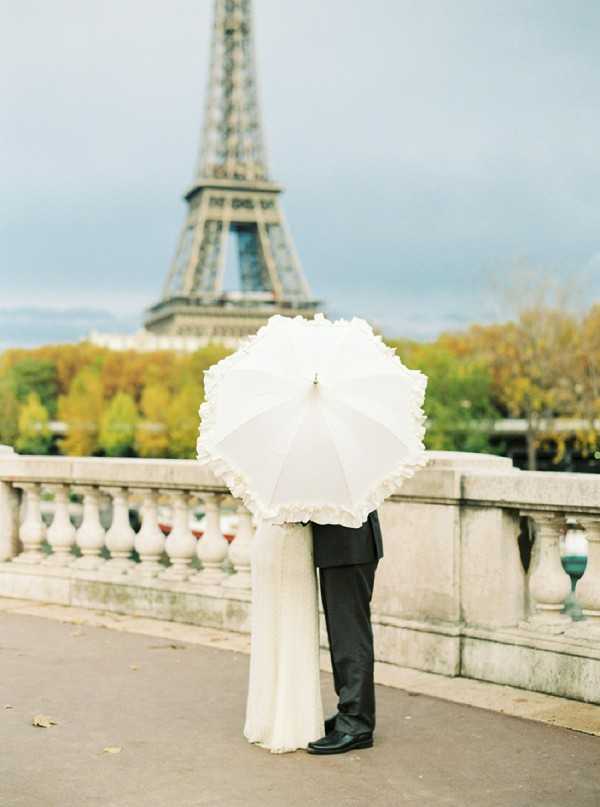 Photo credit: Juliane Berry
Dressing for a fall wedding
Keep in mind the potential for cooler and wetter weather (especially in November) when choosing your wedding outfits and shoes. This seems fairly obvious, but it has to be pointed out as you may be dreaming of a sleeveless dress. This is possible of course, although it will have to be complemented with a shawl or a bolero to keep you warm outside. In fact, the choice is endless for a wedding in the fall as you can consider long or ¾ sleeve dresses which would not be so appropriate in the summer, and look wonderful.
Inform your guests. In this season, they should plan for uncertain weather, including rain. Make sure they are aware of this and come well prepared.
Even so, if you want an outdoor ceremony and drinks reception, it may be wise to check with your venue the options for patio heaters to keep everybody comfortable if the temperature drops.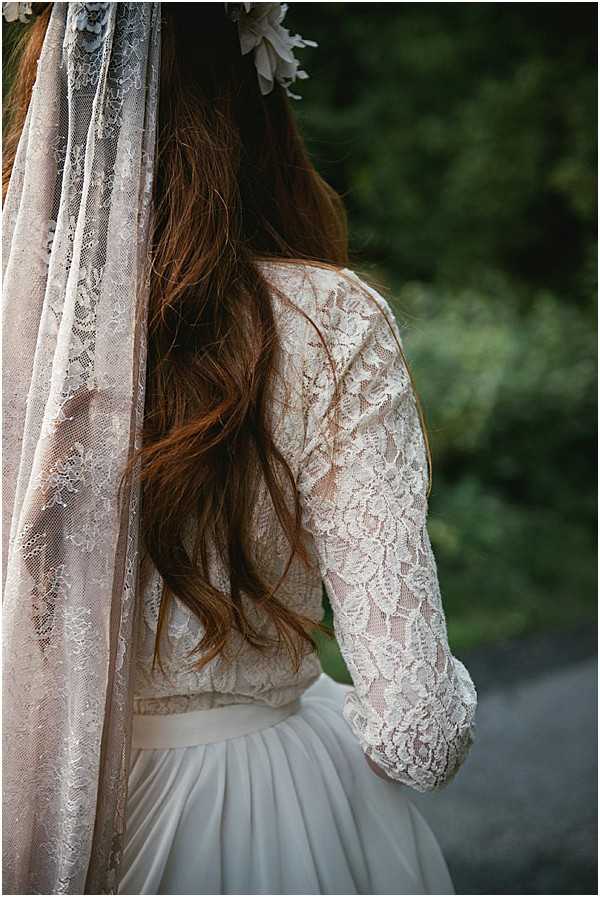 Photo credit: Zephir et Luna
Deciding your colour theme:
Go with your favourite colours. As much as earth toned seasonal colours are beautiful, you don't have to use them for your wedding. If you love fall hues, and it's one of the reasons why you chose this season for your destination wedding, it's perfect. If not, there are many others that will be as gorgeous: plum, blush, sage green, ivory and even dark pink-fuchsia or turquoise. Copper is great to add a modern twist to the decoration. Gold is more classical.
Ultimately, if you are not keen on warm or dark colour palettes, soft pastels, light greys and neutral will work very nicely.
Photo credit: Elisabeth Delsol
Choosing your wedding flowers
Pick seasonal blooms. As for any season, it's best to choose seasonal flowers. Hydrangeas, asters and dahlias offer many colour choices in dark seasonal hues as well as softer tones for an elegant bridal bouquet and table decorations. Dahlias, in particular come in many varieties and colours. Chrysanthemums are similar and also in season. Unfortunately in France, they are often disregarded for weddings, because they are the traditional flowers to honour the dead on All saint's day.
Pick seasonal foliage, although it does not have to be orange, yellow or brown. Light grey, sage green or pale hued are also options to subtly complement your wedding floral arrangements; as are seasonal berries and fruits. I found this season very inspiring. Nothing will look out of place.
Photo credit: Krystal Kenney
Deciding on food and drinks
The season is blessed by choices of comforting food and colourful fruits. The pumpkin is one of the hallmarks of the season worldwide although being associated with other fall events (Halloween, Thanksgiving…) it may not seem suitable for a wedding menu. In France, mushrooms, walnuts and chestnuts are in season and perfect with game, which is also in season. If you would like a fall menu, or seasonal touches at your wedding reception or dinner, trust your French caterer to create an original menu to celebrate the season.
Elements can also be introduced with the drinks, such as seasonally inspired cocktails- check these 20 Signature Cocktails for Fall Weddings -or with tasty French desserts using the season fruits: apples, pears, figs, plums, grapes and berries. For food and drinks, the season is again very inspiring and there is plenty to surprise your guests with a creative and unique menu.
Photo credit: Christophe Serrano
All is a question of balance, and it's your wedding after all, so fall could just be the season in which you have decided to get married or you want to embrace the full beauty of it. In between, there are plenty of lovely touches that can be incorporated to make your French fall wedding, unique. See my Autumn Weddings in France post for more tips, ideas and best locations for a French wedding in the fall.
FABIENNE IS OWNER OF ELIAN CONCEPT WEDDINGS AND EVENTS, WHO IS A BI-LINGUAL WEDDING PLANNER AND IS AVAILABLE FOR WEDDINGS THROUGHOUT FRANCE.  FOR MORE INFORMATION VISIT: WWW.ELIANCONCEPTWEDDINGS.COM