New York is one of my favourite cities and we are celebrating this iconic city today, in our New York style wedding from the South of France, with a fabulous pink Cadillac!  Emily and Philippe from the South of France, had been dating for 10 years after meeting on the harbour of Bandol.
The couple now live in Sanary surMer, a typical Provençal village and chose the island of Bendor not so far from Bandol for their wedding locations, because they loved the romanticism of getting married on an Island.
Emily and Philippe planned their wedding for 18 months, chosing September because autumn is Emily's favourite season, and Philippe as a Scuba instructor works less in autumn (than summer).  The couple visited New York a couple of years before and after falling in love with the big apple, decided to use this and the colour pink as their main wedding inspirations.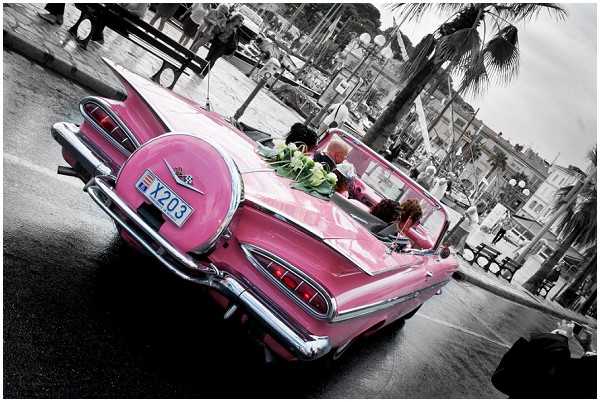 Emily and her bridesmaids arrived at the town hall in a hot pink Chevrolet Impala, a complete show stopping surprise for all the guests.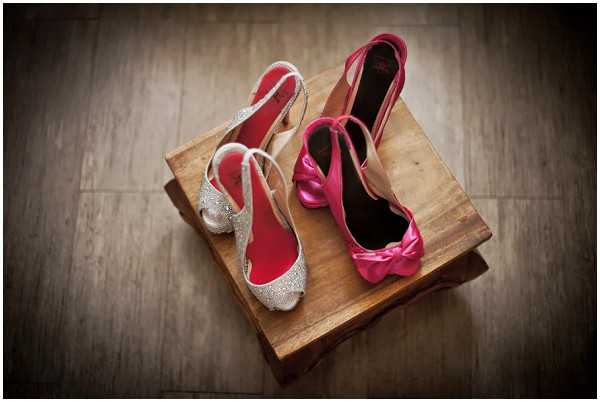 After a long hot summer, Mother Nature decided to open the heavens on the day of the wedding with rain, storm, hail, but just as the couple were about to excit the civil ceremony at the town hall, a rainbow appeared with a touch of blue sky.
Philippe and Emily also decide to have a secular ceremony, planned  on the island facing the sea, but the Mother Nature again decided differently, and they celebrate their union under a canopy.
The cocktail reception took place following the group pictures with a cascade of pink cider (a cider made from red apple) and Provençal dishes were served (toasts with tapenade, tomatoes caviar, eggplant caviar…)
The main wedding reception was expertly styled by Plan de Table, using paper high floral centerpiece with baby's breathe, candles on the tables and in the corners and crystals on the tables to brighten the room.
The evening celebrations continued with a photo booth, candy bar and wedding guest tree as the couples guest book.  As a final flourish, Emily and Philippe opened the dancing with a  waltz (La valse à Mille Temps, Jacques Brel) that Phillipe had been taking dance lessons for for months!
Congratulations Emily and Philippe!


Wedding Suppliers:
Wedding Planning and Styling : Plan de Table
Photographer : Studio Priscilla G
Restaurant : Restaurant Le Grand Large 
Car :  Location Voiture Mariage
Bride's gown (#1] : Milanoo
Bride's gown (#2) : Lise St Germain, Complicité