When it comes to looking for personalised gifts for your Bridal party, there are so many options available.  However today we have some perfect solutions for you from oNecklace, which specialises in personalised gifts for all occasions including your bridal party with earrings, cufflinks, necklaces and bracelets.
Let's look at bridesmaid gifts first, starting with their sweet customised necklaces and bracelets. Available in a variety of styles, the necklaces suit bridesmaids of all ages including their cute classic name necklace and their sophisticated 3D bar necklace that comes engraved. And we know that you readers are coming from all over the globe, but not to worry as oNecklace have free shipping on all orders worldwide!  How magnifique is that!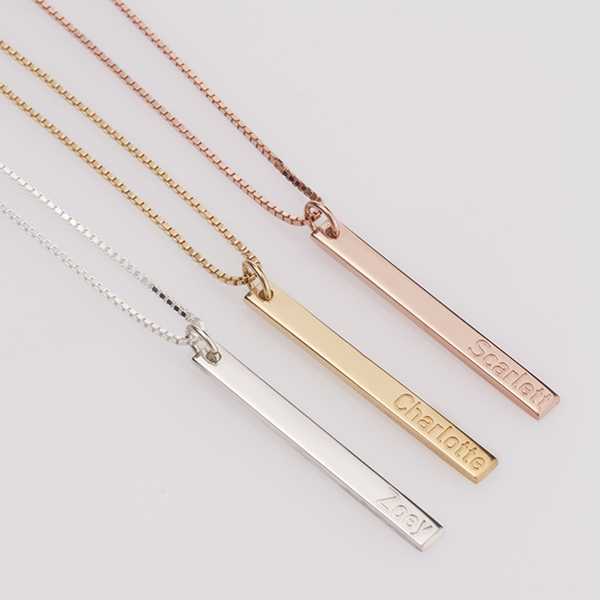 If you are looking for a flawless bridesmaid bracelet, the circle signature bracelet below is sure to be a timeless memento of your beautiful wedding day.  As a high quality brand, oNecklace uses hallmarked materials for all of their jewellery so the only thing that you need to worry about is what design and colour your bridal party with love.  What do you think?  Which ones would you love for your bridal party?
So far we have focused largely on the female members of your bridal party, but let's not forget about those wonderful men that we also want to say thank you to.  oNecklace have a wide range of customised accessories for men including leather bracelets, cufflinks, fingerprint rings and tie clips.  The tie clips and cufflinks especially could be a present for your bridal party before the big day with all of the men in the bridal party being coordinated.
Of course as this is a gift of your gratitude and affection for that special person being part of your big day, and with so many other things to do in the run up to your wedding day, let oNecklace take care of the gift wrapping as well.
If you are looking for personalized gifts for your bridal party, then Shop now with oNecklace.
We partnered with oNecklace for this paid for promotion, and we thank you for supporting our sponsors.