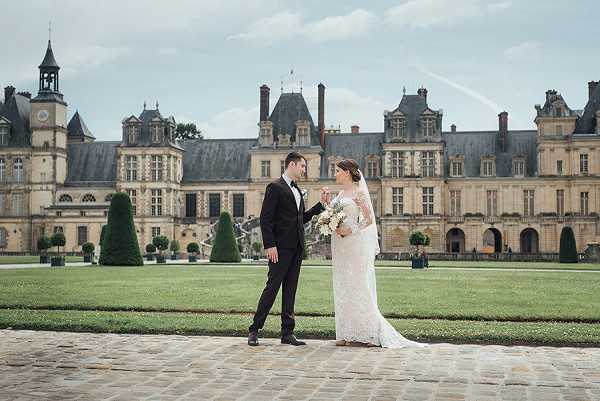 As we're heading towards the end of the week we thought we would take you off to three simply beautiful locations in today's Parisian elegance real wedding.
Today's couple Nick and Julia who met in Russia chose the stunning Luxembourg Gardens for their intimate ceremony before heading off to Château de Fontainebleau and Château de Vaux-le-Vicomte for some gorgeous couple portraits with photographer Helene Kos from Do It Paris Way.
We'll now pass you over to Helene who not only photographed today's Parisian elegance real wedding but also planned it too…
"Nick and Julia met in Russia in a way you'd probably never even guess. Julia would later admit that she thought Nick was "a very handsome man". Nick would later admit that he thought Julia was "a future love of his life". Texting and calling each other, their schedules were making it difficult to set up a first date. As they kissed the first time, they knew there was something truly special between them."
"The day Nick proposed was the best day in her life. Nick also made a promise to Julia when they got married, a promise to give her the life of her dreams. She is his princess, and he knew she deserves everything best. It was a gorgeous, summer sunny day, perfect for walking outside for hours and taking lots of pictures. "I want my marriage to be more beautiful than my wedding day" – Julia said."
"Julia loves two things – blooming flowers and beautiful castles, that's why they've chosen Luxembourg Gardens as a ceremony venue and two French chateaux for their photo shoot. After their wedding ceremony at the Medici Fountain in the early morning, they went off with the photographer for couple pictures around Gardens and Senat. Medici Fountain is a true gem in the most beautiful area of Luxembourg Gardens. Everywhere you look there are tiny details! This is an amazing venue for a small wedding or Parisian elopement."
"Although these two chateaux are only 45 minutes from the center of Paris, they are completely quiet and calm. There are many fantastic photo opportunities around the Château de Fontainebleau and Château de Vaux-le-Vicomte. These two chateau are unbelievable and the best place to get married. With the most beautiful views and the best weather."
"At the end of the wedding Julie said: 'Our wedding day was perfect, I was calm and relaxed and happy, and everything I'd hoped it would be.'"
"The bride spent ages trying to find her wedding gown, and tried on a variety of different outfits. Ironically, she found the special dress while being away for a job. The groom picked a marsala wedding suit, which perfectly fits in a very elegant and sophisticated style of the ceremony. The bouquet was also created to match light, creamy tones."
"Our couple was following us on Instagram, and once they saw one of the photos on pinterest, they sent us a message saying 'This is where we want our wedding to take place!'"
Congratulations Nick and Julia from everyone here at French Wedding Style!
For even more Parisian Elegance check out this romantic destination Shangri La Paris wedding which includes delicious treats from Synie's and Ladurée.
Parisian Elegance Real Wedding Snapshot
Wedding Vendors
Photographer: Helene Kos | Florist: Do It Paris Way | Hair and Make Up: Yana Dolgodvorova | Wedding Planner: Do It Paris Way