Oh do I have a wonderful Paris love story for you today, that is perfect for all the ultra romantic Trulovers out there.  Louise and Alexandre met in Louise's home city of Melbourne, and when Alex asked her to move to Paris, she said yes (who wouldn't really, it's Paris!).
It was clearly the right answer as now another two years later, they are planning their weddings; one in Normandy and one in Australia.  The couple decided to celebrate their engagement with a session around Paris with Gemma from Betti Confetti Photography and using Louise's tour guide knowledge and romantic tales, to add a really unique perspective to this engagement shoot in Paris.
Photographer Gemma takes us through the day:  "For this shoot we explored areas steeped in history in Paris' 4th arrondissement; around the Notre Dame, street markets and back streets off the tourist trail in the Latin Quarter, as well as down by the Seine. As a tour guide and history fanatic Louise knows the best tales, such as this romantic (and a little morbid) one:
The story of Abelard and Heloise dates back to the 1100s – their ancient house was located on the Ile de la Cite, the heart and centre of Paris (same island that you will find the Notre Dame on). 
Abelard was living at Heloise's house when she was a young lady, he was the ward of her uncle. They fell in love and had a clandestine relationship (back in the day when love before marriage was very naughty!) 
When details of their illicit affair emerged, they were forced to flee. For her safety, Heloise eventually ended up in a convent…but poor Abelard was caught and castrated. 
Despite this separation, their love continued and became stronger, writing letters of great romance and love to each other, even though they knew they would never be able to unite again. They continued this for their whole lives. 
Finally, after death (Abelard died first) they were reunited and buried in the same grave.  The legend has it that when they opened Abelard's grave to add Heloise, his skeleton arms opened to welcome his lover.  Just proves that love is endless and surpasses every obstacle, doesn't it?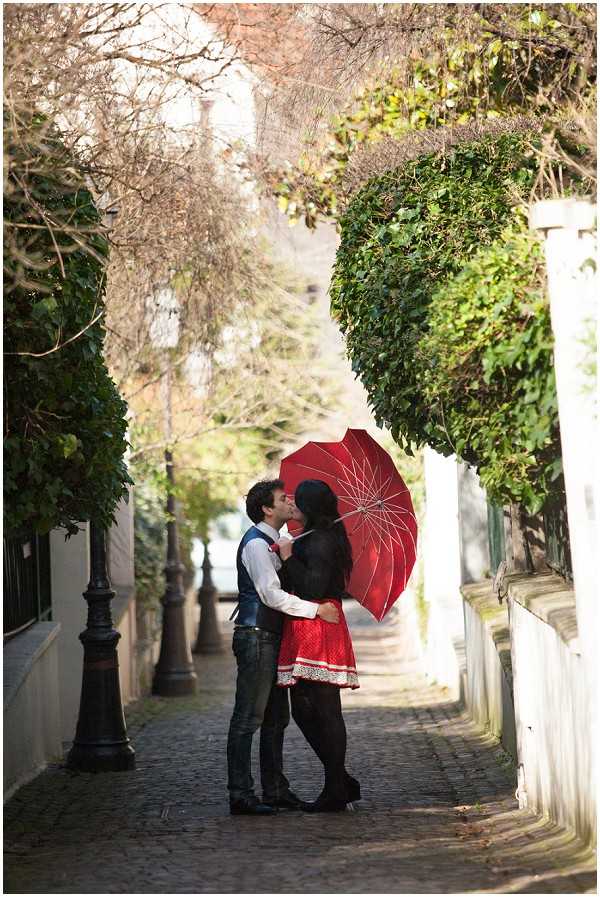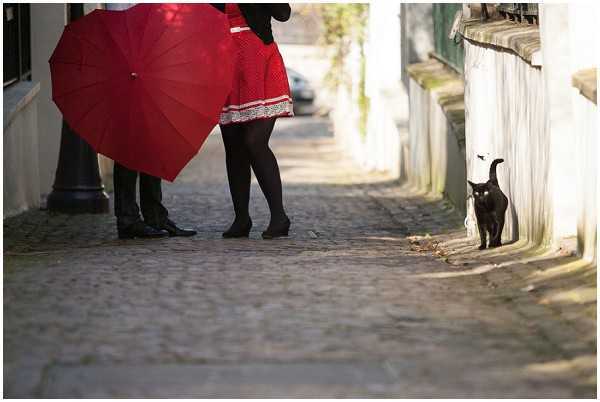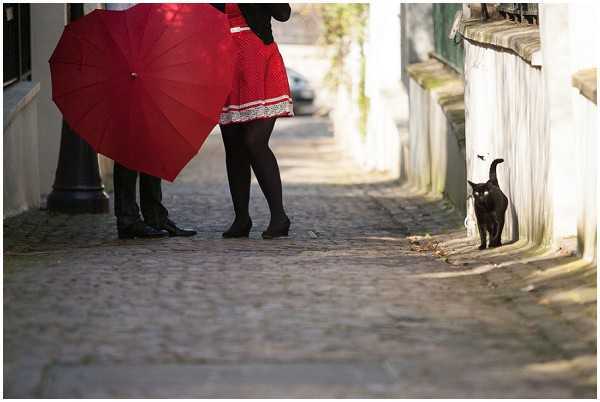 For the shoot Louise wore a 50s style navy dress; she oozes pin-up appeal, and Alexandre steps up in the style stakes too – let's face it, there's nothing more dapper than a waistcoat! I love how the red umbrella contrasts with the tall, light Parisian streets – it was functional too, being a showery February day!
Louise brought lots of pairs of shoes, so Anne-Lise (Alexandre's sister) was called upon as an 'on-location' wardrobe assistant!
The next day we visited the Buttes Chaumont Park in the 19th arrondissement, which is close to the couple's home. Despite it being February we even caught some rays that day, and Louise and Alexandre look pretty darn cool in their shades, there's a definite look of Mafiosos! The park was used as a quarry in the 19th century, to build all the beautiful and quintessential Parisian buildings that were our backdrop the day before.
 We finished up at the rather cool and quirky Danny Hill's diner  opposite Buttes Chaumont, where we had bistro burgers and chips, washed down with beer – well, we had worked hard! It's where we borrowed the orange retro typewriter, showing Louise, who also blogs on Sight Seekers Delight hard at work."
What a wonderful and romantic way to celebrate your engagement, with a shoot that truly reflects your personality.
Credits:
Photography: Betti Confetti Photography
Save