Welcome to Friday trulovers and I have a fabulous post for your today, as we catch up with our own real bride Cassie and her Paris engagement session with Jessica Maida Photography.
Last time we caught up with Cassie it was all about visiting Paris, but now the images are here are I am delighted to share Cassie and Ed's engagement session, visiting places such as Sacré-Cœur, Streets & Doorways of Montemarte, Shakespeare & Co, Bridge over La Seine.
In addition to Cassie taking us through the day, be sure to check out the end of the post as photographer Jessica Maida talks us through her experience of a session, behind the lens in Paris.
French Wedding Style – Photography © Jessica Maida Photography
Cassie: "Ed and I were quite nervous about being in front of the camera; but we needn't have worried. Jessica put us at ease straight away and was great at directing us.
 We had used pinterest to make inspiration boards and we had gone over some ideas for outfits in the weeks before the shoot. We were keen to still look like us in the photos, if that makes sense! We wanted to look like the best versions of us, but not to look too over-stylised. I think Tara got this spot on and I absolutely loved the outfits that were picked out for me. The Anthropologie dress was just gorgeous (and I've actually been looking out for one on eBay ever since!) and the colour was just stunning. It felt just right – a bit special, but not overly formal.
When I first met up with Tara, she said she loved my hair as I'd done it, which was a sort of messy up-do, so I recreated that look for the day and kept my makeup as a slightly more special version of my usual look. Again, I liked the idea of looking natural and I've often found in the past that having my makeup done by someone else results in me feeling a bit odd! So I was very glad to do my own and it worked really well with the gorgeous outfits that were picked out.
It was a bit strange at first to be photographed in public. We had quite a few people stop and take their own pictures of us, perhaps thinking we were celebrities! We got used to it pretty quickly though, and Jessica and Tara were just so friendly and supportive that we quickly got into it. We saw lots of Paris and had a great time together, despite the cold!
The pictures are just beautiful and we are so pleased with them. We have lots of wonderful memories from the shoot and we're so glad Jessica and Tara were part of it."
Jessica Maida Photographer: "I was thrilled to photograph Cassie & Ed's engagement session in Paris and drew inspiration from their fun, eclectic and bright personalities for the wardrobe and style.  While it was on the verge of winter, we did not want to err completely on a winter look and instead gave Cassie a pop of color in Anthropologie's bowtie dress and later a more formal look in the little black dress with the nude back and stunning chunky blue teardrop necklace also from Anthropologie.  Cassie was just stunning and her handsome Groom to be complimented her well in blue jumper and dress slacks for a walk through Paris. 
My favorite embellishment was Cassie's very own laced heels with "Je t'iame" printed stockings for a fun, flirtatious accent to her formal look.  While I wanted to incorporate the culture of Paris into their session, I really aspired to show the romance between this couple and the obvious excitement they share in spending their lives together.  Hints of Paris are visible in the eclectic, artistic doorways, ferris wheel center, pastry and coffee shops such as Laduree as well as a glimpse at the Eiffel Tower.  One location in particular that Cassie expressed sentiment for was the Sacre-Coeur so we made our walks through the cobblestone streets, wine bistros, art square and the grand Church itself our focus.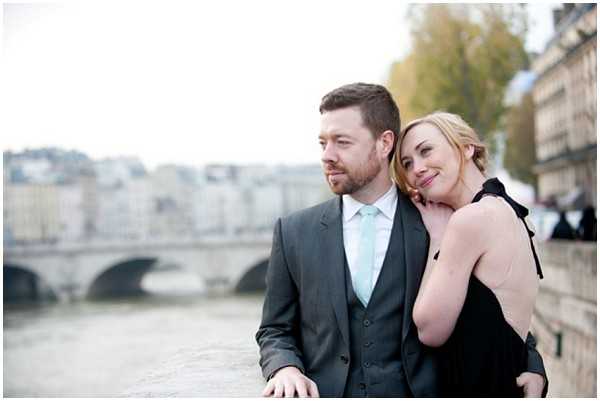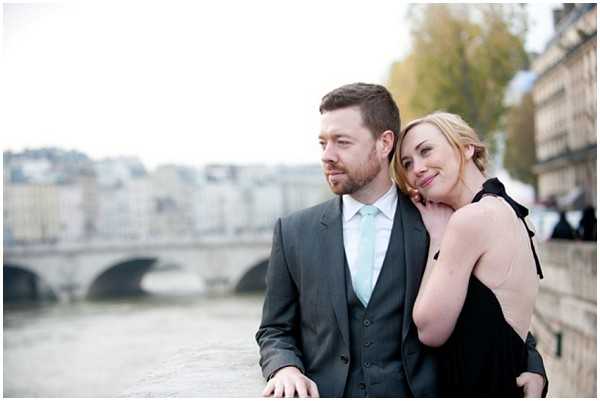 Later in the evening we found inspiration in the Latin Quarter with stops by Shakespeare & Co and bridges over La Seine.  It was exciting to end the night with a unique find in the used books for sale just outside the bustling Shakespeare & Co.  This sweet English couple traveled to Paris for an engagement session and then found their very own "English Love Poems" right in the middle of France itself!"
What a fabulous way to celebrate your engagement and experience a different side of Paris!
Credits:
Photographer | Jessica Maida Photography
Clothing & Accessories | Anthropologie
Laced Heels, Stockings | Cassie
Styling Assistant | Tara Hawkins
Hair & Makeup | Cassie
Stationery | Ink Love Wedding Stationery